Registration Now Open for FGIA 2021 Hybrid Fall Conference, with In-Person, Virtual Options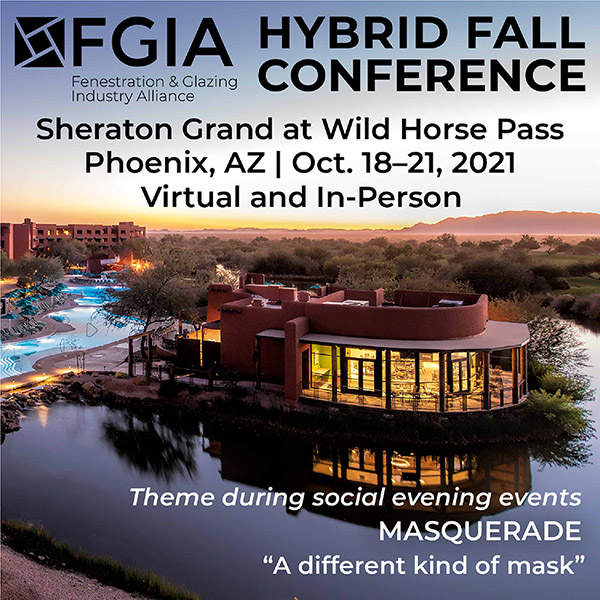 Registration is now open for the Fenestration & Glazing Industry Alliance 2021 Hybrid Fall Conference to be held October 18-21, with both in-person and virtual ways to participate. Author and body language expert Janine Driver will reprise her role as the event's keynote speaker and will share her expertise with both in-person and virtual audiences. Register now for in-person or virtual access. Early bird registration rates for both are available through Sept. 24. The in-person event will take place at the Sheraton Grand at Wild Horse Pass in Phoenix.
FGIA will provide separate schedules, which will include several shared sessions between the in-person and virtual experiences. The in-person experience will feature unique opportunities and hands-on sessions, and the virtual segment will accommodate various time zones and offer engaging networking opportunities.
"This new hybrid event format offers two distinct but blended experiences. No matter which way you choose to participate, be it on-site or online, you can anticipate a thoughtfully crafted experience built specifically for you, complete with interactive sessions that bridge the in-person and virtual audiences," says Janice Yglesias, FGIA executive director.
While FGIA, like any entity, is unable to guarantee zero levels of exposure, participants can be confident that all possible precautions will take place prior to, during and following the Fall Conference. New FAQs have been added to the FGIA website to address questions about the Fall Conference's hybrid format, including information about the U.S. Centers for Disease Control's up-to-date guidance and the plan to ensure safety is the conference's first priority.
In-person optional events will include a golf tournament, horseback riding and a masquerade-themed evening event. In lieu of FGIA's traditional World Vision backpack build, FGIA and World Vision will instead partner for a hygiene kit sponsorship.
For those who prefer to gain insights to grow their businesses from the comfort of their own offices, the virtual segment will accommodate various time zones and offer engaging networking opportunities. To match the masquerade theme, virtual participants will be able to enjoy a digital photo booth with custom event-themed Zoom backgrounds―no costume needed.
"This hybrid format offers a unique sponsorship opportunity for companies, who may choose a level of support that meets their budget while doubling their reach through in-person and virtual avenues," says Florica Vlad, FGIA meetings manager. "We thank our Platinum sponsors, Quanex Building Products and Arkema, whose generous support made this event possible."
Through Sept. 24, FGIA members can register for the in-person conference option at the early bird member price of $825. Non-members can register for $1,600. Online participants may register their entire company at the early bird member price of $575. Non-members may register their companies for $1,150.