Tackling Glazier Challenges in BEC's Return to Nashville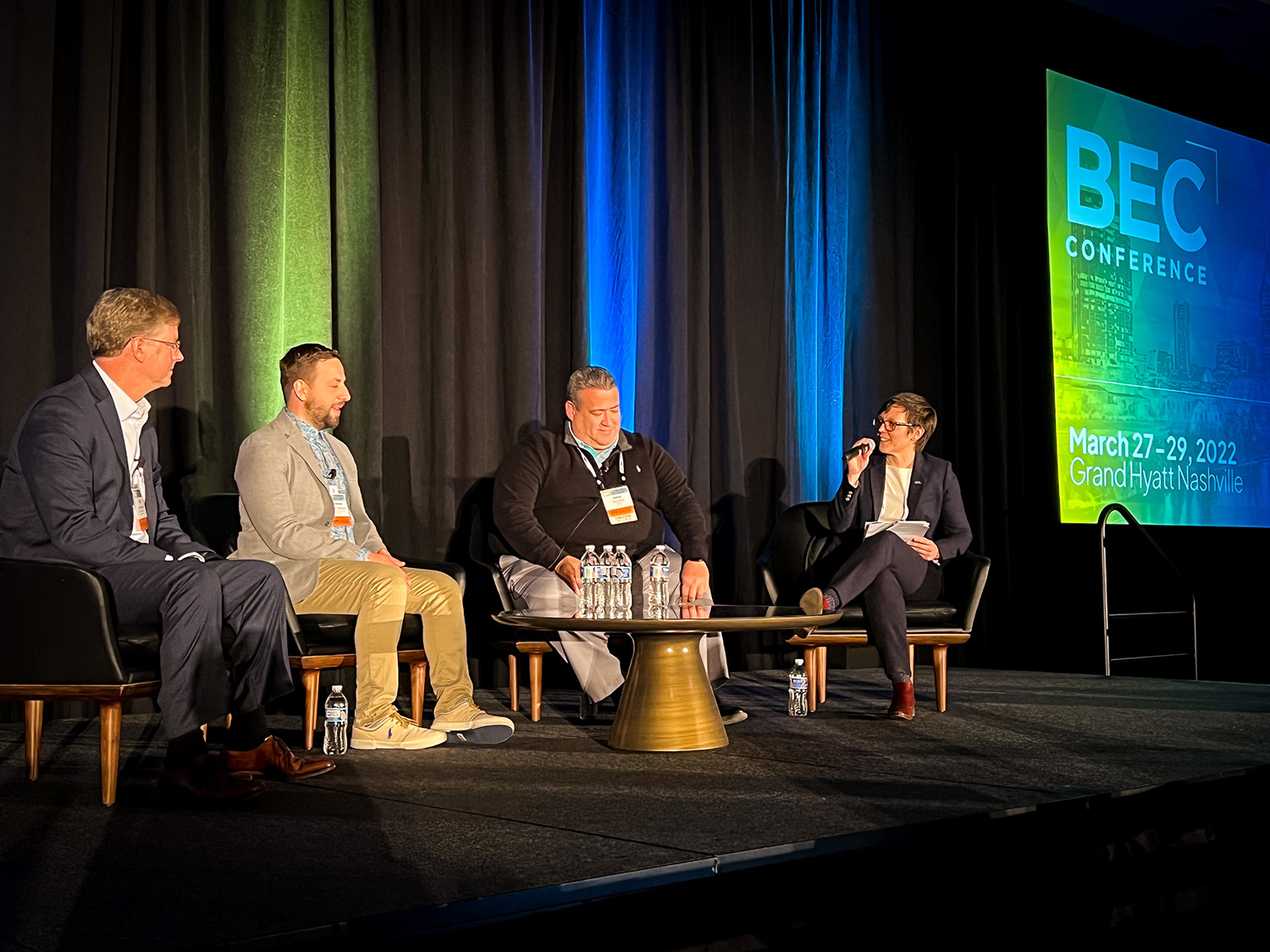 The National Glass Association's Building Envelope Contractors Conference returned to Nashville this week with an at-capacity crowd of nearly 650. Glass industry leaders from 40 states, four Canadian provinces as well as Europe have gathered for two days of glazier-focused education during the return of BEC, which was cancelled last year due to the pandemic.
"We're back," said Max Perilstein, owner of Sole Source Consultants and the emcee of BEC. "It's been a long two years, but we're bringing everyone back together."
BEC programming once again targets the most top-of-mind issues for the North American glazing contractor community.
"Since March 2020, the NGA doubled down on finding solutions for the glass and glazing industry," said Nicole Harris, president and CEO of the NGA during her opening remarks. "Our supply chain is hurting. At your job sites and operations, I hear the same things over and over again—supply shortage, skilled labor shortage and general contractors and building owners who don't listen when we tell them about longer lead times and rising costs. … Today's BEC program is about solutions for glazing contractors."
Better products and best practices
The first day of BEC was packed with five general education sessions, including a keynote on performance solutions, a project case study, and a deep dive into codes to watch. The program included:
Performance solutions.
The conference kicked off with a keynote from Brandon Andow, senior building performance analyst and associate principal at EYP, an integrated design firm specializing in higher education, government, healthcare, and science and technology. Andow offered a deep dive into performance criteria for next-generation façade technologies.
The hybrid workplace.
Panelists in the Navigating the Hybrid Workplace discussion offered insights on how construction has changed since the start of the pandemic. NGA President and CEO Nicole Harris, Glazing Systems Inc. Director of Engineering Kip Larson, and Nabholz Corp. Executive Vice President of Operations Support Chris Wright discussed managing remote employees, virtual jobsite walkthroughs and more.
Evident from the panelists: construction industry communication and technology has moved forward by leaps and bounds since the start of the pandemic. From jobsite videos to integrating advanced communication tools, teams are using technology now more than ever to get the job done.
Broadwest Towers case study.
Attendees had the opportunity to take a closer look at the nearby Broadwest Towers, a recently completed landmark-class project in Nashville. Alan Kinder of Guardian Glass, Steven Messengill of Custom Enclosure Solutions, Mike Fortner of Oldcastle BuildingEnvelope and Jacob McMinn of Pioneer Cladding and Glazing discussed the elements of the project from design to completion.
Code updates.
BEC continued with Go-To Codes for the Glazier, a discussion on need-to-know building code updates presented by Urmilla Sowell, NGA Advocacy & Technical Director, along with code experts and glass advocates Tom Culp, Birch Point Consulting and Nick Resetar, Roetzel & Andress.
Best practices with mockups.
Day one concluded with a conversation on managing risks with mockups. The conversation explored field versus laboratory performance mockups, scheduling best practices, the risks of delay, and any liabilities related to performance mockups. Panelists included Jose Colon, regional sales director, Intertek; Szymon Zienkiewicz, president, Larsen Zienkiewicz Inc.; and Vic McConnell, partner, Smith Cashion & Orr PLC. Katy Devlin, associate publisher and editor in chief of Glass Magazine, was moderator.
Bridging the supply chain
BEC continues today, Tuesday, with a focus on bridging the supply chain between glaziers and their suppliers.
"The BEC and new 'bridge' event programming that spans BEC and our new Glass Processing Days conference for glass fabricators is about finding long-term solutions within our supply chain," said Harris. "Many of you are staying longer than usual tomorrow for the new 'pain points' sessions for glazing contractors and glass fabricators and other suppliers to resolve shared challenges."
Visit @GlassMag on Twitter for additional coverage from the event.