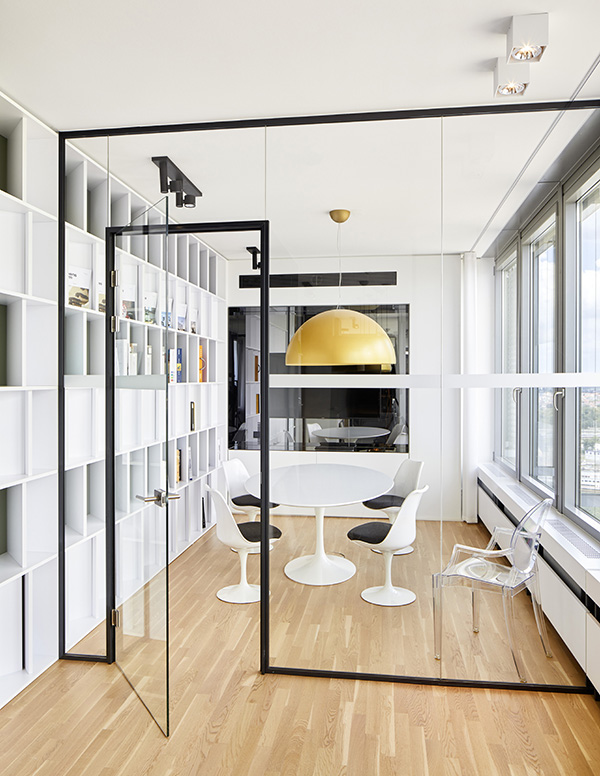 The Fallbrook Series of glass partition systems from CRL offers aesthetics for today's office designs. The Fallbrook line includes advanced options including sound mitigation and attractive grid designs. Available in both framed and semi-framed formats.
Fallbrook features a slim floating door frame that produces an aesthetic and all-glass spans. The system can accommodate monolithic tempered glass in thicknesses of 5/16-inch, 3/8-inch, and 1/2-inch. Door-to-wall and door-to-glass kits are available. Finishes include matte black, brushed nickel, and satin anodized. Door hinge heights can be adjusted without drilling.
For areas requiring sound mitigation, Fallbrook XL utilizes 1-inch insulated glass to minimize sound transfer throughout an office space. With a Sound Transmission Class (STC) rating of 42 for fixed glazing, the Fallbrook XL system can significantly reduce inbound and outbound sounds such as loud speech. Low-profile 1-7/8-inch framing creates a contemporary aesthetic.
Fallbrook XL NY is a muntin grid system specifically engineered as a design option for Fallbrook XL. The grid system is highly versatile and can be freely positioned. Glass notching or drilling is not required, which simplifies installation.