2019 Top Glass Fabricators | Bigger and Better
Top Glass Fabricators Succeed with Jumbo Sizes, Expanded Capacity and Increasing Complexity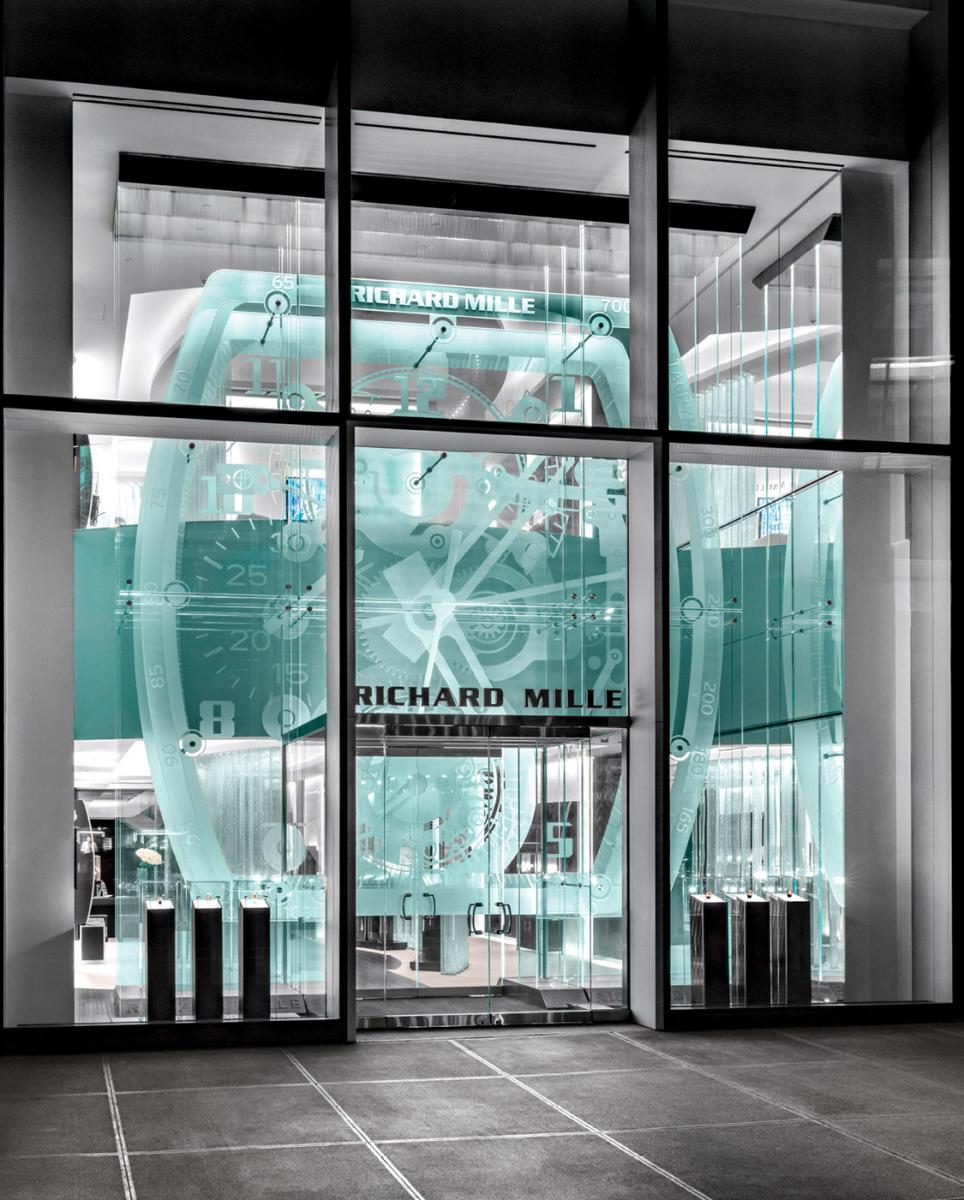 IMAGIC GLASS­, AGNORA | RICHARD MILLE, FLAGSHIP STORE
The Manhattan flagship store for Richard Mille, a luxury watch brand, sports a stunning glass entranceway thanks to carved feature glass fabricated by Imagic Glass. The company founder, Richard Mille, says he selected the New York location to serve as a showcase that will have global visibility. To meet this aesthetic goal, Imagic's team fabricated a two-story transparent wall, illuminated by over 150 feet of LED lights. The largest oversized glass lites measure 15 by 10 feet, are over 1.5 inches thick and weigh about 2 tons, says Adam Shearer, president, Imagic Glass. The 24 massive panels—with a combined weight of 37,000 pounds—are individually engraved and arranged three-deep to form a sculpture based on the design of the RM 008, one of Mille's luxury products. The feature glass required over 160 hours of carving to achieve the desired aesthetic, says Shearer. Phillips Group Architecture worked with Richard Mille's internal design team. Michilli Inc. was the general contractor. AGNORA laminated the oversized triple lite glass. Custom millwork and store fixtures were contributed by Viridis Inc. Photo by Philippe Lauzon.
Top Glass Fabricators experienced another year of growth and expansion in 2018. Once again, 71 percent of survey respondents reported a year-over-year sales increase. Most reporting companies, 80 percent, added production capacity last year, and most plan to do so again in 2019.
2019's Top Glass Fabricator list is the most robust in the report's history, featuring 79 companies, the most ever included on the list since its introduction in 2011. 
Advanced products
With continued growth come continuing growing pains, particularly as companies are being asked to deliver more sophisticated and challenging products for increasingly complex projects. This is particularly the case with the sustained demand for large-format glass. Forty-two percent of companies report that they now fabricate jumbo glass, a process that poses logistical challenges. 
Carey Mobius, president and CEO of Garibaldi Glass, says the company struggled with "understanding the production requirements for large-format windows and redesigning plant space to transfer large glass for fabrication requirements." 
Michael Zizek, marketing director at Vitrum Glass Group, says the company faced similar issues in managing the physical realities of larger-size glass. "As jumbo glass becomes more common, Vitrum has had to adapt the way we handle and move glass through our factory. Both from a logistical standpoint and from a safety position." 
Fabricators also saw an increase in the demand for specialty products, with time-intensive fabrication that required producers to educate consumers about these new processes. "[Our company was challenged by] customers that believe complicated projects such as heat-soaked, printed, fabricated, tempered, laminated jobs should be completed in extremely short lead times," says Kevin Duke, contract manager, Inkan Ltd. 
Market challenges
In the previous year, fabricators also faced notable market challenges. Overseas competition was an issue, according to Patrisia Yanez, decorative glass product development, Cristacurva. "This [overseas] competition is bidding at extremely low prices which has posed a major challenge with local market pricing and margins," she says. "Customers are reducing their prices to win projects so they seek comparable pricing with glass products. With these low-cost options comes a lower quality standard, something a high-quality driven glass fabricator cannot compete with on either basis."
Domestically, the number-one challenge remained the lack of a skilled labor force. Seventy-one percent of reporting companies listed a lack of labor as a major challenge in 2018. Notably, however, 51 percent said they had a harder time finding workers in 2018 than the previous year, which is down from last year's tally, 67 percent.  
Lack of labor exacerbated issues of capacity and lead times, leading to project delays and straining growing companies. "Keeping up with the demand for products that have been outside our current capabilities, while still extending an affordable price to our customers, has been a challenge we've faced and has been the driving force behind our investment in expansion," says Shelby Parks, office manager, Echols Glass. 
About the list and market report
The Top Glass Fabricators annual list is ranked based on sales volume, and includes stand-alone architectural glass fabrication plants in the United States and/or Canada. Tecnoglass remains an exception; although the company's manufacturing facility is located in Colombia, its significant presence in the U.S. market makes it eligible for the ranked list. 
While most of the data that determines the ranking is gathered from the companies themselves, some Top Glass Fabricators choose not to disclose sales figures. In cases where companies do not provide this information, Glass Magazine editorial staff gathered sales estimates and relevant information from business credit resources, prior-year submissions and company websites. Fabricators who do not submit sales figures are ranked using these estimates. Though the report uses as much self-reported data as possible, many privately held companies do not disclose gross sales; as a result, companies are listed alphabetically within the sales categories.
Glass Magazine also recognizes that gross sales are not the only measure of top fabricator companies. This year's report will recognize this diverse market segment in three new ways: a feature spread showcasing valuable insights from the leadership of woman-owned fabrication businesses ; a list of family-owned companies within the fabricator segment; and a list of standout fabricator partners, nominated by their contract glazier customers. 
Readers can also enjoy a snapshot of the industry trends and performance in the Market. 
Glass Magazine appreciates the growing participation in the Top Glass Fabricators report and hopes that it continues. It is only with industry cooperation that the report can accurately reflect the leading companies of this industry segment. If your company belongs on the list, or you would like to update the information published, contact Norah Dick at ndick@glass.org. 
Glass Magazine's WorldofGlassMap.com offers an interactive map and downloadable database of fabricator locations in North America.