2019 Top Glass Fabricators | Women at the Top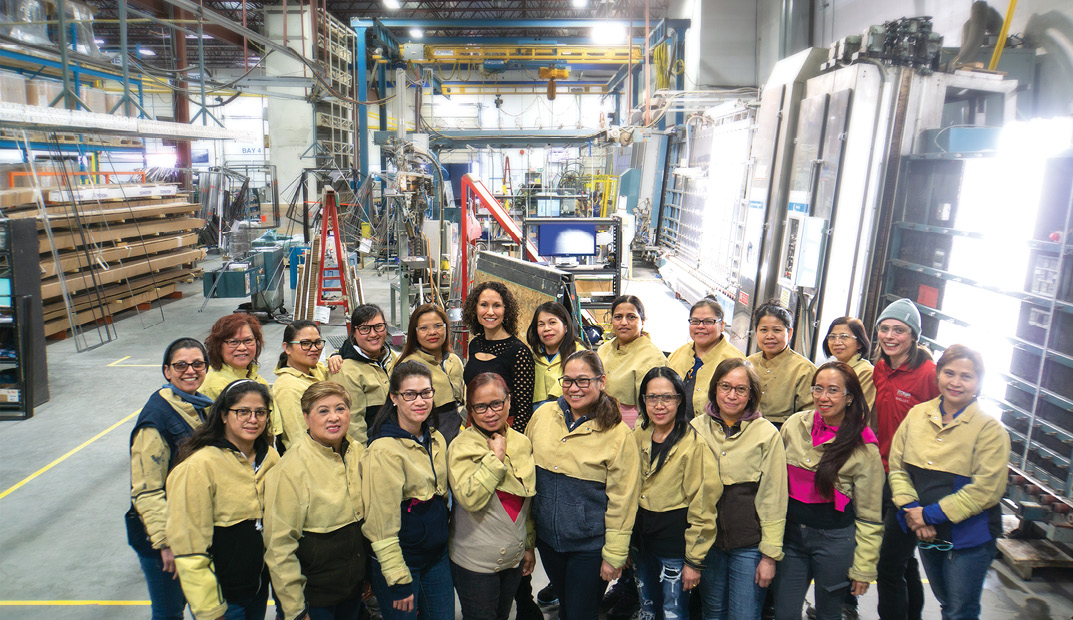 Above: Gemma Martini (in black, second row), CEO of Vitrum Glass Group, with the all-women Insulating Glass Unit assembly team. Martini founded the company 22 years ago with her brother, Thomas Martini, who is the president of Vitrum. The siblings' family was in the window industry.  Below: Kelly Goetz (second from right) president of InKan Ltd. Goetz grew up in the family business, doing work that was needed across departments. After receiving a business degree, she worked full-time at InKan, taking a few years to work at other companies, before returning.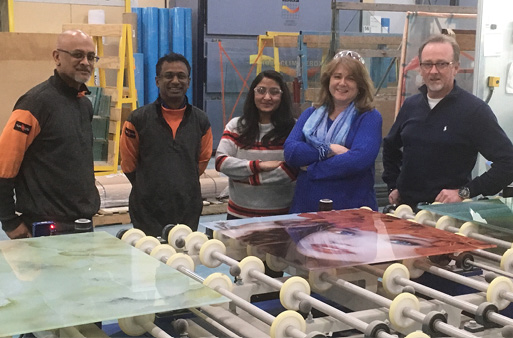 5 TOP GLASS FABRICATORS ARE WOMEN-OWNED
Dundy Glass & Mirror Corp.
Goldray Glass
InKan Ltd.
UltraGlas Inc.
Vitrum Glass Group
The glass business is doing well, as suggested by the 79 companies that make up the Top Glass Fabricators list this year. Unfortunately, skilled labor remains scarce, despite significant recruitment efforts. The Bureau of Labor Statistics, bls.gov, reported a 3.9 percent unemployment rate for December 2018, suggesting full employment. 
Industry leaders have repeatedly pointed to women as an untapped labor pool. Initiatives like the National Association of Women in Construction, nawic.org, and Women in Manufacturing, womeninmanufacturing.org, focus on placing more women in leadership roles. Five companies on the Top Glass Fabricator List reported that they are woman-owned. We asked these leaders about their introduction to the industry, how the glass industry has changed, and what solutions they have for recruiting and retaining a skilled workforce. 
Family-owned Companies
Family-owned businesses make up the majority of 2019 Top Glass Fabricators. Forty-one companies, out of 79 total, report they are family owned. 
AGNORA 
Aldora Aluminum and Glass Products Inc.
Bendheim
Consolidated Glass Corp.
Custom Glass Products
D3 Glass LLC
Dependable Glass Works
Dillmeier Glass Co.
Dundy Glass & Mirror Corp.
Echols Glass & Mirror Inc.  
FGD Glass Solutions | On-Site Systems
Flat Glass Distributors
Garibaldi Glass
GGI 
Glass + Mirror Craft LLC
Glassource
Glenny Glass Co.
Goldray Glass
Hartung Glass Industries
InKan Ltd.
Kensington Glass Arts Inc.
M3 Glass Technologies
Midwest Glass Fabricators Inc.
Nashville Tempered Glass
Nathan Allan Glass Studios
Precision Glass Bending
PRL Glass Systems
Rochester Insulated Glass Inc.
Saand
Safti First
Shower Doors & More Inc.
Standard Bent Glass Corp.
Syracuse Glass Co.
TBM Glass 
Tecnoglass Inc.
Tempco Glass Fabrication
Tristar Glass Inc.
Triview Glass Industries
Virginia Glass Products Corp.
Vitrum Glass Group
W.A. Wilson Glass Plus
Keeping glass in the family
"Once upon a time, 44 years ago, my dad bought out his business partner at Dundy Glass & Mirror and needed myself and my two brothers to help him at work over the summertime," says Ellen Latin, the current owner of Dundy Glass & Mirror, speaking about her introduction to the industry. "I was asked to answer the phones in the office as well as help out on some small hand polishing machines."
Latin's story, starting work in a family business, is a through line for the female leaders interviewed. Out of the five, four were raised in family businesses or grew up around the glass industry. Gemma Martini, CEO of Vitrum Glass Group, based in British Columbia, was raised in the glass industry before she and her brother, Thomas Martini, co-founded their own business. "Our family was in the window industry and we saw a need in the market for more innovative commercial glass fabrication," she says. "At the time, my brother was 19 years old and I was 21."
Family businesses are common in the glass industry. In fact, 41 of the 79 Top Glass Fabricators report being family-owned companies. (Check out the list of family businesses on page 60.)
Jane Skeeter, president of UltraGlas, confirms that she sees more owners of family businesses entrusting companies to female leadership. "Some of the men that own glass companies are training their daughters," she says. Skeeter took a different path to the industry, beginning as an artist and designer, becoming interested in stained glass, and eventually, architectural and decorative glasses. "[Glass] really held my interest, and I ended up wanting to just focus on glass," she says. "I thought it had great potential."
Women make inroads
The women leaders interviewed do report significant changes in the glass industry since they started, including an influx of women employees. "When I first started working as a 16-year-old, you could count on one hand the amount of women in the glass industry; well, times have changed drastically," says Dundy's Latin. "At least a third of our customers are now women-owned businesses." 
Attitudes have also changed, these leaders report. "Back in the 1980s I would sometimes get contractors asking to speak to 'the man,' but I haven't had that happen in many years," says Cathie Saroka, president of Goldray Glass. 
While attitudes have improved, being a woman in a male-dominated industry can be still be difficult, say industry leaders. "The main challenge I face as a female leader in a male-dominated field is when it is assumed that I don't have abilities simply because I think or act different than a male might," says Kelly Goetz, president of InKan Ltd. "I have learned to not take it personally. … I recognize when I am not taken seriously. But like any marketing strategy, I simply take a different approach from my angle as a woman." 
Additionally, the labor picture remains complex. Despite the fact that BLS reports that women comprised 29.2 percent of the manufacturing workforce in 2018 and 9.9 percent in construction, Skeeter says she personally sees more female leadership in construction than manufacturing, and that women in construction may enjoy a more diverse range of roles than in manufacturing. 
Goetz similarly identified a divide between women's entrance into office and management, versus the manufacturing floor. "While we strive to enforce fair and diverse hiring practices, gender diversity in manual labor of this type just has not increased the way it has on the office side of things," she says. 
Nevertheless, women appear to have made inroads on the shop floor as well. Vitrum's Martini reports that the company features women in all departments of the company, from maintenance to fabrication positions. "In fact, it could be inferred that women are, perhaps, better at some manufacturing positions," says Martini. "Just ask anyone within our [insulating glass unit] assembly unit—all of whom happen to be women."
Building the labor force
When asked about recruiting and retaining employees, these industry experts say they focus on flexibility.
"In recruiting people from the younger generation, I find that most are very interested in developing themselves and their careers," says Goldray's Saroka. She says that Goldray also works to accommodate women responsible for childcare. "Making the work more flexible to help with a woman's outside responsibilities will certainly help with retaining them as employees. We have found that anything that we have given up to allow more flexibility for our people has come back to us tenfold in extraordinary work product and whole-hearted engagement."
"Job security and good benefits are what we are all looking for, so if it's a good match for both the employer and the women employees, I'm sure it would be a long and happy mutually beneficial relationship," says Dundy's Latin. 
 "We employ on capability and we offer a multitude of shifts, skill levels and roles which appeal to a diverse set of aspirations, skill sets and familial situations," says Vitrum's Martini.
"There's so much potential [for women] to jump in with both feet," says Skeeter.  "This is the kind of field that requires the soft skills that women are known for …. [women] pay more attention to details, which is especially important on upscale projects that need someone with that kind of precision.
"People can get used to doing the same thing, but women will approach it in a different way," Skeeter says. "Glass and glazing can only benefit by having more women in it."