2019 Top Glass Fabricators | Standout Partners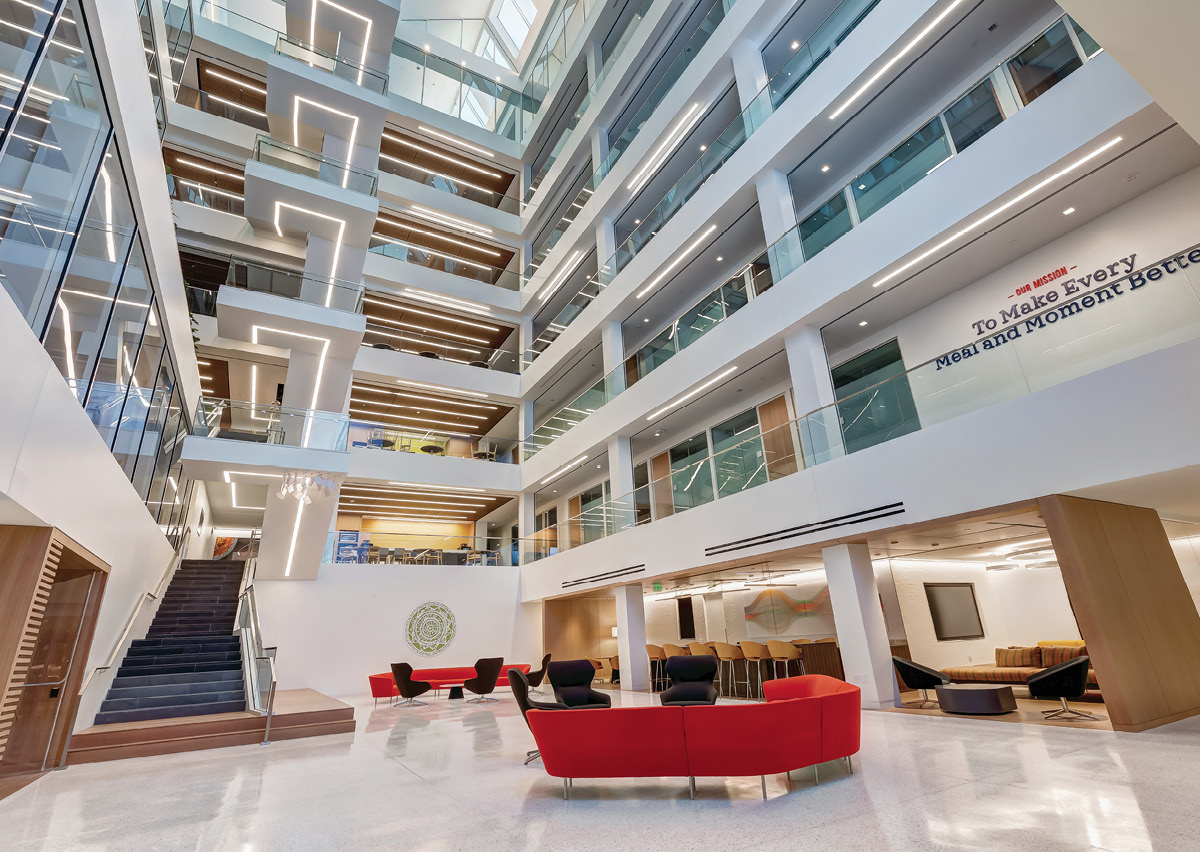 McCormick & Co.'s new global headquarters in Baltimore features 85,000 square feet of glass, with insulating glass units fabricated by J.E. Berkowitz. Studios Architecture stripped an existing utilitarian building to its foundation. But, installing a modern glass façade on the older building proved a challenge, especially fitting a new curtain wall system onto an existing structure, says Zubair Aabed, project coordinator for TSI Corp., the project's glazing contractor. Troubleshooting required close collaboration between the structuring engineer and design team to adapt the anchoring system, he says. J.E. Berkowitz fabricated one-inch Winduo insulating glass units, featuring Guardian Glass' triple-silver, low-emissivity SunGuard SNX 51/23 glass and SNX 62/27 glass coatings. The glass specification enabled the design team to maximize natural daylighting, reduce unwanted solar heat gain and match desired aesthetics, say company officials. Sunshades were provided by Clover Architectural Products. The general contractor was Gilbane Building Co. Photo courtesy of McCormick & Co.
The Top Glass Fabricators List ranks fabricator companies by gross sales. However, the editorial staff at Glass Magazine recognizes that there are many qualities that can make a company "great" beyond sales revenue. To showcase these qualities, Glass Magazine asked the contract glazing partners of glass fabricators, as part of the Top 50 Glaziers survey, to identify outstanding glass fabricators. Glass Magazine compiled the results in the inaugural Top Glass Fabricators Partners' List.
W.A. Wilson Inc.
Wheeling, W.Va.
United Plate Glass Co.
Butler, Pa.
"Our standout suppliers are W.A. Wilson Inc. in Wheeling, West Virginia, and United Plate Glass in Butler, Pennsylvania. Both are [insulating glass] producers and both work on a strategic partnership basis supporting us with price, quality and timely delivery. These two companies consistently outperform all other entities engaged in business with our company." —Specified Systems Inc.
Triview Glass Industries
City of Industry, Calif.
"Triview Glass has been a partner of Glazing Concepts for years, providing reasonable lead times, overwhelming cooperation and collaboration. … Whether it's laminated art glass, insulated glass, all-glass doors or just 1/4-inch glass with seamed edges, they will always be our fabricator of choice." —Glazing Concepts Inc.
Syracuse Glass Co.
Syracuse, N.Y.
Syracuse Glass "supplied all of the glass on the [Orange County Government Center in Goshen, New York] in a timely fashion without any flaws or delays." —Forno Enterprises Inc.
Tristar Glass Inc.
Catoosa, Okla.
"Tristar Glass Fabricators provided quality products, always hit delivery dates, and shipped complete orders." —Austin Glass & Mirror
Honorable Mentions