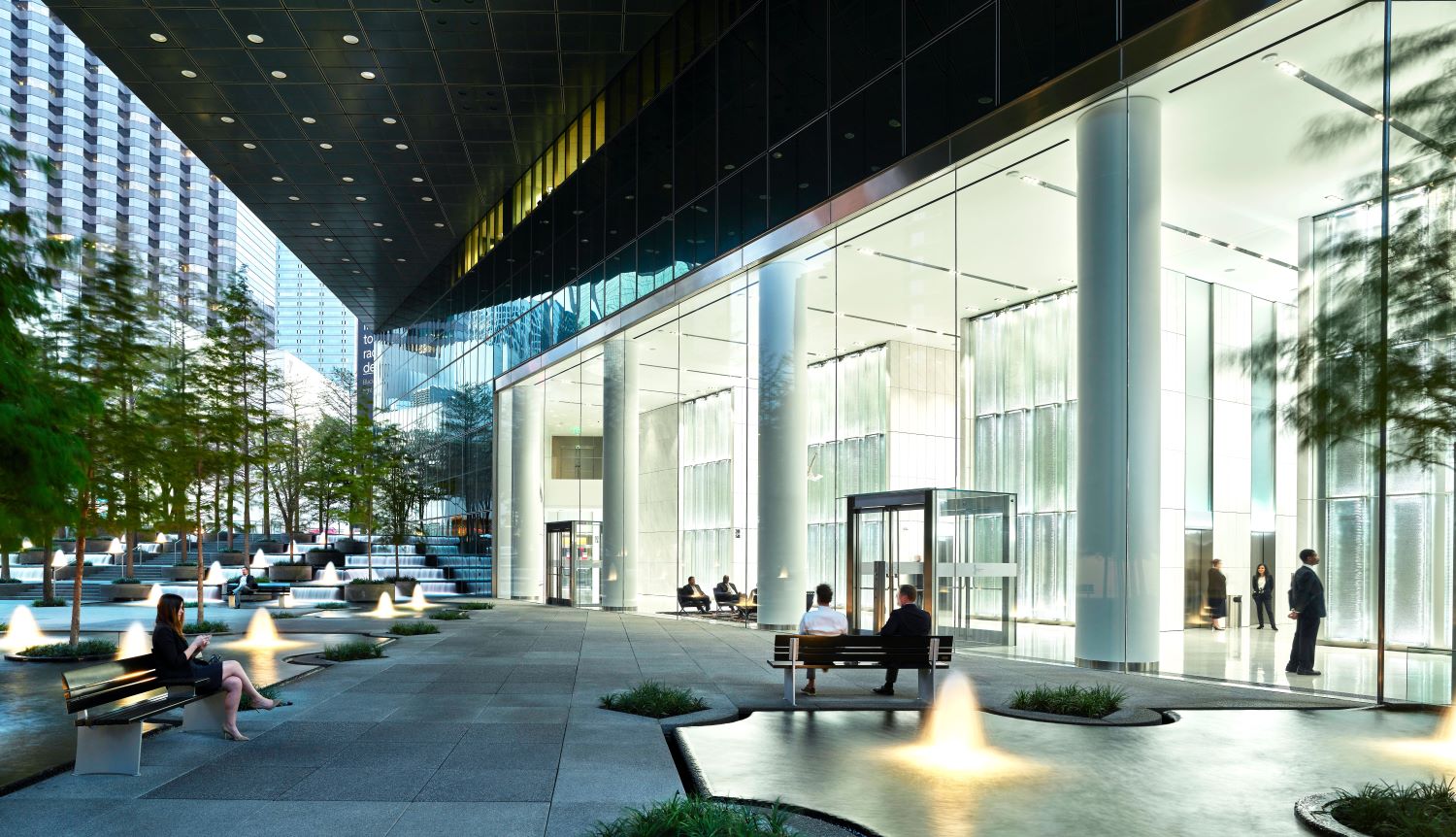 Photo credit: Timothy Hursley
Fountain Place | Dallas
Nominating company: Sentech Architectural Systems
LEED Gold Certified
Near 30-foot glass span
No visible framing
Winning Team

Metal systems manufacturer; façade engineering, design and material supply: Sentech Architectural Systems
Glass fabricator: Tianjin North Glass
Contract glazier: Admiral Glass Co.
Interlayer manufacturer: SentryGlas, by Kuraray America Inc.
Executive architect: Gensler
Architect: James Carpenter Design Associates
General contractor: Turner Construction Co.
Fountain Place, a 58-story skyscraper and an icon of Dallas's skyline, recently underwent a restoration. Working with the original design by I.M. Pei & Partners, part of the renovation's new design goal was to increase connection between the building's interior entrance lobbies and its outdoor water gardens. Sentech Architectural Systems provided its VetraSpan all-glass full-height façade system, featuring glass spans of nearly 30 feet, to accomplish this feat.
The glass system's jumbo glass panels span 29 feet and 6 inches from floor to ceiling and over 10 feet in width with no visible supporting elements or additional structure to ensure complete transparency, say officials from Sentech. Glass panels are 1 5/8-inches-thick low-iron, tempered laminated glass with SGP interlayers, and all heat soak-tested.
To achieve a clean aesthetic with the sizes required under load conditions, panels had to be manufactured with extremely tight bow tolerances, and the perimeter support systems were designed to reduce deformation while allowing for building movement. "The resulting monumental, two-story-high frameless glass walls create transparent and seamless views from the lobby into the garden and beyond, enabling a harmonious transition between the interior and exterior environments," says Sentech officials.
"The oversized glass could almost seem invisible, giving the feel that you were actually in an open area. Amazing." —Glass Magazine Awards judge, Mary Avery, vice president of marketing, Tubelite
 

"In addition to the large lites being used effectively, glass is used throughout the lobby, providing a clean and welcoming aesthetic." —Glass Magazine Awards judge, John R. Stephenson, senior architect, BRPH