Clear Performance Solutions
The Architect's Guide to Glass and Glazing Performance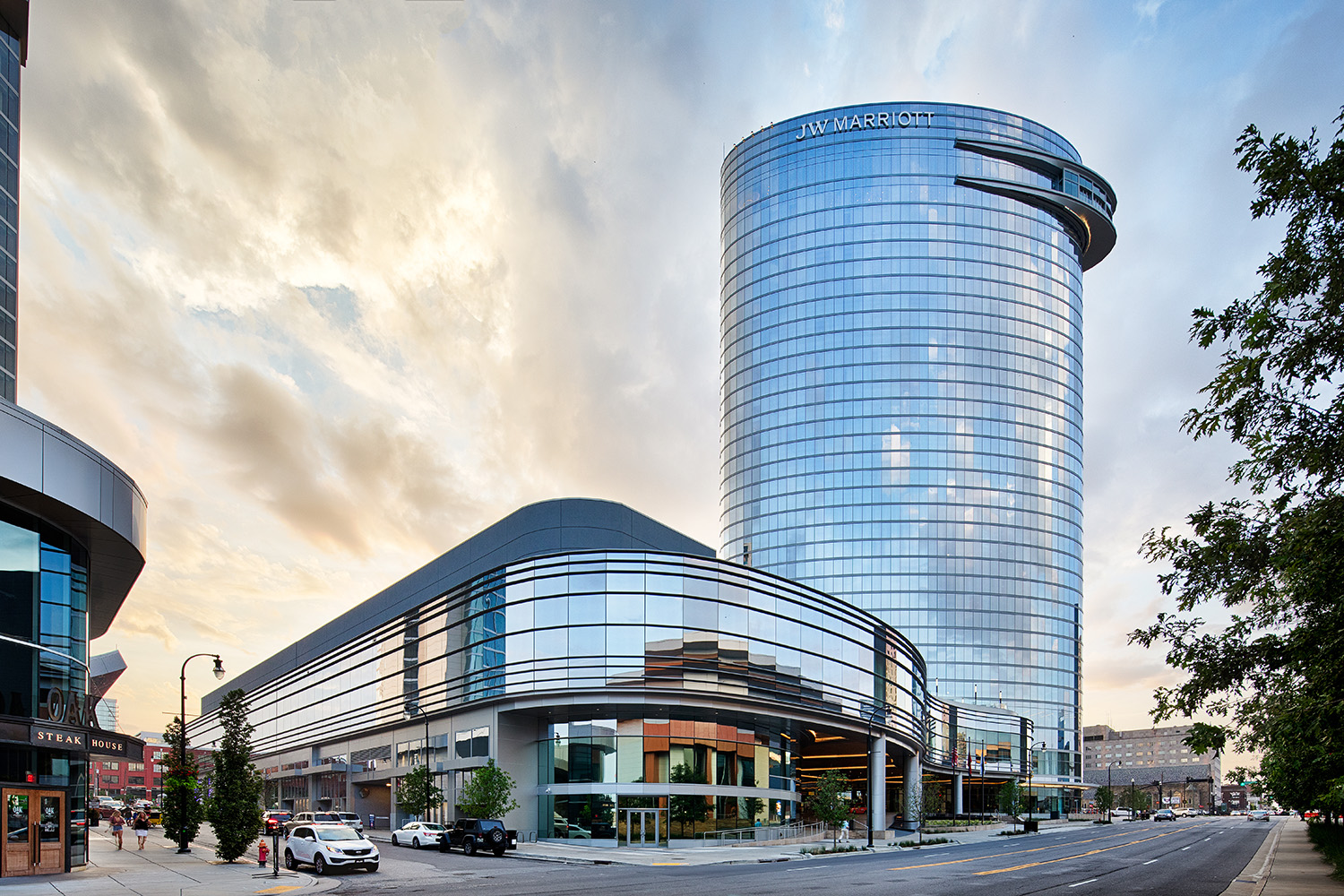 JW Marriott, Nashville

Photo by Chad Baumer, courtesy of Technoform

High-performance solutions: Nashville's new standout 33-story JW Marriott tower touts a curving façade that combines high-performance glass with thermally broken framing. It features YKK AP's YWW 50T Window Wall MegaTherm aluminum framing system with Technoform polyamide thermal barriers, and insulating glass from Viracon: VRE1-38 with 44 percent reflectance for the tower, and VE1-2M with 70 percent VLT and 11 percent reflectance for the podium.

The Players: Architects, Smallwood, Reynolds, Stewart, Stewart & Associates (Smallwood) and Arquitectonica; general contractor, Skanska USA; glazing contractor, Custom Enclosure Solutions (CES); curtain wall supplier, YKK AP; thermal barrier supplier, Technoform; glass fabricator, Viracon. 
High-performance building is no longer optional. Building codes require it. Owners and occupants increasingly demand it. And our global sustainability depends on it, say industry sources. "Anyone who can see the data on climate can see that something has to change when it comes to carbon emissions. We need to do it quickly," says Josh Wignall, director of marketing, EFCO Corp.   
The glass and glazing industry is ready to help architects bring their projects—new and old—to the next level of building performance. "[Our industry] has the technology. We just have to make sure we prioritize it," Wignall says.  
To achieve high-performance targets, jurisdictions must adopt and enforce the newest, more stringent energy codes, project teams must work more collaboratively to design and construct buildings that meet performance goals, and team leaders and building owners must prioritize performance and be willing to invest in available solutions, sources say. "There are systems on the market that can meet the most stringent energy requirements. They are just not being used," adds Helen Sanders, strategic business development, Technoform.  
These pages present "Glass & Metals 501: The Architect's Guide to Glass and Glazing Performance." The guide takes a closer look at baseline energy code updates and provides information about glass and glazing products to meet new requirements. It presents key considerations for glass and glazing performance from industry experts, and examines the cost-benefit analysis of building for performance.  
Glass & Metals 501 is part of Glass Magazine's six-part series "All About Glass and Metal: A Guide to Glazing for Architects and Specifiers." The complete series provides an in-depth look at specification and design for glass and glazing. It begins with "Glass and Metals: 101: An Introductory Guide to Glazing for Architects and Specifiers" and continues through "Glass & Metals 601: The Architect's Guide to Complex Façades." It covers topics ranging from specifications to interior glass, to protective glazing and more.

 
More Featured Glass & Metal Projects
Orange County Government Center, Goshen, New York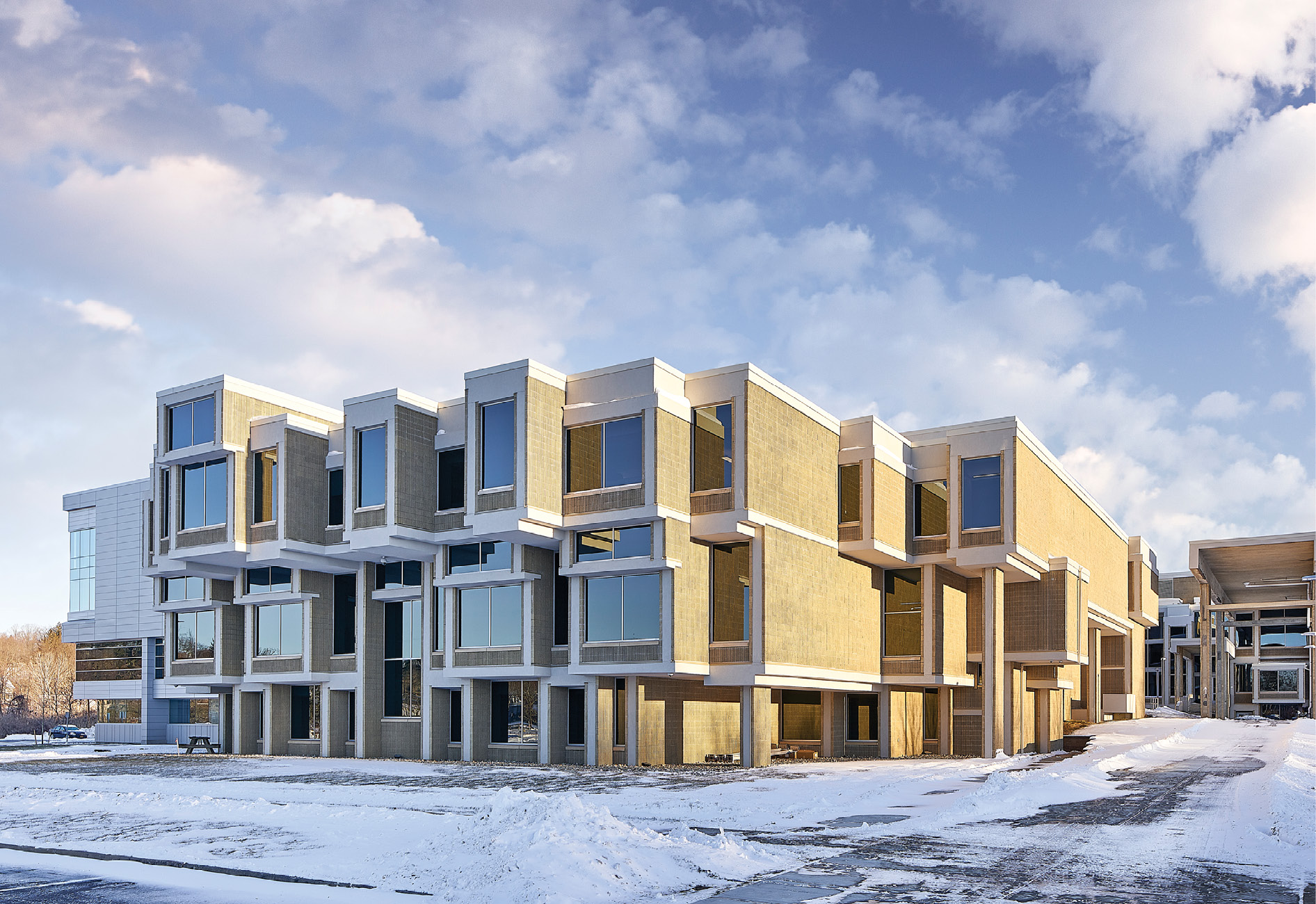 High-performance solutions: Built in 1967 and severely damaged by Hurricane Irene in 2011, the Orange County Government Center needed a complete revitalization. In a $74 million upgrade, the project team renovated two-thirds of the existing structure, vastly improving thermal performance of the envelope, while adding 80,000 square feet of new construction. EFCO curtain wall and storefront were selected for the renovated sections as well as the new addition. The project features EFCO Series 5600 curtain wall, 433 storefront and D502 Thermastile entrance doors.
The Players: Architect, Clark Patterson Lee (CPL); general contractor, Holt Construction Corp.; glazing contractor, Forno Enterprises Inc.; glazing systems supplier, EFCO Corp.
MEC Headquarters, East Vancouver, British Columbia, Canada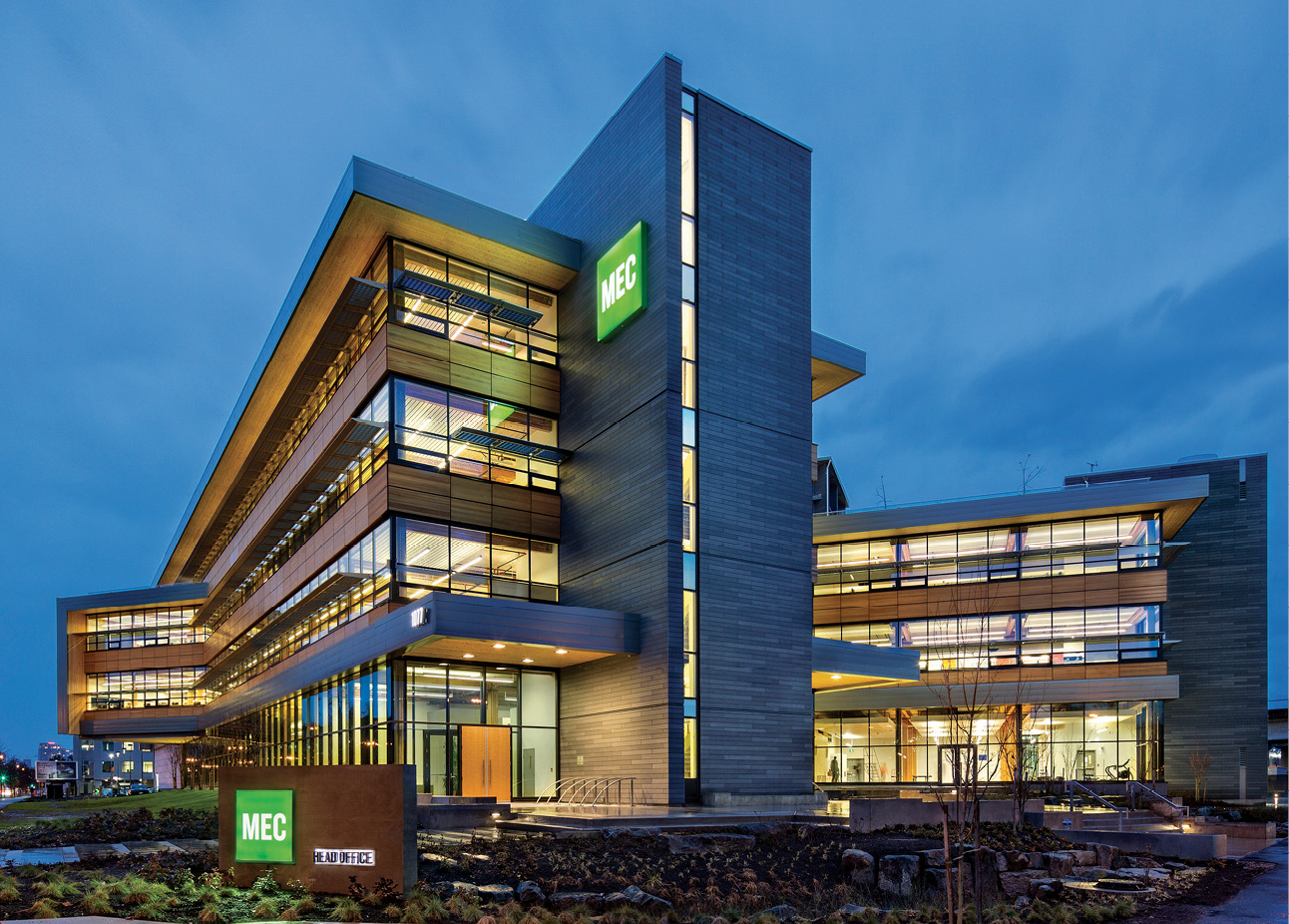 High-performance solutions: Essential to design goals for the MEC Headquarters in East Vancouver was to maximize the amount of incoming natural light to reduce energy consumption and environmental impact. CRL-U.S. Aluminum's Series HP3253 High Performance Triple Glaze Curtain Wall outfits a large portion of the building's façade. The system features dual thermal barrier technology, employing two fill and debridge pockets, and three thermal break points. This delivers potential U-factors of 0.32 to 0.17. Additional systems include CRL's Series 7200 Windows; Custom Fabricated Sunshade Systems that help minimize solar heat gain; and NFRC rated Series 750-T High Performance Thermal Doors.
The Players: Architect, Proscenium Architecture + Interiors; general contractor, Ventana Construction Corporation; glazing contractor, Flynn Canada Ltd.; glazing system supplier, C.R. Laurence Co.
UCLA's Marion Anderson Hall, Westwood, California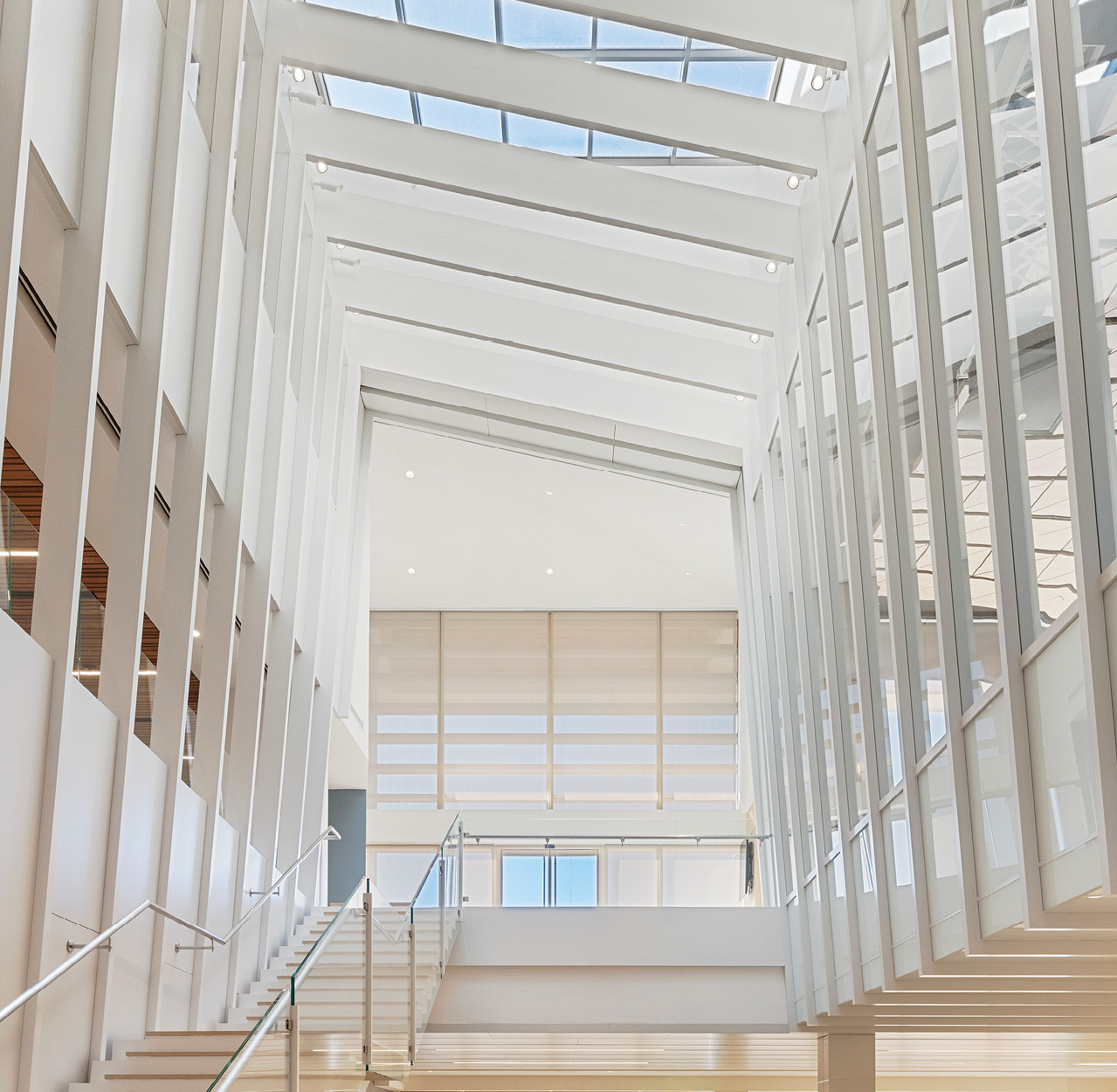 High-performance solutions: The centerpiece of UCLA Anderson School of Management's new Marion Anderson Hall is a glass-enclosed atrium flooded with natural daylighting. The atrium features 13/16-inch high performance STC-rated laminated glass, which consists of ½-inch low-iron glass, a .030 PVB interlayer and a .030 acoustical PVB interlayer. The project also features a high-performance glazed exterior with Starphire insulating glass with Viracon VRE13-59 low-emissivity coating, and a thermal Arcadia T500 (OPG3000) curtain wall system. Photo by Brian Peregrina, Giroux Glass.
The Players: Architect, Pei Cobb Freed & Partners; associate architect, Gensler; atrium glass fabricator, Glasswerks; exterior glass fabricator, Viracon; curtain wall supplier, Arcadia; glazing contractor, Giroux Glass.