Get to Know Liz Haggerty
The new president of Oldcastle BuildingEnvelope brings a mix of technical acumen and business expertise to North America's largest glass and metals company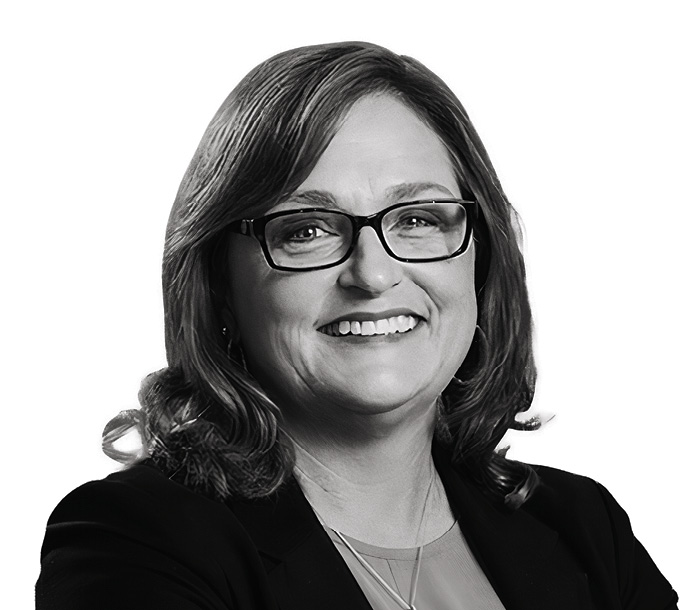 Liz Haggerty is a self-described tinkerer. Even as a young person, she expressed a mechanical curiosity that led her to take on the role of household fixer. "My father was in the Navy and often away, and my mother was not the most mechanical person. If something broke around the house, I would fix it," Haggerty recalls. "When the water pump broke on the water heater, I figured out how it worked to see if we could fix it. Even now, I'm still the mechanically driven person in the household." 
Haggerty's interests drove her to study engineering in college. She received a Bachelor's in Metallurgical Engineering (the study of metals) from the New Mexico Institute of Mining and Technology before going on to achieve a Master's in Metallurgical Engineering from the University of Connecticut. 
That same mechanical curiosity has carried into her work, first in the HVAC industry and now in glass and glazing at Oldcastle BuildingEnvelope.  
Haggerty joined OBE in 2019 as president of the Architectural Glass and Metal division, and she was named president of the company in December 2020. OBE is the largest glass and metals fabricator in North America, with more than $1 billion in annual sales, 82 locations and more than 6,500 employees. Its portfolio of businesses includes C.R. Laurence, Coral Industries, Holoform and SIGCO. 
When Haggerty first joined the company, she worked with her team to assemble a storefront and curtain wall system, gaining a hands-on understanding of the product lines, the components and the assembly process. "I wanted to learn all of the different pieces and understand how they fit together," she says. 
Her engineering background has proven critical to understanding products and "designing and developing products for the needs of the market," she says. 
She sought to "round out" her education with a business degree, completing a Master's in Business from the University of Connecticut just three years after she received her Master's in Engineering. "The engineering piece creates a process-driven mindset. I purposely got an MBA to round that out and gain a better understanding of other components—organization, capacity building," she says. 
HVAC v. glass
The balance of business and technical expertise, and intellectual curiosity, has aided Haggerty's introduction into a new industry. She joined the glass industry following 30 years of leadership in the HVAC industry. Prior to coming to Oldcastle BuildingEnvelope, she held the role of vice president and general manager of Global Ducted Systems for Johnson Controls, where she was responsible for leading the design, manufacturing and sales of all JCI residential ducted and commercial rooftop products globally.
She has also served as regional president of Carrier Enterprise, a joint venture between Watsco and Carrier (a UTC company), where she led the distribution of residential and light commercial equipment and parts; and has had a 20-year career at Carrier/United Technologies, which included progressive leadership roles across multiple disciplines of the business.
"It's a big jump to change industries," says Haggerty. "Glass is a very proud industry. There is longevity in this industry, a long tenure. … But there are similarities between the two [industries]. The go-to-market is similar. The influencing model is similar. And both industries have very skilled tradesmen who are very focused in their area of expertise." Both HVAC and the glass/façade industry are also integral to the ongoing conversations around building energy footprint, she says. 
COVID pivot
Adding to the challenge of learning a new industry, Haggerty also faced the challenges of COVID only several months into her tenure at OBE. 
The company pivoted to develop a new range of products for the immediate needs of the market, including SecureOne Screen and SecureOne Test modular glass systems that provide physical, protective barriers between the public and workers who are conducting testing or screening. 
On the operations front, OBE suspended international and domestic travel and face-to-face meetings, and implemented new workplace health and safety policies. The company adopted technology in new ways to safeguard employees, including virtual meetings and incorporating hands-free applications for hourly workers to clock in.
OBE began to utilize its SecureOne Screen across all glass manufacturing plants to pre-screen employees with relevant COVID-19 exposure questions and temperature checks. The company also assembled a team of leaders focused on an internal business continuity plan to address both short- and long-term issues that could surface from the pandemic. 
"There was less certainty in the beginning—so much we didn't know," Haggerty says. "Our main concerns were: How do we protect employees? What does it mean to be an essential business?"
Market trends
After the immediate COVID pivots, Haggerty shifted her focus to wide-scale pandemic-related market trends that might affect the design industry and the products that OBE will need to supply to meet customer demands. Some trends she is watching: more digitalization, more modularization and a demand for a reduction in workforce at the jobsite. "How can we do a better job together to simplify the process as a value chain? How can we respond to needs for a reduction of labor on the worksite?" she asks.   
Haggerty is also seeing a new focus on remodeling and retrofit. "People are looking at their space differently," she says. "We're seeing shifts in building design and building utilization." Hospitality and hotels may be transitioned into residential spaces. Office environments will be adapted to meet new health and safety demands. 
She anticipates a contraction in the overall nonresidential construction market in 2021 and 2022. Her focus is finding the opportunities for growth within specific segments. "I am looking at what we can do to make sure we have the right products and processes for businesses [in the segments] where they are growing," she says. 
COVID-19 has changed consumer behavior, and it has changed the way occupants use and interact in buildings, she describes. "What happens to retail space? What does it mean for grocery, which continues to grow, health care, which continues to grow, urgent care and pharmacies? COVID has impacted what the commercial building market might look like. … Understanding what's happening in the broader segment categories is important, so we can make sure we're pivoting in the right direction," she says. 
Looking ahead at OBE
In the announcement of Haggerty's new role, Nathan Creech, former OBE president and current CRH president of commercial building products, referenced OBE's "next phase of growth." Haggerty says this growth will focus on optimizing OBE's position across its three businesses—glass, architectural glazing and hardware—and better integrating those businesses. 
"We have to leverage the power across the three divisions. We can provide everything needed for a job, from glass to glazing to hardware," she says. "How can we give the divisions the ability to grow and execute in the market? … We will be upgrading our operating systems and giving our divisions the ability to have much more connectivity."