Great Glazing | Block 185
Block 185 features high-performance, Ellison Bronze custom balanced doors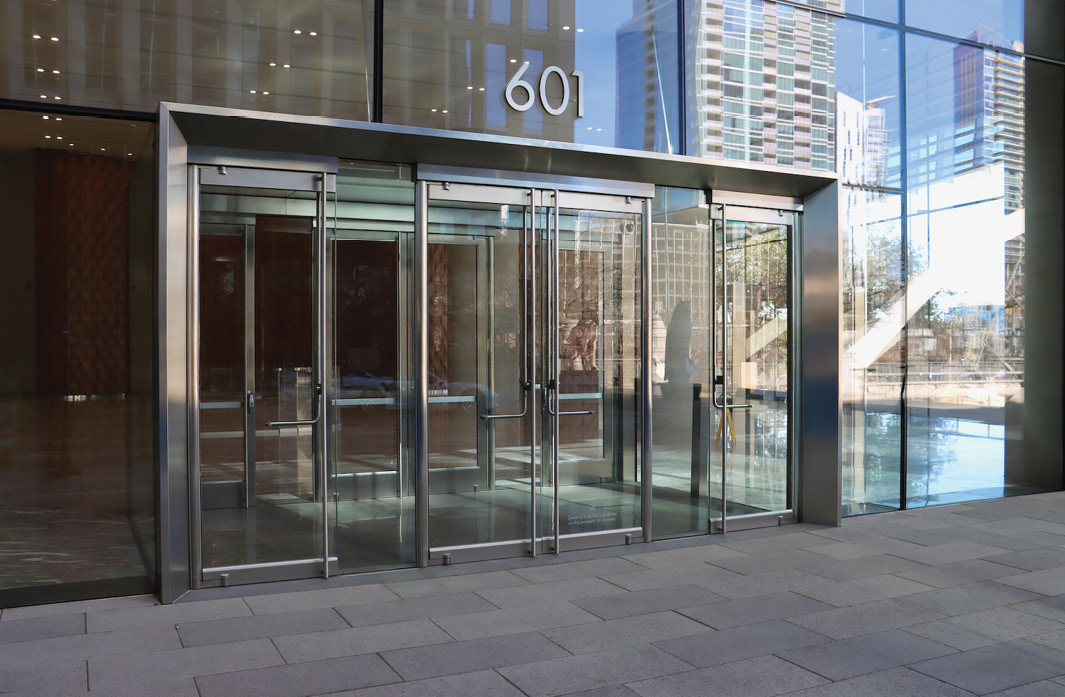 Door Manufacturer: Ellison Bronze
Design Architect: Pelli Clarke & Partners
Architect of Record: STG Design
Structural Engineer: Thornton Tomasetti
MEP Engineer: Blum Consulting Engineers
The basics
Block 185 is a new addition to the skyline of one of the fastest-growing cities in the country: Austin, Texas. Capitalizing on good talent flooding the area, major employers are setting up shop in the state's capitol, including Google, who will lease the entire Block 185 building. The structure features several high-performance, Ellison Bronze custom balanced doors specified by the architects in charge, Pelli Clarke & Partners.
The design
Block 185 is a 35-story building known for its sail-like curtain wall and spacious outdoor balconies. The design priorities were security and aesthetics, and Ellison balanced doors were selected for their minimalist beauty and ability to deliver the level of security the project required.
The materials
All Ellison doors on the project are made from stainless steel with exposed pivot shafts and a sleek #4 satin finish. There are no thresholds, and the gear boxes are recessed into the floor for a clean appearance. Triple laminated sidelites enhance structural support and the availability of natural daylight, promoting sustainability and creating inviting lobby spaces. From a design perspective, the stainless steel and glass balanced doors fit flawlessly into the glass curtainwall design.
Learn more

Learn more at ellisonbronze.com, 800/665-6445 and read the full case study.