Take Five with Trulite CEO Kevin Yates
Navigating a new industry armed with an eye toward growth, investment and data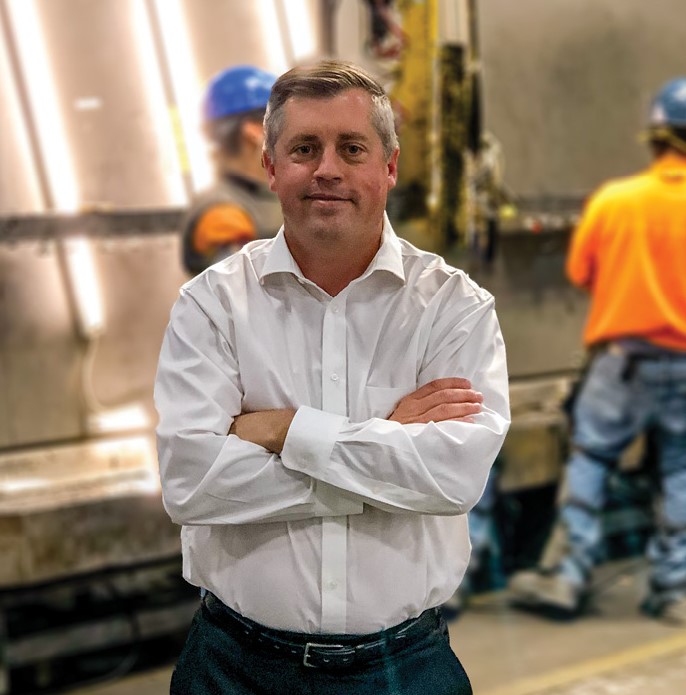 In October 2018, officials from Trulite Glass & Aluminum Solutions appointed Kevin Yates as CEO. Trulite became part of Sun Capital Partners in 2010. Since then, the fabricator has experienced tremendous growth through an aggressive acquisition strategy, most notably acquiring the U.S. fabrication assets of AGC Glass in 2014. Trulite is now one of the largest glass and metal companies in North America, with about 30 facilities in the U.S. and Canada. 
Yates came to Trulite as a newcomer to the glass industry. He previously worked for 15 years at Siemens, serving most recently as president of the Energy Management Division for the U.S. and Canada, where he led operational and commercial activities for Siemens' complete power distribution portfolio, from utility transmission through to end-user distributions. 
Yates earned his bachelor's degree from Clemson University in industrial engineering in 1994. He went on to achieve a Master of Science in engineering and industrial management 4.0 in 1999 from The University of Tennessee at Chattanooga. 
Glass Magazine Editor-in-Chief Katy Devlin spoke with Yates following his first year with Trulite, discussing his transition into the glass industry, growth and change at Trulite, the company's new focus on data analysis and more. 
Glass Magazine: How has your background at Siemens prepared you for your work in the glass industry?
Kevin Yates: Prior to Trulite, I spent 15 years at Siemens, and prior to that about a decade in the carpet industry. I began my career with Siemens as a manufacturing manager and … I became an executive with the company in 2007. Throughout that time, the commercial construction space was a large part of the Siemens portfolio and much of my career has been in the commercial construction space. 

There are many parallels between Siemens and Trulite: the entire value chain; the architectural building specs requirement; translating information to the general contractor who manages the subcontracts; then to the OEMs and product manufacturers. I have a broad understanding of the product chain.

I also understand that construction is also a local business, a fact large national companies can't lose sight of. Local relationships are vital in the construction industry. I think of general commercial construction as a type of 'hand-to-hand' combat: you have to invest in tools and support of local resources; you have to be the best equipped to locally fight each day for market share; you have to invest in training people, especially sales resources, to be the best in the industry, but also have to provide them with support of on-time delivery, quality and back office processes. We have to make it extremely easy for glazing contractors to do business with us—to offer a good product, on time. 
GM: What's different about the glass industry?
KY: The uniqueness in the glass industry is the market—it's still a very fragmented market. While there has been a lot of consolidation in the recent past, there are still a lot of local competitors in market. Additionally, the intensity of the current labor market; it requires a very solid human resource strategy and a high level of training. It's an industry that has risks to employees, and it can be a dangerous environment if you don't take appropriate precautions. We must try to take hazards out of the process and protect our people. 
GM: When you took on your role at Trulite a year ago, you stated an intention to continue the company's growth trajectory through both organic growth and aggressive acquisition. How has this been realized, and is this still your plan for the company?
KY: We are very active in making sure we see organic growth. We're very focused on top-line growth and we are still very active in looking for where we might find a strategic opportunity. But our core focus at the moment is on growing our own portfolio through better servicing our customers. 
If you look at some things we've done, you'll see we've divested one facility and consolidated another two. We are also looking at our portfolio, both product and geography. We've invested in more transparency and data analytics. By doing this, we have changed some organizational paradigms, [such as] which markets and products are profitable. We are investing in our factories and expanding our capabilities. In recent months we have purchased several new pieces of equipment, including tempering, glass fabrication and aluminum fabrication, to make us more effective and reliable.
GM: I understand data analysis was essential in your work at Siemens. Can you discuss how the emphasis on data has been brought over to Trulite?
KY: Data is a powerful tool. It should be the thing that guides most of your decisions. Data isn't the end all be all of decision making; we must consider the humanistic nuances when making decisions. But, information is power. This was one thing I saw as an opportunity at Trulite, and we spent several months in 2019 unpacking the numbers and gaining true clarity on cost structure, performance structure, different branches and different customer groupings. It has provided a tremendous increase of transparency for us. The transparency has started to shape how we approach many facets of our business. I envision a future where data drives the right conversations.
Looking at cost, for example; in the past, we had been very cognizant of raw material costs, we hadn't had as much clarity on other costs, such as labor costs, or the cost to serve customers—distance, lead time, material yields, price levels or types of products. This has become a lot more transparent [through data analysis] in determining the true absolute costs that it takes to serve customers. 
GM: The glass industry has seen a growth in private equity ownership in recent years. This includes Trulite, which has been owned by Sun Capital for 10 years. This trend has prompted questions over the ability of outside companies to be successful in a specialized industry, such as glass. How do you respond to such concerns? 
KY: My first response is to say, just like in any industry, not all companies are created the same. Sun Capital has made and continues to make an investment in this industry, and they believe in this industry. They believe there is value in this industry. Their role is to create capital value for shareholders, and the U.S. construction market has been and continues to be a great place to do that. Sun Capital continues to be supportive of me and my Trulite staff. They are open-minded and willing to make investments.