6 Reasons to Love Architectural Glass
The National Glass Association has put together a toolkit of glass and fenestration industry resources for advancing manufacturing careers. Many of NGA's recruitment & training resources are available free of charge, including videos, technical papers and practical advice on communication.
According to the Manufacturing Institute, the organizer of Manufacturing Day on Oct. 1, one of the most effective methods of attracting the next generation of workers is demonstrating how an industry's products improve the world. For our industry, the messaging is easy. Among structural materials, glass is worthy of our admiration, with many properties that make it uniquely suited to enhance the beauty, design and performance of buildings. It benefits people; it benefits the environment.  
The Benefits of Glass
1. Glass improves learning, work and healing by providing daylighting and views. 
Glass windows can provide valuable access to daylight and views to the outside, which are important to our general well-being. Daylight has qualities that cannot be replicated by electrical light. The changing intensity, direction, and color of natural light connect building occupants to the weather, season, and time of day, and can stimulate wellbeing and productivity. With careful design and daylighting controls, daylighting can also substantially reduce lighting energy use.  
For more information, including studies and statistics of the benefits of daylighting and views, check out Glass Technical Papers FB53-17 Benefits of Decorative Glass in Daylighting Applications and FM04-12 Daylighting, and watch the NGA webinar "Glazing: An Integral Part of Biophilic Design" and "The Health and Wellness Benefits of Daylighting."   
2. Glass contributes to energy efficiency of buildings. 
The design of building façades requires a balance to allow daylight in at the right times while blocking it at other times. Windows allow sunlight in, providing views, daylighting, and warming the interior in winter. But the windows must be designed with insulation and shading to manage glare, reduce cooling energy and minimize HVAC size and cost.  
Insulating glass can play a significant role in the energy performance of a building. When installed in a fenestration system (such as a window, curtainwall, skylight or storefront), there are two characteristics which drive its contribution to energy performance: U-factor (thermal transmittance) and solar heat gain coefficient (SHGC) (how much of the sun's radiative energy is transmitted through the window). The relative importance of SHGC and U-factor, and the specification for performance depend on a considerable extent on the specifics of the building design and type as well as the climate zone (the prevailing weather conditions at the building site). For typical performance values of insulating glass, refer to GTP FB63-19 Products for Energy Applications. 
Low-e coatings have been developed to minimize the amount of ultraviolet and infrared light that can pass through glass without compromising the amount of visible light that is transmitted.  
To improve the energy performance of a conventional IGU, consider the following:  
Type of low-e coating 
Cavity gas fill material (inert gas or vacuum) 
Spacer material 
Number and thickness of cavity of an IGU 
Use of dynamic glazing  
Use of a ceramic frit pattern 
In addition, external to the IGU, solar shading devices may be used to improve the energy performance of the building façade. Photovoltaics can be incorporated into the building or on-site to generate electricity from sunlight, reducing dependency on the energy grid. For further details, refer to GTP FB39-14 Glass Properties Pertaining to Photovoltaic Applications. 
3. Glass is recyclable.  
Over one million tons of architectural glass are recycled annually throughout North America. Many products originate from recycled architectural glass. The primary end users are fiberglass insulation and highway glass bead, which use crushed glass as part of their raw materials. Other end user industries include abrasives, terrazzo countertops and flooring, filtration and filler materials. The use of cullet (furnace-ready, recycled glass) in manufacturing fiberglass insulation reduces consumption of raw materials, saves on energy costs, extends furnace life, and improves air emissions. End user customers want higher levels of recycled content and are limited only by glass waste (cullet) availability. 
In addition to these post-consumer recycling streams, float glass manufacturers recycle virtually all the glass waste from the in-plant production melting and cutting processes. For more info, check out GTP FB40-14 Recyclability of Architectural Glass Products. 
4. Glass is a critical component of building security. 
Specialty security glazing in windows can play a critical role in protecting building occupants, such as protecting students during an active shooter incident. Windows in schools and other buildings can increase awareness and alert occupants of the approach of suspicious or threatening people. Well-lit classrooms are safer, and natural light from windows does not depend on a power source, which could fail during emergencies. Security glazing products are available for a variety of threat levels and can combine the attributes of enhanced building security with resistance to natural threats, such as fire-resistance and resistance to debris from windstorms. For more details on specialty glass windows designed for security, refer to GTPs FB71-21 School Security Glazing and FB43-14 Security Glazing. 
5. Glass can help protect birds, sea turtles and other wildlife. 
Whether clear, tinted, or reflective, glass is essentially invisible to birds and can create three effects with potentially lethal consequences: reflection, transparency and black hole effect. Research on bird-glazing collision prevention has guided the development of bird-friendly building design, informing us how to transform clear and reflective architectural glass into barriers that birds will see and avoid. For more info, check out GTP FB35-12 Bird-Friendly Glass Design Strategies. 
Similarly, glass can help protect sea turtles. Coated glass can reduce the transmittance of light from buildings onto the shoreline when designing and constructing along the coast as not all indigenous species, including marine turtles, fare well with bright lights. For more info, check out GTP FB36-12 Coastal Glazing and the Turtle Codes.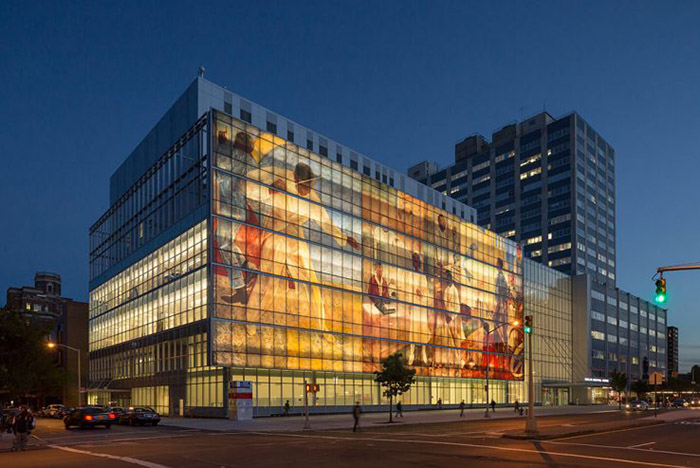 6. Glass can convey a message or feeling of artistic or decorative expression. 
Decorative glass can satisfy design goals and occupant comfort. Different surface treatments help diffuse light, allowing daylight into a space while managing glare and direct sunlight. Privacy is also a key benefit that decorative glass products can offer. Decorative glass can offer depth or visual effect and can be enhanced with color or texture. Decorative glass can be designed to impart a feeling of calm, connection with nature, or to inform the local history with graphics and images. Refer to GTP Types of Decorative Glass for more information. 
To learn more about these topics, and other reasons to love glass, watch the On-Demand Webinars provided free by the National Glass Association.