InstallationMasters Demonstration Puts Theory into Practice at FGIA Hybrid Fall Conference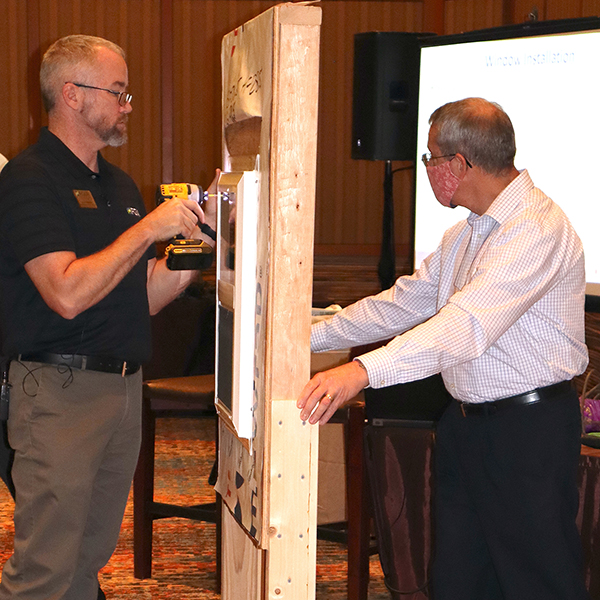 Rich Rinka, technical manager, fenestration standards and U.S. industry affairs, and Jason Seals, certification services manager, fenestration, led in-person Fenestration and Glazing Industry Alliance Hybrid Fall Conference participants through the steps of two different window installation techniques that are included in the InstallationMasters training program: ASTM E2112 Method A1 and FMA/AAMA 100 Method C.
"A window or door is only as good as its installation," said Rinka before Seals began the demo. "InstallationMasters was developed to improve installation of residential and light commercial windows and exterior glass doors for both the new construction and replacement industries. It seeks to promote consistent, high-quality installations."
The three available separate segments of the InstallationMasters program address water management, installation materials and components, installation practices for various fenestration frame styles and shapes, product performance and operator types and more through classroom training.
Rinka said the training course also focuses on topics such as jobsite safety, what to consider before beginning a job and the importance of following manufacturers' instructions carefully. "These are the most important things we teach in these courses," he said.
Rinka went over the three main types of exterior window and door frames: block fame, mounting flange and flush fin. "Block frames are typically used with surface barrier wall systems. Flush fin are flush with the exterior surface, and they are primarily used in retrofit applications. Mounting flange windows and doors are used with membrane/draining systems. Mounting flange windows and doors attach with fasteners through the provided openings in the flange," he said.
Prep your materials in advance, said Rinka, noting that different installation methods may require different materials per different standards. "The ASTM E2112 installation standard requires a minimum width of 9 inches for mechanically attached flashing. Wider flashing materials may be used," he said before Seals began demonstrating that specific window installation method.
"ASTM E2112 Method A1 provides guidance for installation of mounting flange window throughout the United States," said Rinka.
Next, Seals began to demonstrate a second window installation known as FMA/AAMA 100 Method C on a different mock window opening and unit. The second method was originally developed as a standard installation practice in areas with extreme wind and water conditions. This method is for installation of mounting flange windows and contains methods that use either mechanically attached flexible flashing or self-adhering flashing, per AAMA 711, which is a minimum of 4 inches in width. "Other widths are permitted with written acceptance from the window, door or flashing manufacturers," said Rinka. In this method, a sill pan is used to assist in draining water to the exterior surface, and a weather resistive barrier is installed prior to beginning the installation process.