Glass Day New England Brings Together Regional, National Businesses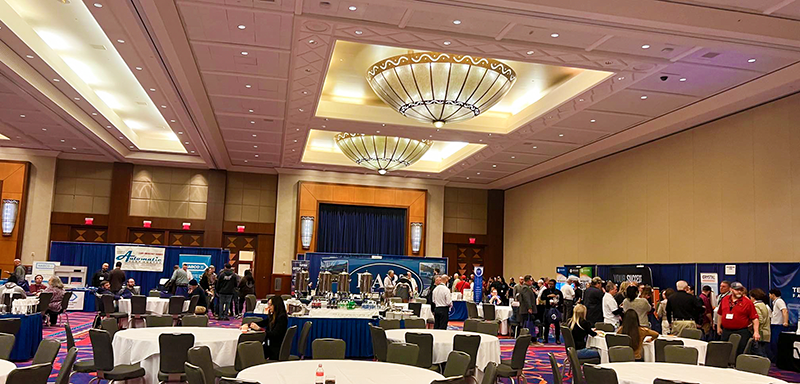 Glass Day New England, hosted by the Connecticut Glass Dealers Association (CGDA) and the Massachusetts Glass Dealers Association (MGDA), was held at the Mohegan Sun Casino in Uncasville, Connecticut, on March 3. Dozens of glass, window, door, and transportation companies, from regional businesses to national businesses, gathered in the convention center to showcase and talk about their latest products and services.
Executive Director for CGDA and MGDA Allyson Deckman says the event attracted about 350 attendees and 30 exhibitors. 
"This has been our highest number of attendees. The last one we did was in 2018. We had scheduled for May of 2020 but then COVID hit," Deckman says. "People are just going crazy to actually be here in-person. The excitement level is extremely high. They couldn't wait to see each other again."
As Glass Day New England is a biannual event, CGDA and MGDA are planning to host the next event in spring of 2025. Specifics for that event are not available yet, but Deckman says it will be "even bigger and better" than this year.
@GlassMag #GlassDayNewEngland
Security and automation in door trends
Innovation is at the forefront of many businesses minds today. A representative for Automatic Door Doctor, a Connecticut-based automatic door specialist, says wave-signal automatic doors that don't require touching have been in high demand since the pandemic began. An Assa Abloy  rep also says that wireless technology is on the up-and-up. The company was showcasing its center lock housing with ES100 electric strike, which they say has been in high demand as customers seek more security and safety.
Sustainability and high-performance remain vital
Sustainability was also a hot topic at the expo. Vitro Architectural Glass was showing potential customers its VacuMax IGU, which has four-times better insulating value than a traditional IGU, according to the company's rep. Crystal Windows' rep also said the company has been working to raise the R-Value and/or lower the U-Factor of its windows to allow for higher-performing insulation. 
Reps from General Glass International and HMI Glass, formerly Woon-Tech, both say black hardware and black grids continue to be popular amongst consumers. HMI also says that digitally printed privacy glass has been a big trend in the shower market.