2019 Reader Photo Contest
Industry snaps show interior glass innovation
In its fourth year, Glass Magazine's Reader Photo Contest is highlighting exceptional
glass in the interior. Editors asked for submissions showcasing innovative interior glass
applications, from staircases to glass partitions. The Photo Contest is intended to celebrate
what's possible with interior glass and to recognize the complexity and aesthetic
value of these industry products, which are part of a still-booming market for interior
glass. The array of submissions, and the striking nature of the three finalists, speaks to
the wide range of glass solutions for interiors. Architects and designers continue to look
to glass to do more on the interior—maximizing daylighting, adding transparency while
addressing privacy concerns, presenting custom and complicated designs, and more. The
finalists and winners were selected through internal review, as well as a public voting
process. Photos were judged on content, composition and their ability to highlight what's
possible with interior glass.
Winner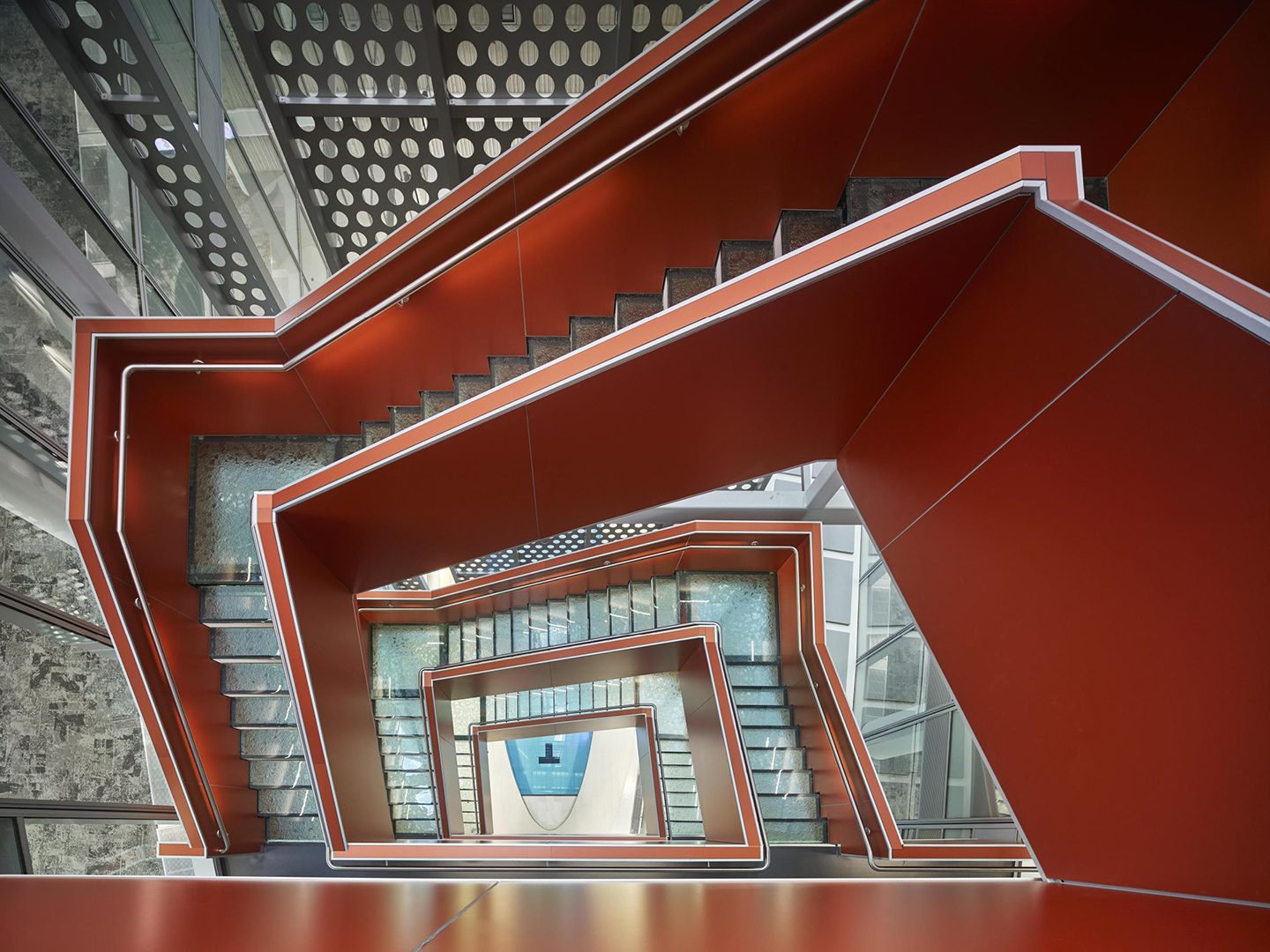 Jockimo Inc. custom-fabricated the 75 stair treads and three landings of this eye-catching installation in a corporate headquarters in Silver Spring, Maryland. "The glass is thicker than usual and is custom textured glass that exceeds international slip resistance requirements," says Tim Casey, owner of Jockimo. The general contractor, Shickel, installed the glass.
"This photo is incredible," says Katy Devlin, Glass Magazine editor in chief, of Jockimo's visually stunning image of its fabricated glass staircase. "It is a real-life MC Escher. Beyond the framing and photo quality itself, the project exemplifies innovative, creative and one-of-a-kind glass solutions."
Honorable mentions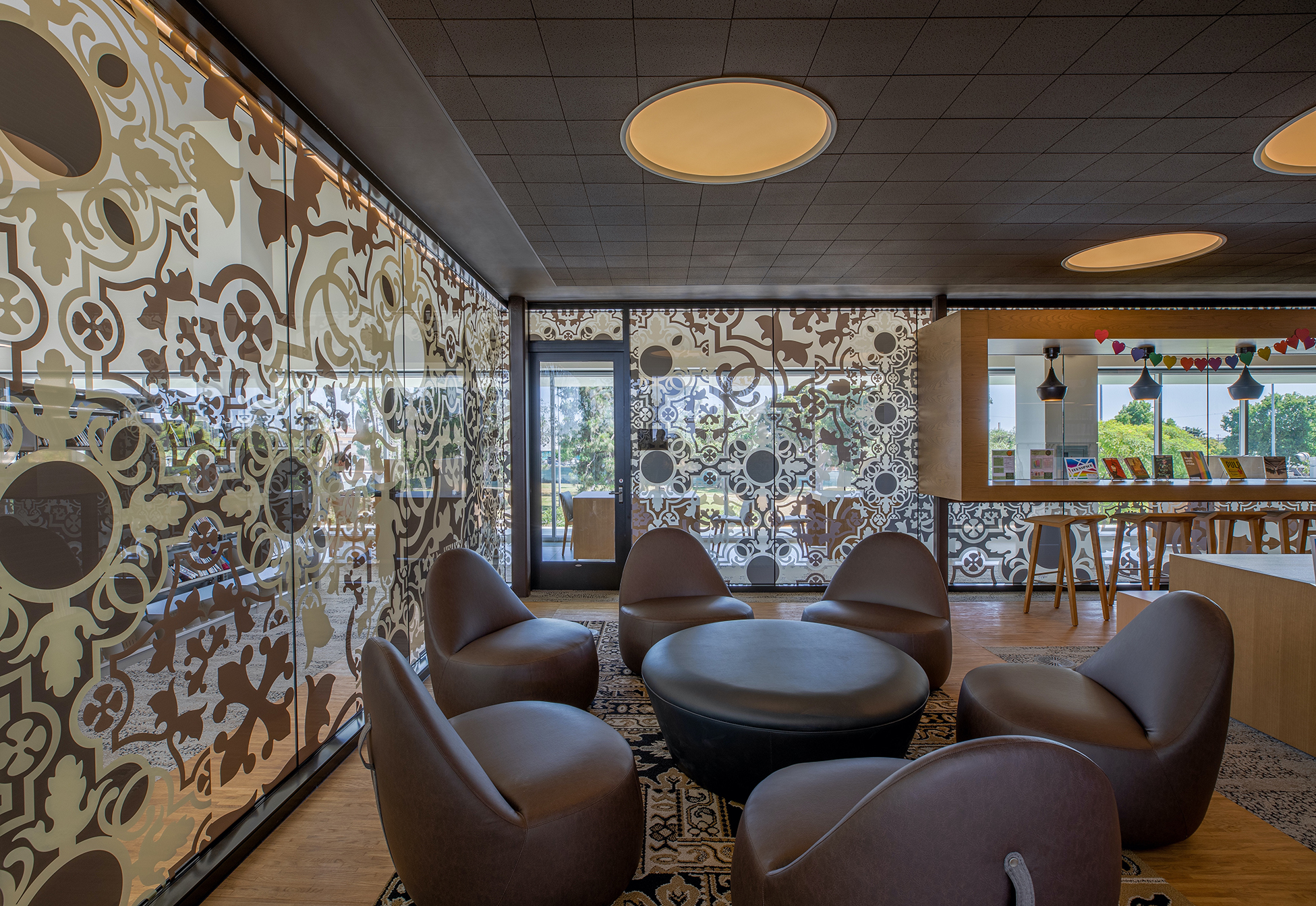 Young adult readers can enjoy the new Teen Room at the newly renovated Lions Park Library in Costa Mesa, California, enclosed by custom graphic glass installed by Giroux Glass. The room's mosaic walls are 9/16-inch custom graphic, D2G Mosaic, tempered, laminated and low-iron glass, fabricated by Pulp Studio.
"This photo very much shows the graphic appeal of glass and what can be accomplished with it design-wise," says Melissa Fischer, instructional designer & LMS administrator, National Glass Association. "It isn't difficult to discern the reason why we are looking at this photo: because of the beautiful glass walls."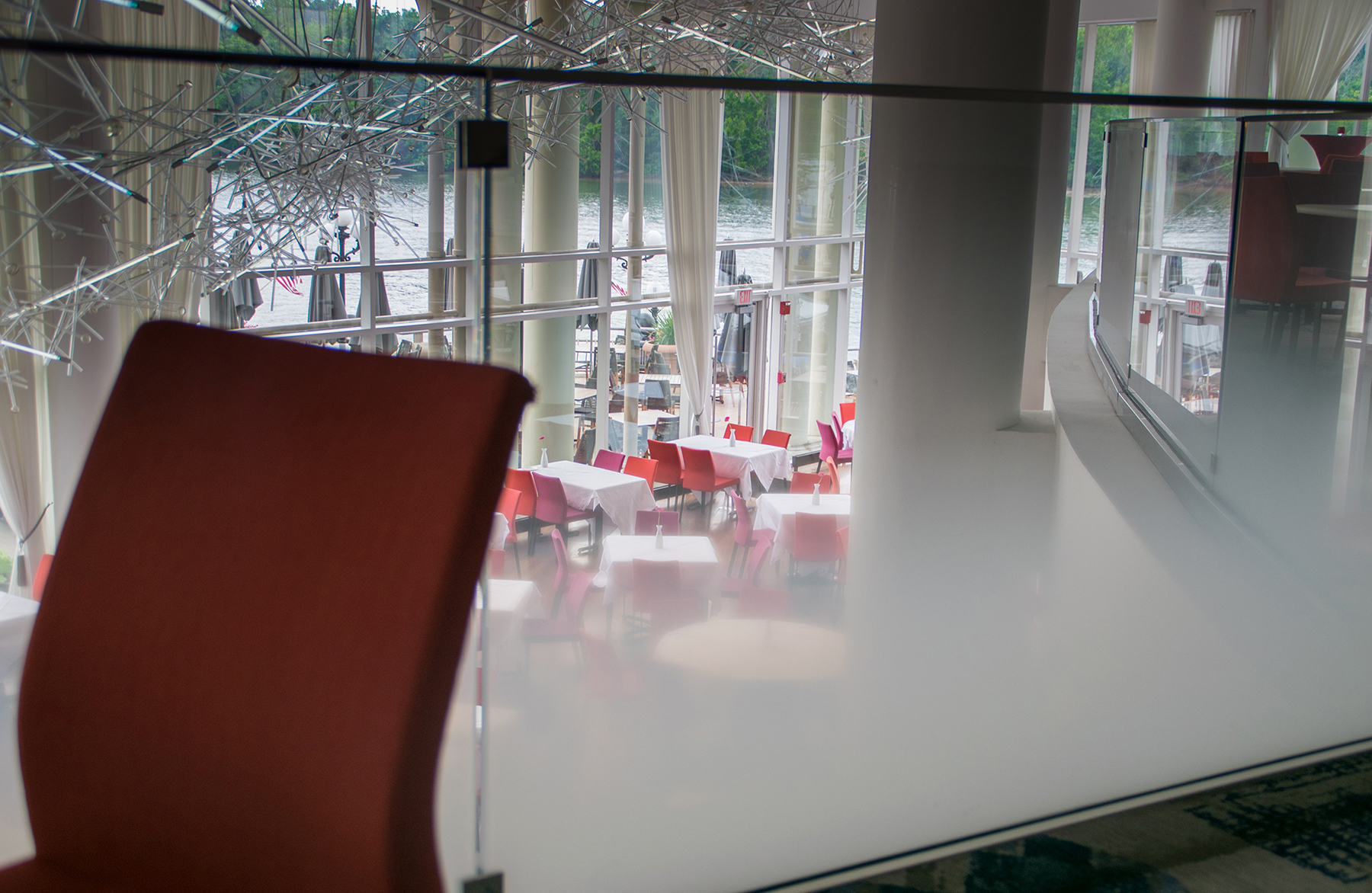 The chic Sequoia Restaurant, located in upscale Georgetown in Washington, D.C., features understated glass railings from GGI. "This image ... demonstrates the capabilities of digitally-printed glass fades," says Marianna Villate, marketing manager, GGI. "The beautiful white fade provides privacy without obstructing the stunning views of the river and while fitting in with the restaurant's modern aesthetic."
GGI fabricated 3/8-inch low-iron laminated glass with 0.060 SGP interlayer and digitally printed white fade design. Design Glazing Concepts was the glazing contractor.
"Simple, smart and classy," says Max Perilstein, contest judge and founder of Sole Source Consultants. "The fade on the glass is perfect to achieve what everyone wants in this case—privacy but without losing natural light or the view."