The Audrey Irmas Pavilion
Project of the Year Runner Up & Best Decorative Glass Application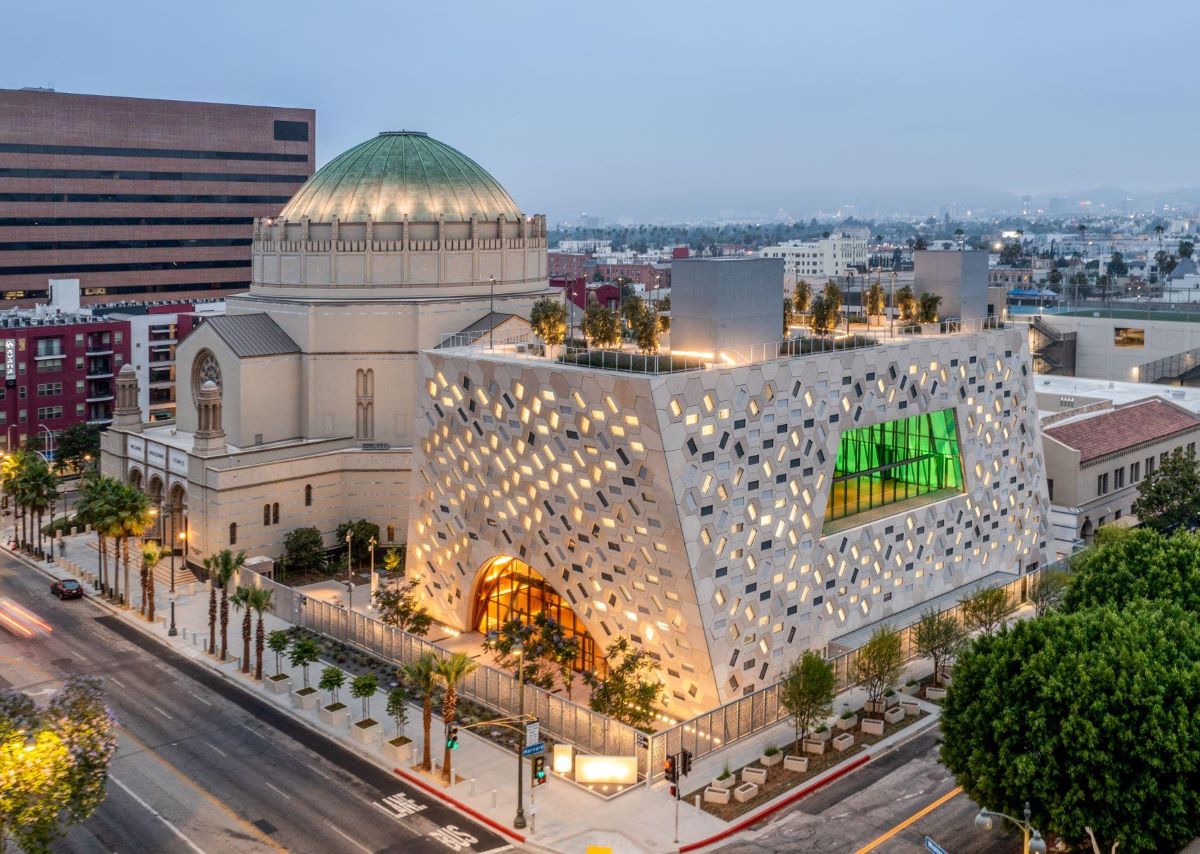 Nominating Companies

Eastman Chemical Co.
Goldray Glass

Location 

Winning Team

Architect: Shohei Shigematsu, with Gruen Associates of Los Angeles and Office of Metropolitan Architecture
Glazing contractor: Steel City Glass
Glass laminator: Goldray Glass
Interlayer supplier: Eastman Chemical Co. 
Structural engineering: ARUP
Photo credit: Jason O'Rear
History and modernity both find expression in the Audrey Irmas Pavilion, a glowing green glass trapezoidal terrace recessed into the side of Wilshire Boulevard Temple's historic Erika J. Glazer Family Campus in Los Angeles. The temple has been a cornerstone of the Jewish community since its opening in 1892.
"This is an incredibly visual and interesting structure that really puts the glass at the focal point for anyone that enters," says Glass Magazine Awards judge Sara Barchak, marketing communications manager, EFCO Corp.
Designed to host religious and cultural activities, celebrations and performances, the 55,000-square-foot, three-story pavilion features three harmonious gathering spaces—each with a distinct scale and spatial character.
Shohei Shigematsu's pavilion design uses the trapezoidal window as a counterpoint pop of color that simultaneously aligns with the design elements of the Byzantine-Revival style building. The dramatic green laminated glass coordinates with the building's dome, while the pavilion's geometric lines, neutral facade dotted with hexagonal shapes and windows, and recessed green glass terrace create a unique contrast to the traditionally styled temple.
The strategic use of green laminated glass ties the three levels of the pavilion together—from the exterior panels visible from Wilshire Boulevard to the interior partitions within the Diane & Guilford Glazer Chapel to the insulating glass units of the West Terrace—while allowing in daylight and providing views of Los Angeles, the Hollywood sign and the mountains north of the city.
Glass Magazine Award judge Jennifer Highfield, Architectural Design Associate, Viracon, noted the impressive eight-layer stack of Vanceva PVB interlayer, which allowed for the signature glowing green glass. The stack was combined with a metal mesh interlayer.
The exterior panels, interior partitions of the Diane & Guilford Glazer Chapel, and the insulating, laminated green glass units in the West Terrace were fabricated by Goldray Glass and installed by Steel City Glass alongside MATT Construction.