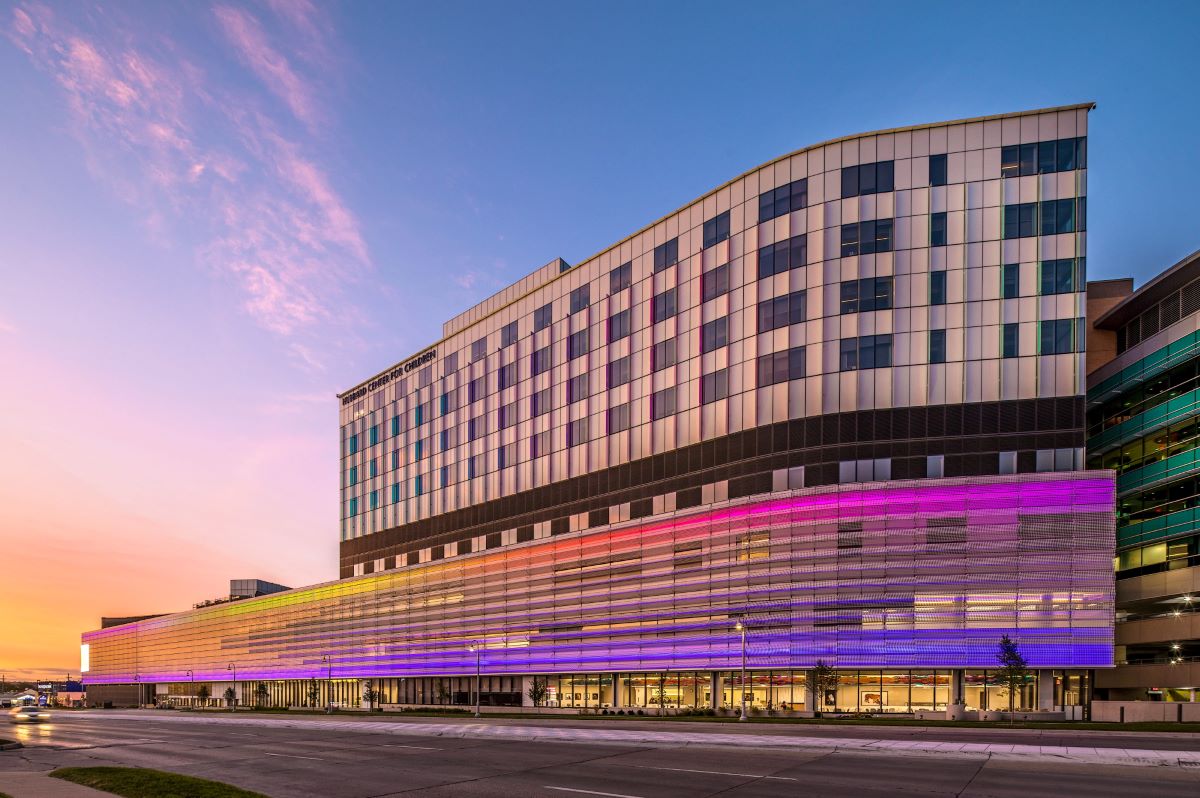 Hubbard Center for Children
Nominating Company: Architectural Wall Systems
Winning Team

Metal systems and curtain wall manufacturer: Baker Metal Products
Glazier/envelope partner: Architectural Wall Systems
Glass fabricators: Cristacurva, CSG
Façade engineering partner: Curtainwall Design Consulting
Architect: HDR Inc.
General contractor: Kiewit Building Group
Photography: Tom Kessler
The cheerful rainbow exterior of the new addition to the Hubbard Center for Children is visually splendid; but there's even more to it than meets the eye, says Chad Heiden, regional vice president, Architectural Wall Systems, the glazier on the project. When the glazier and other stakeholders were first approached to construct the new patient tower, this year's winner of "Best Project Team," "the design and construction teams quickly identified that the complexities of this project required a design-assist, integrated project delivery method," he says.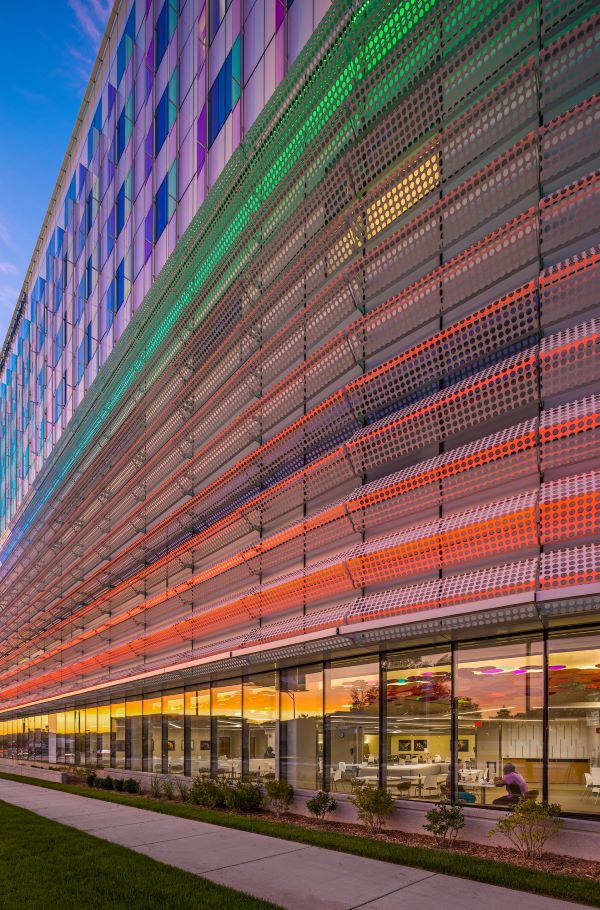 AWS worked alongside the IPD team to refine the enclosure details, working directly in the building enclosure model via BIM360. This model eventually replaced the content developed during schematic design, says Heiden, saving 12 weeks compared to the typical shop drawing and approval process. AWS' modeling also included coordination with other trades, identifying solutions for structural steel layout and tie-ins to the existing hospital building. 
"Expansions of working buildings are never an easy task to start with; then to integrate a project which blends with the current building creates new challenges," says Pete De Gorter, vice president, DeGorter Inc. "This project flawlessly integrated pieces from a range of building products, producing a dynamic façade worthy of any building. …This project hit the nail on the head."
The first three floors of the 460,000-square-foot facility span the entire campus block and feature perforated metal panels that bend in and out. These panels are backlit with full-spectrum LED lighting, allowing an array of lights to dance across the exterior. The six floors of the patient tower utilize dichroic glass fins, situated perpendicular to the rest of the system. 
"To be able to incorporate the LED lighting shown on this project into a large-scale façade is very complicated, from the design through the installation," says Glass Magazine Awards Judge Martin Bracamonte, vice president of marketing and innovation, Vitro Architectural Glass. "As a more complex project, it required a superior team effort and understanding, and it's evident that this project team was able to succeed in their endeavor."