A Checklist for Glass Printing
Demystifying digital and decorative printing on flat architectural glass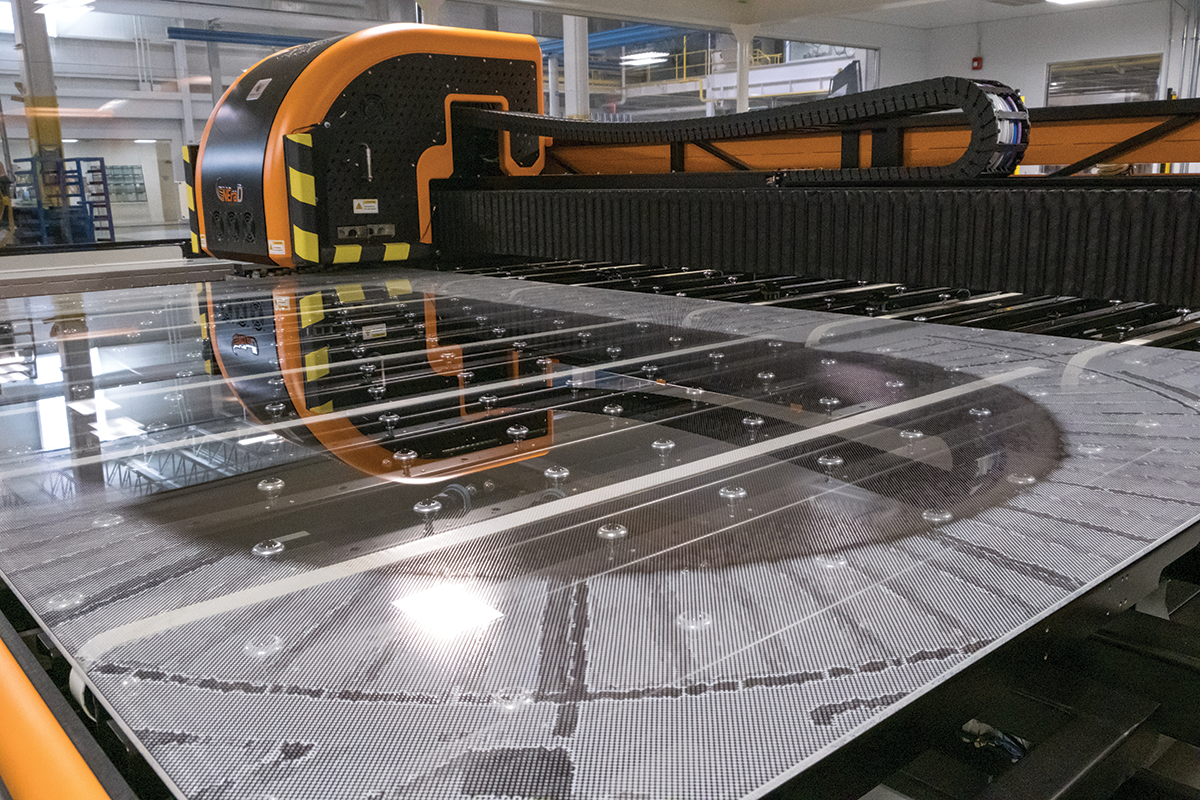 Above: Ceramic frit digital printed glass at AGNORA's glass fabrication facility. 
When I started at AGNORA, I was thrilled to see the large-format, direct-to-substrate capabilities in-house. Having spent over 15 years in large-format printing, I thought I knew printing through and through. Still, Joe Lindsey and the print team at AGNORA showed me the subtle and not-so-subtle differences between traditional large-format printing and printing on glass.
This article aims to provide insights into the different print processes available for architectural glass—the strengths of each, and considerations that must be considered when bridging client needs with fabricator capabilities. Having some or all of these considerations answered will streamline the print process and, with a bit of hard work, exceed expectations.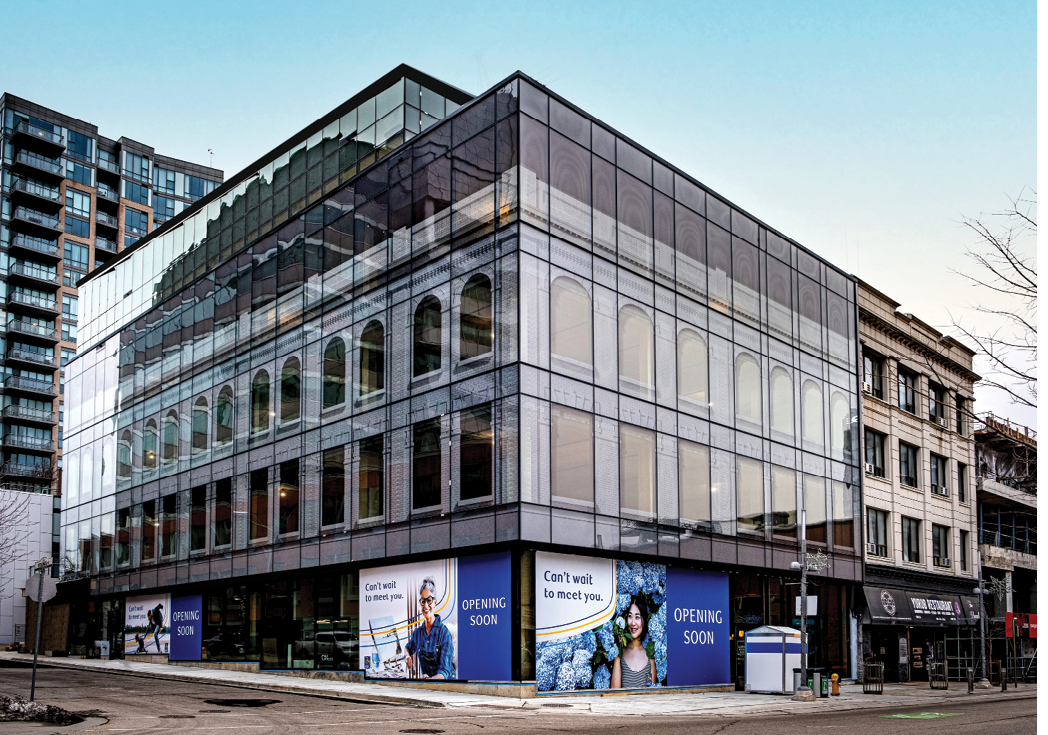 Why print on glass?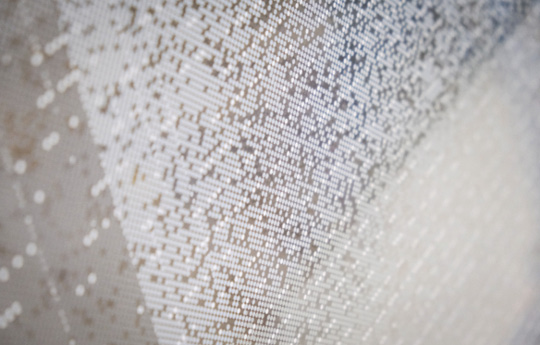 In short, printing on glass allows designers to create transformative glass spaces. Glass can become a canvas for creating unique designs to be incorporated into public art features and into buildings such as hospitals, transportation stations and building lobbies.
I spoke with Michael Saroka, CEO of Goldray Glass, to gain another perspective. Goldray Glass is another leading company that has been printing decorative glass for construction projects across North America for more than 37 years. Saroka has been on the shop floor since he was knee-high, learning about the relationship with paints, glass and heat. He helped me to expand on the benefits of printing on glass.
"The current generation of digital printers allow designers to expand the decorative canvas to both exterior and interior projects," he says. "Digital printing's flexibility means it can be used monolithically or included in laminated and insulating glass units."
How is glass printing different?
Coming from the traditional print industry, when considering large format for a project, there are standards that are adhered to. For example, Pantone is the go-to color library, often integrated with color and tone reproduction certifications such as G7. Further, extended color ranges beyond CMYK (cyan, magenta, yellow and black) are also commonplace, and you may find yourself with a wider, more precise color gamut by adding light cyan, orange or light magentas.
Do you require Coca-Cola red? Walmart blue? No problem. High-end print providers can nail those brand specifics.
However, digital printing on glass does not follow these traditional, entrenched standards.
The printers are bespoke, require larger investments and can be narrower in their capabilities.
The glass printing industry is a specialty area, supported by a dedicated team of skilled technical experts.
The print engines or "rip software" are customized and require inherently steep learning curves and specific knowledge.
With glass printing, the color gamut can vary and is often proprietary to the print manufacturer.
Takeovers and mergers appear to be higher in the glass printing industry as small printer companies get bought, resulting in changes in the supply chain (communication, parts, ink).
Finally, glass acts very differently with inks than other materials such as vinyl or fabrics, demanding more innovative, solution-oriented thinking. "Color matching, vibrancy, fading and pixelated imagery are real challenges facing designers and printers," Saroka says.
Why am I sharing these seemingly broad drawbacks? Because it lays the foundation for understanding what to expect from direct-to-glass printing, the challenges these types of specialty fabricators face, and the dedication you can expect from the companies that do it.
"Like all technology, it is important to not only understand what is possible but have experienced operators and product designers guiding the creation of the product. It is not enough to own the technology; owning a chisel does not make you a sculptor," says Saroka.
Application considerations
If you require custom digital printing, you may have to ask a few questions to know what you'll be receiving from your print partner.
Will the project be indoor or outdoor and be exposed to natural light?
Ceramic inks are not prone to fading. However, organic inks may fade over long periods, more noticeably in reds and yellows.
Will passersby have a close-up view of the glass?
Indoor applications are typically viewed close-up and require higher-resolution artwork to be of acceptable quality.
What is the required color?
Opacity refers to how "see-through" the ink is, with 100% opacity equalling full coverage, while 0% is no ink at all. Both digital print methods provide values from 0 to 100%.
Gradients refer to the "shading" from one opacity value to another for a given area. Both print technologies provide robust gradients devoid of "banding."
Color gamut is the range of available colors. Organic inks provide a wider, impactful gamut of color and can easily match existing color libraries. Ceramic inks have a reduced range of colors, notably reds and yellows; however, specialty inks can be mixed to achieve a desired color.
What are the design requirements?
Photorealism is possible in digital printing. Reproduction of photographs and their inherent range of color are available for both ink types. Organic inks tend to reproduce real-life images better due to color. Both ink systems produce abstract (illustrations, drawings, vector artwork) well.
Alignment should also be considered if a single image is spread across multiple lites. How will the image be aligned across the lite? Will the image be cropped in the case of different-sized lites?
Edges must also be taken into account. Is the print against the edge? Is there a chamfer? Is the glass custom in shape, and do edges need to align perfectly if no mullion is present?
What are the size requirements?
The overall available sizes for North American facilities are 130 by 300 inches for ceramic-based inks and 77 by 118 inches for organic-based inks.
Experience matters
Working with companies you know will be at your side when you need a replacement, answer questions, and being there "tomorrow" goes a long way in overall support. A broken lite many years down the road may be a pain to match; however, high-quality glass printers may output a replacement, especially if they were the originating firm. 
Get to know the printing options | Ceramic frit versus organic ink

One of the first things to note is the variation in ink and print types and their applications. The following table breaks down the difference between ceramic and organic-based ink systems, which are both used for digital printing on glass.
 

Manufacturing Process    

Ceramic ink applied to glass is heated to 1,100 degrees F (600 degrees C) and becomes fused to the glass. In other words, it must be tempered to cure.

Notes:

Easily customizable
Highly versatile
Low volume

Organic printing technology allows for direct-to-glass printing after the tempering process, or without tempering at all.

Notes:

Easily customizable
Highly versatile
Low volume

Life expectancy    

Ceramic: Unlimited, because the frit is fused to the glass.    
Organic: Many years when not in the presence of natural light or exposure to UV. Suggested for interior use only.

Resistance to Ultraviolet    

Ceramic frit does not break down when exposed to UV rays.    
Organic ink may break down in the presence of UV, over time.

Color Match    

Ceramic: Matches very well with dark colors. Limited gamut when extending into yellow and red. 
Organic: Exceptional color-matching capabilities.
Editor's Note: The views expressed in contributed columns to Glass Magazine belong to the author and do not reflect the position of the National Glass Association or its technical committees.