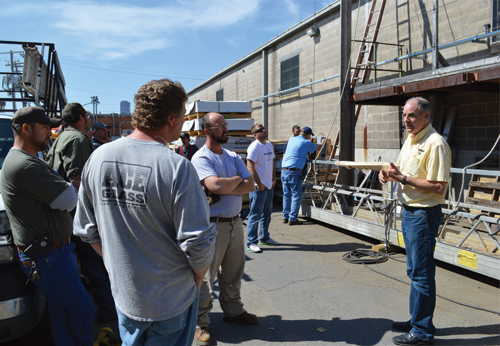 Ace Glass leads attend a Spider Swing Stage training with sales rep John VanNatta. The company hires and trains new employees from multiple creative channels, including prison transition programs. Photo courtesy of Ace Glass.
Although the worker shortage continues to be a primary concern for most glass industry companies, many are turning the challenge of finding qualified workers into an opportunity to train diverse, talented people into a workforce of skilled, loyal employees.
To do so, they are thinking outside the box and diversifying their recruitment methods. Glass Magazine spoke with officials from three industry companies who have taken a wide variety of steps to recruit workers, from partnering with refugee educational centers and rehabilitation programs, hiring for values over skills, committing to long-term training, and offering competitive pay and benefits no matter the job.
"If a company truly embraces diversity at all levels as part of its culture and organizational strength and provides equal opportunity for all employees, people of diversity and all people will naturally desire to work there," says Oliver Stepe, president of YKK AP America.
By diversifying their hiring practices, industry companies have diversified their employee base, and become desirable places to work.
Second-chance hiring
Courtney Little, president and general counsel for Ace Glass says the company is experimental with its hiring practices. Disappointed with the options from traditional labor pools and hiring platforms, they are "always looking for progressive ways to hire," he says. The company has hired veterans, hired through in-house internships, partnered with technical schools, and Little has spoken at middle and high schools about the benefits of working in construction.
"If good people come to this industry and the industry takes care of them, then others will come. [Our recruitment strategy] is about making construction better," says Little.
One successful recruitment path for Ace has been working with transition programs to hire individuals who have been previously incarcerated and are working to reenter society. To find potential long-term employees, the company partners with Pathway to Freedom and Exodus—faith-based programs that offer services to prepare, train and mentor inmates for successful reentry into society.
By partnering with transition programs, something Ace has done for about 10 years, the company receives employee candidates who have been vetted, and rehabilitated to be successful citizens. Once an inmate is released, the programs, through halfway houses, discuss next steps to help them survive in society. "They walk through what the next day, week, month, year of life will look like. What to do, what's needed in order to thrive. They do a great job helping [former inmates] succeed once they leave the system," says Little.
Ace Glass is strict with these recruits and relies on a 30-60-90 day onboarding process to further vet them. "The real vetting occurs once a person starts, for any new hire; people show their true colors and capacity for a job within two to four weeks of starting," Little says.
Within 90 days, Little says he can gauge a recruit's capacity to learn, and their ability to stick with a task. Within that time, he has seen their character. "The ones who show up and have an interest in getting better, they rise to the top. Those who don't show initiative get weeded out," says Little.
Although the prison hiring process has been successful, there are challenges to this form of hiring. For example, Little has had to jump through hoops with parole officers. He has written letters to the governor, to employees' attorneys, and also dealt with child custody issues. "But, I would do that with any of our guys," he says.
According to Little, the recruits who come from the reentry programs tend to work hard and remain loyal because they are grateful for the opportunity given. "We treated them well and gave them an opportunity, and they've turned into leaders," he says.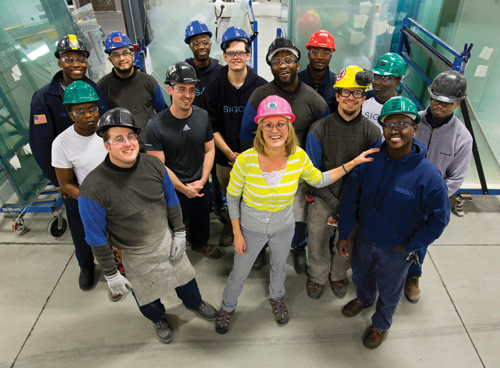 Cindy Caplice, hiring manager, stands with fellow Sigco employees. The company hires refugees to combat Maine's challenging labor shortage.
Refugee recruitment
Based just outside of Portland, Maine, Sigco Inc. is acutely accustomed to the country's labor challenges. Working with an unemployment rate hovering around 3 percent (3.2 percent as of February 2017), Maine employers are already having difficulty finding workers. Compounding the challenge, the state has the oldest median age in the nation and was one of only two states where deaths outnumbered births between July 2014 and July 2015, according to the Census Bureau. In this context, the Maine State Chamber of Commerce co-authored a report that recommended legal immigrants be a "key component" of the state's economic strategy. Sigco heeded the advice.
In 2015, the company expanded its fabrication facility and installed a new laminating line to keep pace with growth opportunities. Over the course of a year, the company had over 100 open job positions.
"How do you grow a business with the available resources?" asks Cindy Caplice, hiring manager at Sigco. "I think as employers, we have to look at all options. Many are seeking employees. We have to be open-minded to any possibilities."
She started seeking alternate recruitment options to fill the openings, ultimately landing on the Portland Adult Education center, where refugees and asylum-seekers from several African nations polish their English and learn job skills.
For Sigco and its new refugee employees, the most obvious training hurdle is English comprehension, making a partner like Portland Adult Education even more important. Additionally, when Caplice realized the new hires only knew the metric system, she asked the center to train students on an American tape measure.
"The learning curve is a bit longer, sure. Our on-the-job training took longer as the terminology is different," says Caplice. "But by working together with [the center], our new hires have the skills they need for the job," says Caplice. "Everything about this job is foreign. But, the attitudes are great. They want to be here, they're really grateful to be here."
At Sigco, one-quarter of the 250 employees are now legal African immigrants, and some of them have worked their way up into management-level positions. Sigco's cutting department lead and tempering department lead, both immigrants from Africa, came to the company as non-English speakers. "They are fleeing horrible circumstances and they want to work," says Caplice. "This is a way for people to start. And within five years, we have leads from [these recruits]."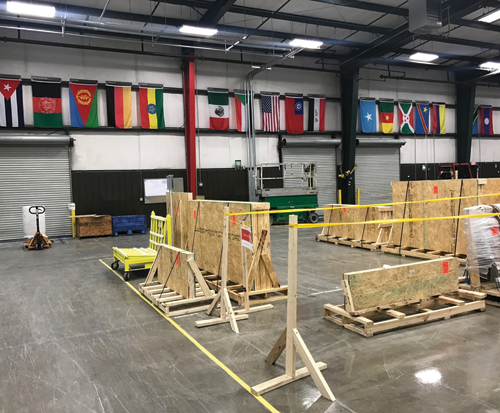 The Wall of Family at EFI features the 17 international flags representing its diverse workforce.
Hiring values
Exact Finish Inc. a decorative glass fabricator based in Kernersville, North Carolina, has a workforce representing 17 different countries, with over 55 percent of all employees from typically underrepresented groups.
Jeanne Clary, human resources manager for EFI, says, "Our diverse culture is one of the most impressive attributes that we offer."
EFI relies heavily on World Relief, an agency that represents refugees and offers skills training, to fill open positions. And, because of its reputation as a diverse company, many of its applicants come by word of mouth. The company pays above minimum wage, regardless of the skill level of its hires, or the type of job. It also offers competitive benefits to all employees. To find talented and loyal employees, Clary's hiring process focuses on values over skills.
"We are always looking for potential employees that possess our company's core values first. We can teach and train tasks, but not values," she says. "[In the recruitment process], the boxes I have to check are whether their core values match with ours. If not, they won't get it. This is what makes us diverse."
By hiring based on values, EFI's management is committed to taking the long road when it comes to training. The investment has paid off, however, as EFI has very little turnover and has been able to promote and hire from within most of the time.
"Our goal is to always bring in someone with growth potential," says Clary. "If we have to go outside to hire, then I pull in all resumes blind. I don't lay eyes on them until the last interview … and I always throw in a wild card—someone that caught my eye for some reason, that maybe would be disqualified otherwise. When it comes to making the decision, the cream rises to the top."
For example, EFI's OSHA safety manager is a former refugee from Iraq. Coming from a country with minor safety regulations, he would not traditionally be a good fit for the job. But, to Clary, his attention to detail, values and work initiative got him the job.
Clary says EFI's culture and core values make this possible. When recruiting new employees, she says they don't need skills that correlate to EFI's work. She looks to the traits that made them successful previously. "That's the core of the person. That's what makes them tick. That's why they'll be able to grow."
Recruitment Tips
01
THINK OUTSIDE THE BOX
"Go outside the box. Find skills that can convert, and train for the rest. Find someone who's detail oriented for quality assurance. Find a car detailer for the paint line. Correlate other training into the glass industry."
–Jeanne Clary, human resources manager, EFI
02
RECRUIT IN HIGHER EDUCATION
"Reach out to vocational schools beyond high school. There are degree programs in manufacturing technology; these are a great segue to this industry. Reach out to them directly for recruiting help. And find in-house trainers that enjoy being a mentor. There are lots of people who want to see others succeed."
–Cindy Caplice, hiring manager, Sigco Inc.
03
PARTNER WITH THE COMMUNITY
"Look for strategic partnerships in your community. We would not be successful if others hadn't [vouched for] these guys. Dig in and find programs; there are resources to help vet people, and you'll be surprised with the type of people you'll find."
—Courtney Little, president and general counsel, Ace Glass Inc.
04
PERFORM THOROUGH ONBOARDING
"Both candidates and employers … never really get to know each other until after employment starts. For this reason, we have placed significant emphasis in onboarding, during which time we try to cover basic needs but also company philosophies and core values. Thereafter employees may receive specialized, on-the-job training based on needs of the role and the individual."
–Oliver Stepe, president, YKK AP America
05
WORK TO IMPROVE THE INDUSTRY'S REPUTATION
"Work with local school districts and workforce development groups. Work to change the construction industry's reputation. Construction isn't just a dirty, outdoor job with no future in it. You really get to play with cool toys these days."
–Ken Simonson, chief economist, Associated General Contractors of America