Innovations in Glass
2018 Glass Magazine Award winners showcase complex designs, improved performance and advanced technologies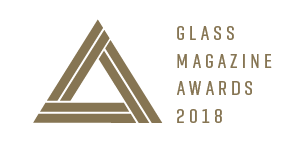 Glass Magazine thanks GGI for sponsoring this year's Glass Magazine Awards.  
This year's Glass Magazine Award winners are innovators, blazing trails in the industry with complex façades, sophisticated manufacturing and design technologies, and multi-faceted high-performance products. The winning projects and products showcase a future-focused industry increasingly defined by innovation.
"It's amazing how our industry continues to evolve, responding to the design challenges presented with innovative new product developments, new equipment and tools," says Alice Dickerson, 2018 Glass Magazine Award judge and founder/managing director, Division 08 Marketing LLC. "The nominations received are evidence of the bar being raised higher each year and not only are the manufacturers, fabricators and other members of the project team responding with solutions to meet some very interesting design aesthetics, they are doing this while also meeting multiple, stringent code requirements dictating the use of protective glazing, fire-rated and high-performance coatings." 
Winners this year demonstrate the marriage of sustainability and high-end, advanced design. Projects include a storefront for a high-fashion brand that uses solar glass panels as an attractive design element, as well as a luxury apartment building that features rippling blue glass floors in place of a water element. Product winners showcase glass's complexity and design flexibility, including a fire-rated system with the look of traditional wood framing, as well as colored photovoltaic glass with the appearance of non-solar architectural lites.
The submissions "appear to have gone beyond the utilitarian aspects of transparency and reflectivity to push the boundaries of what is possible," says GMA judge John Stephenson, senior architect and envelope specialist, BRPH Architects and Engineers. "There are some truly remarkable examples in these entries that combine the art and science of what we do as designers and builders to create something original and new. I believe that nothing speaks to the state of our building technology [like] the role of glass in defining the contemporary building envelope."
Helping to further establish glass as an integral part of the building envelope, 2018's award winners underline the innovations that make glass an increasingly high-tech building material. 
 "I feel [the Glass Magazine Awards are] a great way for people to see all these amazing advancements that have taken place and that are available to us. This new technology will hopefully attract young professionals to join the glass and metal industry," says judge Tom O'Malley, partner/director of sales, Clover Architectural Products.
"It's always fascinating to see the variety of products and varied approaches across the different product categories and market segments," adds judge Andrew Haring, vice president of marketing, C.R. Laurence Co.-U.S. Aluminum, crl-arch.com, crlaurence.com. "Whether it's from the product or project perspective, there's a common universality in a desire to create value—which can take many forms. The biggest takeaway is that the vitality of the glazing industry is strong. Every problem is met with a solution, and we're never done improving."    
The Judges
The Glass Magazine Awards would not be possible without the participation of our judges, who reviewed more than 80 total nominations to determine this year's winners. The 2018 Glass Magazine Awards judges hail from all segments of the industry and offer expertise in everything from design and engineering, to glass and glazing manufacturing and fabrication, to product handling and installation. Glass Magazine would like to extend a thanks to this year's Glass Magazine Award judges for the time and careful attention they dedicated to the selection process.
The Awards

Most Innovative Curtain Wall Project (5 floors or fewer)
Balenciaga Flagship Store
Onyx Solar, Crawford-Tracey Corp.

Most Innovative Curtain Wall Project (6 floors or more)
Bridgestone Americas Headquarters
Harmon Inc.

Most Innovative Decorative Glass Project
Louis Vuitton, Flagship Store
Nathan Allan Glass Studios

Most Innovative Interior Glass Rails, Walls and Doors
St. Patrick's Cathedral
seele Inc.

Most Innovative Monumental Glass Entrance
T-Mobile Showcase Store
Giroux Glass, Goldray Glass

Most Innovative Glass Floors or Stairs
The Pierce Boston
Oasis Specialty Glass, Lucid Glass Studio

Most Innovative Machinery or Equipment
TiG Sensor Array
FDR Design Inc.
 

Most Innovative Web Tool, App or Software Product
Solector Sun Shading Estimator
Kawneer North America
 

Most Impressive New Industry Innovation: Metals and Systems
Fireframes TimberLine Series
Technical Glass Products
 
Most Impressive New Industry Innovation: Glass and Glass
ComponentsColored photovoltaic glass for cladding
Onyx Solar Group 
---
Most Innovative Curtain Wall Project (buildings 5 floors or fewer)
Balenciaga Flagship Store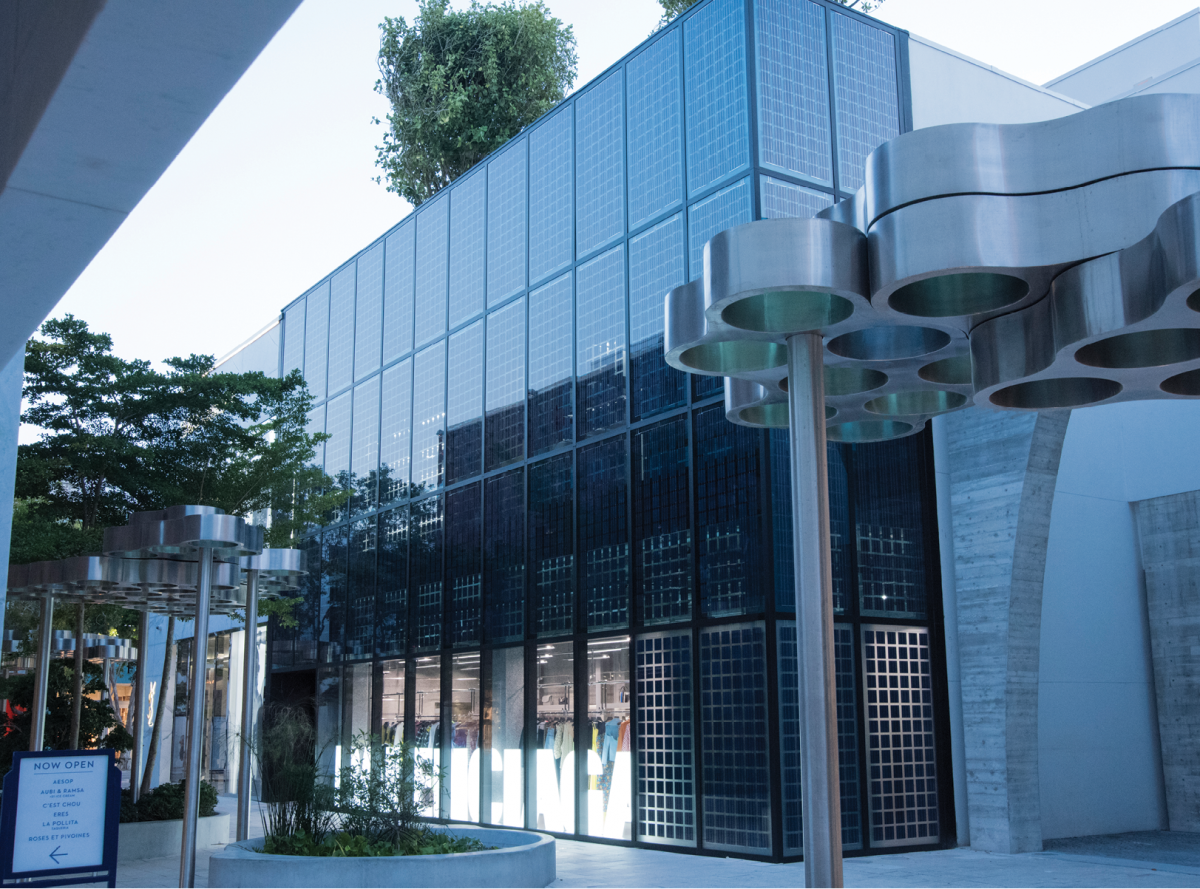 Photo courtesy of Crawford-Tracey
Aesthetics, safety and sustainability seamlessly combine in the innovative storefront of Balenciaga's new flagship store in the Miami Design District. The solar panels incorporated into the storefront design attract the attention of passersby, says Diego Cuevas, vice president of business development, North America, for Onyx Solar, the manufacturer of the photovoltaic glass. "This project puts solar energy at the eye level, so people can really tell the store generates clean power," says Cuevas. 
Balenciaga's store-planning team, along with Atmosphere Design Group, the architect, met with Onyx to realize a design that would combine a high-end look with sustainability. Onyx's team experimented with solar cell density, the space between PV cells, as well as the tint of the blue glass to achieve a balance between light transmittance, color and energy output, says Cuevas. Onyx ultimately provided solar crystalline silicone low-emissivity PV glass, 1/2-inch double glazed insulating with argon. The company fabricated 48 units, each measuring about 10 feet by 5 feet. While maximizing natural daylight, the complex glass filters 99 percent of UV light and 95 percent of infrared light. Each of the glass units, which individually generate 320 kilowatt hours of energy per year, could power an electric vehicle to drive 1,500 miles in the same time, says Cuevas.
Built in Miami-Dade County, the system also had to meet hurricane-impact requirements. To achieve this, the team used Crawford-Tracey Corp.'s 7-foot Pro-Tech 7SG structurally glazed curtain wall system for laminated glass, for large missile impact and small missile impact applications. "This project is a great example of where technology is going with glass and glazing systems, offering the client a great look while contributing to sustainable design, all while meeting some of the toughest hurricane building codes in the world," says Ray Crawford, president of Crawford-Tracey Corp.
Cuevas says the system was also "perfect … to host the wiring and conceal all the junction boxes to preserve the high-end aesthetics of the project while at the same time turning it into an easy-to-access system."
The general contractor was Pacific Construction. The electrical contractor was Abender Corp. 
---
Most Innovative Curtain Wall Project (buildings 6 floors or more)
Bridgestone Americas Headquarters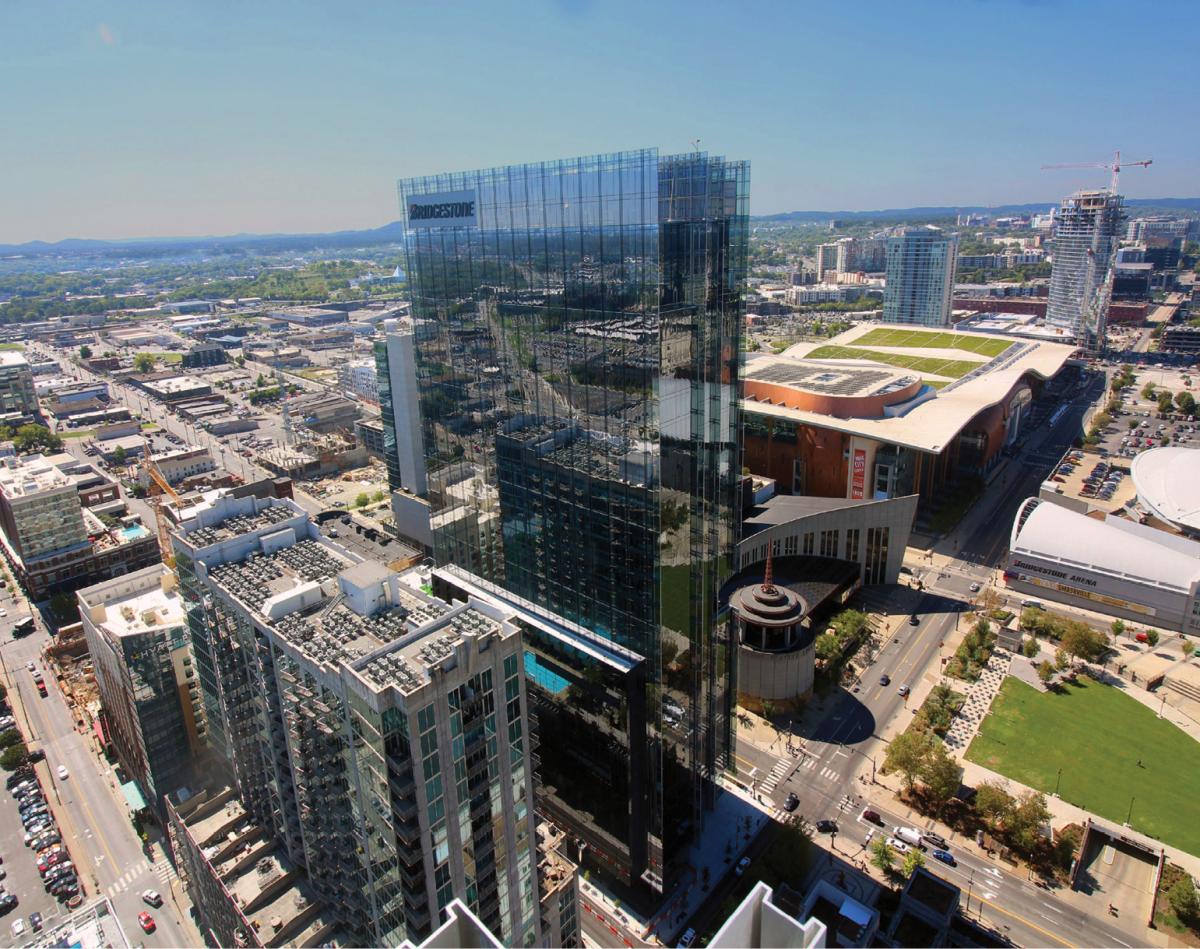 Photo courtesy of Harmon Inc.
Bridgestone Americas' new headquarters rises above the Nashville, Tennessee, skyline with an eye-catching glass façade courtesy of Harmon Inc. The company installed 340,000 square feet of its UCW8000 high performance unitized curtain wall system on the 30-story tower.
The fly-by curtain wall panels on the corner of the building, which transition into the screen walls above the roof, form a striking design element of the project. Tim Ryals, general manager, southeast region, Harmon, credits the success of the feature to collaboration. "Through collaborative efforts, the project team designed the support and anchorage needed to maintain a very clean look," he says.
Innovation can also be seen at the ground floor, with a lobby enclosure with glass spans of 10 feet and no vertical mullions. Supplied by Sentech, the system creates an open-feeling space, says Ryals, and also allows for uninterrupted views of Nashville's entertainment district.
The Harmon team worked through a fast-tracked schedule, a challenge further complicated by the lack of a significant design prior to the award to Harmon. "We worked hand-in-hand with the design team at an early phase to incorporate constructible details into the design so that we did not have any major re-design efforts as the project progressed," says Ryals.
Alexander Metals furnished and installed the aluminum panels as a subcontract for Harmon. Viracon supplied insulating VRE1-46 and VRE19-46 on the tower, as well as laminated VNE13-63 at the podium wall. Brasfield & Gorrie was the general contractor. The architect was Perkins + Will. Metal finishes included Sunstorm and Duracron by PPG. The developer was Highwoods Properties.  
---
Most Innovative Decorative Glass Project
Louis Vuitton, Flagship Store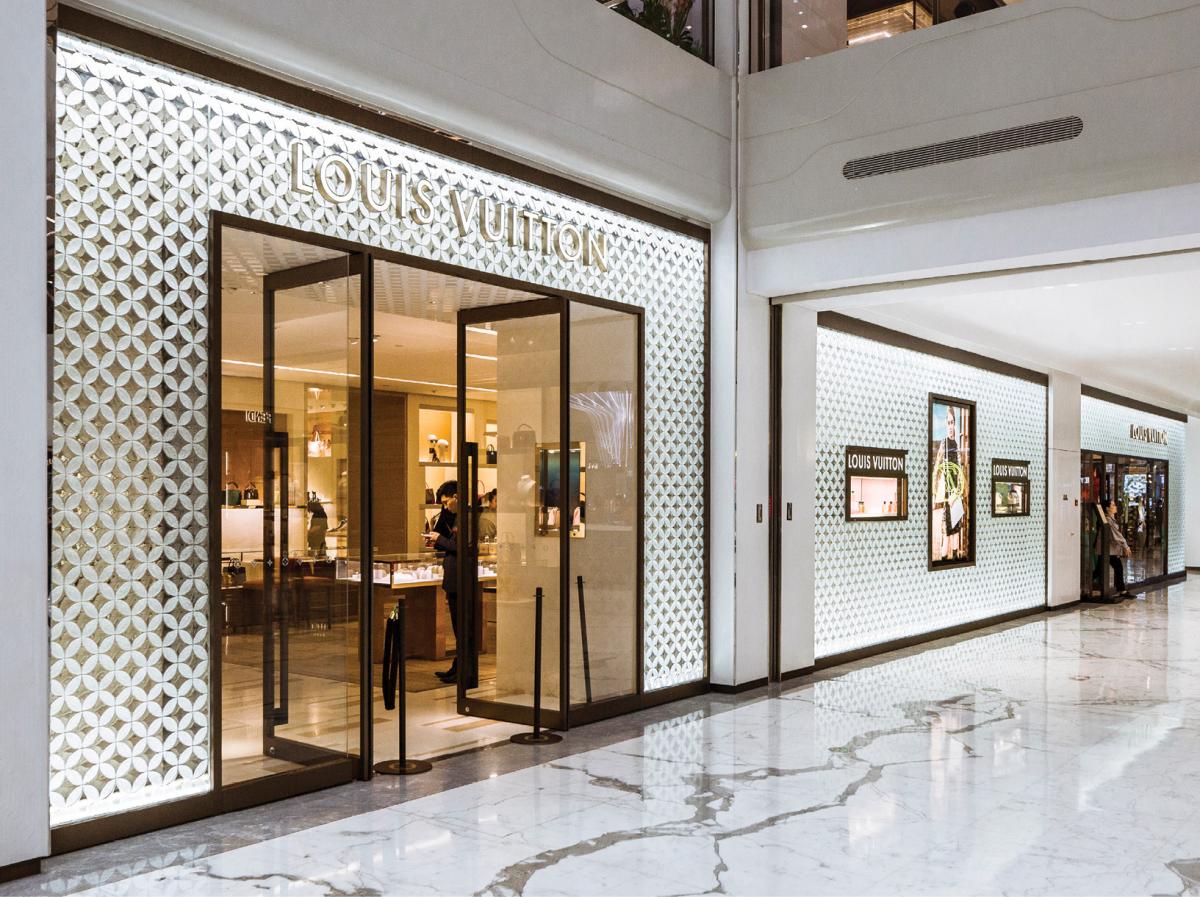 Photo by Weiqi Jin
Louis Vuitton's flagship store in Shin Kong Place mall, located in Beijing, China, now boasts a newly renovated, glowing glass storefront courtesy of Nathan Allan Glass Studios Inc. The fabricator provided over 1,000 square feet of its custom kiln form glass, with a pattern simulating one of the brand's logos.
To fulfill the design goal of producing a visually attractive storefront that will attract shoppers, Nathan Allan fabricated 32 panels of a deep-patterned, 3D decorative glass. Forming the deep glass pattern, while also incorporating clear pattern lines in the glass surface, posed a significant challenge, says Barry Allan, director, Nathan Allan. "Pattern lines define the design, but they also create technical issues with safety tempering. As the glass can form too deep, the extreme depth can also prevent the finished glass from tempering," he says. "The solution was to create molds which allowed for the perfect depth in the pattern, and created lines which defined, but did not alter the pattern."
The storefront's beautiful glow is courtesy of installed edge-lighting which illuminates the glass crystals applied to the back of the glass. The effect required Nathan Allan's staff to apply millions of crystals by hand to specific sections of the glass, a process which took months to complete, says Allan. Delivering the glass on time required all hands on deck, with artists, factory technicians and also Allan himself working seven days a week to finish the job. 
Glass panels were installed into a powder coated gloss black storefront framing system with a deep bronze anodized finish, installed by Permasteelisa, Hong Kong. The general contractor was Josef Gartner Curtain Wall (Shanghai) Co. Design direction came from Ada Leung and Arne Von Seidlitz, interior designers for Louis Vuitton. 
---
Most Innovative Interior Glass Rails, Walls and Doors
St. Patrick's Cathedral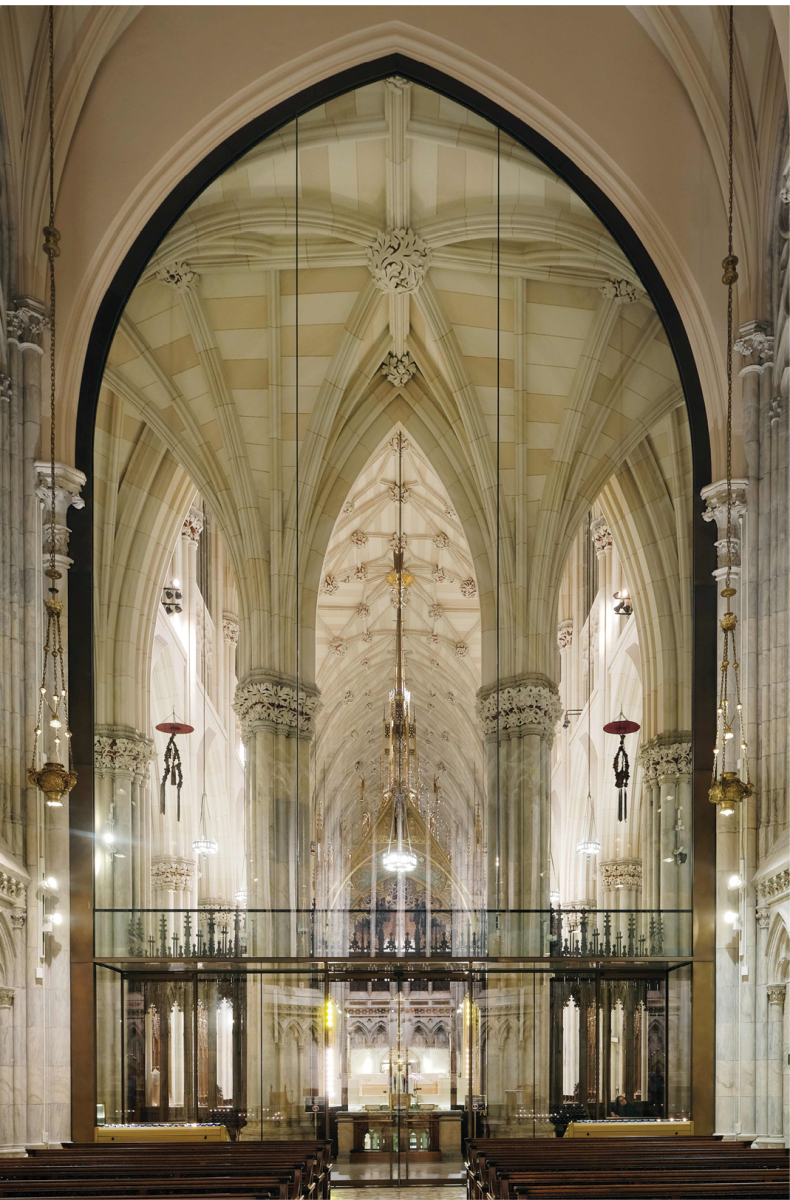 Photo © Stephan Wurster.
The Lady Chapel at St. Patrick's Cathedral, located in New York City, now features an all-glass interior façade, installed by seele Inc., that allows visitors to view the chapel while also ensuring quiet within the space. The largest neo-Gothic cathedral in the United States, St. Patrick's first opened in 1879 and is located in Manhattan, opposite the Rockefeller Center.
The team at seele was commissioned for the design, fabrication and installation of the 882-square-foot interior façade. To preserve the visual aspect of the existing structure, the design was planned as an all-glass system, which is perfectly integrated into the building. Matching the existing structure required the team to conduct a 3D scan of all interfaces and the target in order to shape the glass wall perfectly, says Antonio Montserrat, sales manager, seele.
The upper section consists of 35.24-by-7.84-foot glass panes of 3-by-12-milimeter laminated glass, supported by a 23-foot-long 8-ply glass beam. The heavy glass panes, weighing approximately 2.76 tons, are supported solely by this beam, says Montserrat. Sedak supplied the low-iron glass laminate with a SentryGlas Plus interlayer. The system also features brass trim pieces, designed to match the shape of the existing columns. 
The double leaf glass swing doors in the lower section of the façade are set slightly forward in order to preserve the chapel's original mosaic floor. The glass swing doors are fitted with brass door handles and mountings that match the façade's brass trims. 
Seele GmbH and seele pilzen provided the steel and brass fabrication for the project, with Hofe GmbH, hofe-gmbh.de, contributing brass polishing and patina services. The architect was Murphy Burnham & Buttrick Architects. The main contractor was Structure Tone Inc. Robert Silman Associates provided engineering services to the project. 
---
Most Innovative Monumental Glass Entrance
T-Mobile Showcase Store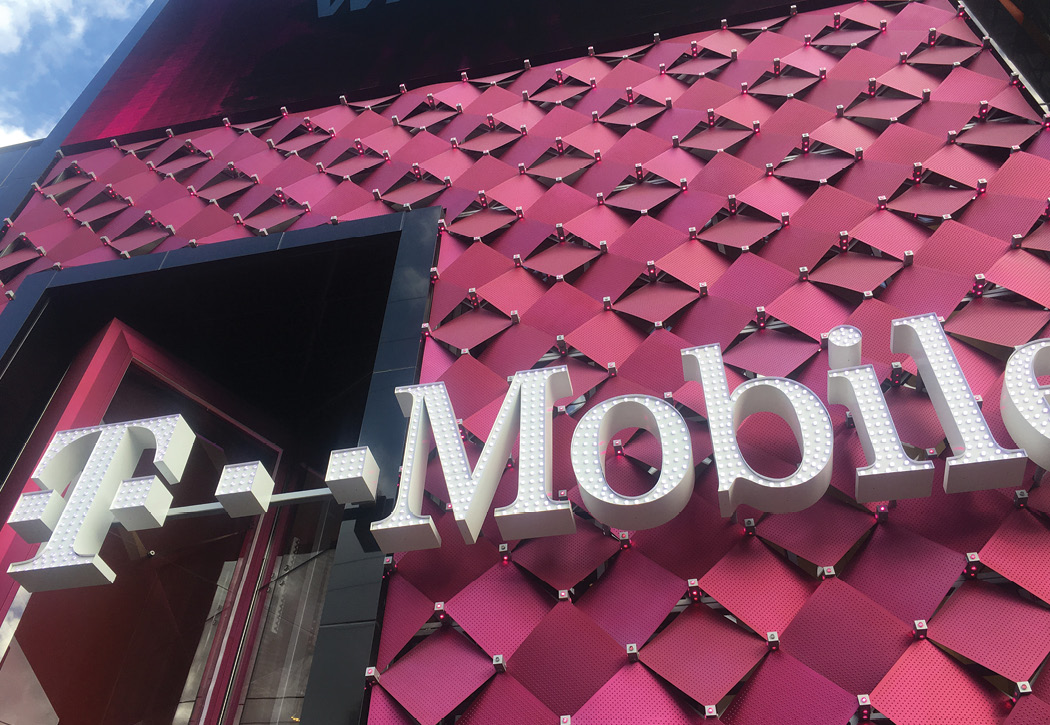 Photo courtesy of Giroux Glass
The grand entryway of the new T-Mobile showcase store looks right at home in the ritzy Las Vegas Strip. Completed in November 2017, Giroux Glass Inc.'s multi-faceted glazing scope for the project included the impressive and complex storefront system with standout magenta glass to match T-Mobile's branding. "T-Mobile had never before created such a store and wanted something unique for this highly visible retail location," says Barbara Kotsos, director of marketing, Giroux. "It truly is like no other store in Las Vegas, or [like] the other 5,000 T-Mobile outlets."
Appropriate to the location, the design aesthetic for the 9,000-square-foot store was modeled on a nightclub, says Kotsos. Giroux supplied 9/16-inch tempered laminated Vitro Architectural Glass Starphire glass for the exterior, in addition to Starphire glass with Vanceva Color Interlayers to create the magenta color. 
The magenta glass was fabricated by Goldray Glass. "The distinctive glass corporate color is an integral element to the design theme, as the magenta glow can be seen throughout the entire store," says Kotsos. 
The sizable project required coordination among the project team players. Giroux closely collaborated with High Steel Structures on the "faux door," which utilized a custom steel frame and internal standoffs for the exterior wall and door, in addition to glass supports. Arcadia Inc. supplied its AG451 and T-500 curtain wall framing systems for the exterior.
Nadel Architecture designed the project, in collaboration with Fitch Design, Giroux and T-Mobile. DC Building Group was the general contractor. Glasswerks and Innovative Structural Glass supplied additional glass to the project. PK Delp and ES2 helped realize the custom architecture. YESCO installed all composite panels, cladded the faux door, and provided all the exterior lighting and signs around the door. The company also fabricated and installed the steel lattice in front of the curtain wall, as well as the handles for entry doors.
---
Most Innovative Glass Floors or Stairs
The Pierce Boston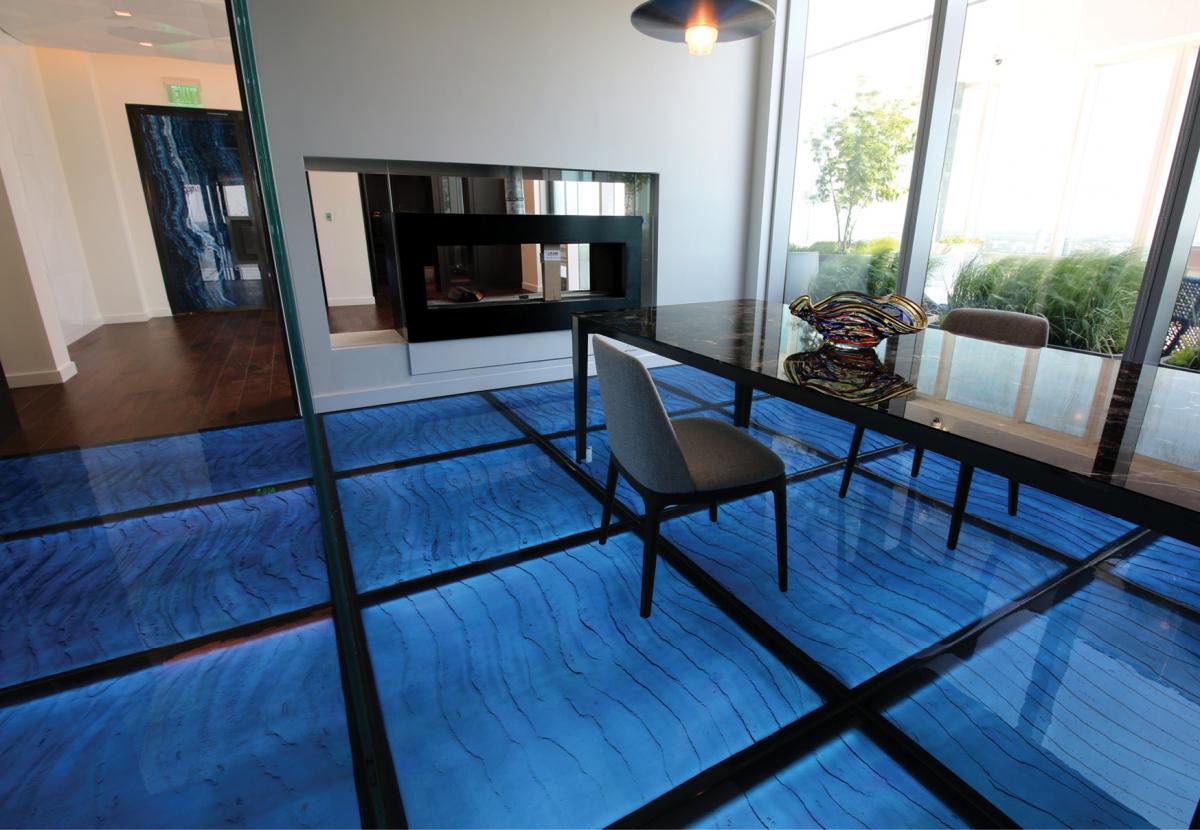 Photo by Chris Dearborn, Oasis Specialty Glass
Units on the top floor of the Pierce Boston, a new 30-story luxury tower of 240 apartments and 109 condos, feature a glowing glass dining room floor and wall with a rippled texture and piercing blue color. Oasis Specialty Glass collaborated with Lucid Glass Studio to fabricate a decorative glass system that would meet the design vision of the architect, CBT Architects. "[The architect] wanted glass that would have an appearance of water flowing down the wall and under the dining room floor," says Rachel Douglass, specialty glass division manager, Oasis.
Fabricators at Lucid Glass created multiple samples of varying textures and colors to match the aesthetic and the blue Pantone of the interior design, says Jim Zingg, director of sales and marketing, Lucid Glass. To match the pantone perfectly required layering blue and green interlayers, and testing each sample with the LED backlighting to ensure a perfect rendering of the color. In all, Oasis supplied 12 square-shaped panels, measuring about 4 feet by 4 feet. The wedge-shaped footprint of the building posed a further challenge and required the team to fabricate four tapered, trapezoid-shaped panels of approximately the same size.
Oasis supplied 1.25-inch thick kiln-formed glass for the glass floors, fabricated by Lucid Glass in three layers. The bottom layer is composed of Lucid's 3/8-inch low-iron glass, featuring the studio's "Riptide" pattern which simulates organic wave lines. The middle layer of 3/8-inch low-iron glass was added for strength and visual depth, says Zingg, lying underneath the multiple layers of PVB film in various colors. A kiln-cast walking layer features micro-bumps that add necessary friction to be slip-resistant.
John Moriarty & Associates was the general contractor. Diamond Iron Works provided the floor framing. Evo-Lite, manufactured the LED lighting system, which was supplied by Lucid Glass. Oasis completed installation of both LED lighting and glass systems. 
---
Most Innovative Machinery or Equipment
iTiG Sensor Array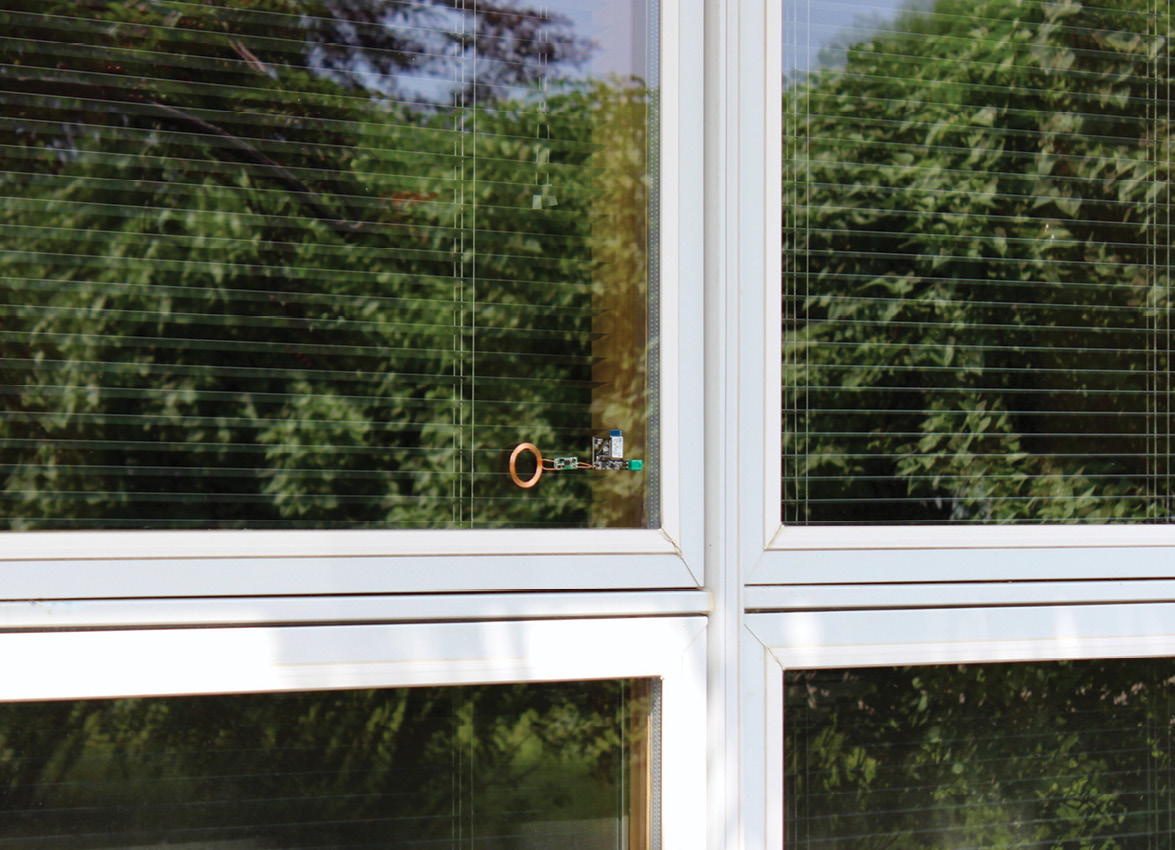 Photo by Mikayla Haglin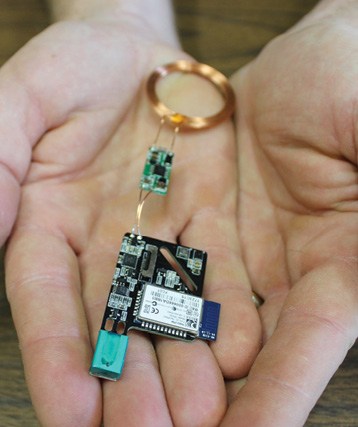 The iTiG Sensor Array, developed by FDR Design Inc., is a multifunctional sensor for insulating glass units. iTiG, which stands for "inside the insulating glass," is about the size of a book of matches and has the ability to measure argon and krypton, relative humidity, calculated frost point, absolute pressure, temperature and UV light, with a platform that will be able to support future sensors, says Dan Haglin, vice president, FDR Design Inc. 
Composed of an array of sensors mounted on a small circuit board, the iTiG is sealed inside the IG unit during manufacturing. Powered wirelessly through the glass using an inductive power source, the sensor array collects and sends information via Bluetooth to an app. The inductive power source avoids the use of batteries, which can leak, and allows the sensor to lie dormant for years until readings are needed.
The sensor array has the potential to accompany, or completely replace, several ASTM standards, says Haglin. The sensor's ability to capture several readings at once, with any interval greater than one minute, also has the potential to streamline IG testing and reduce certification error, he says. 
"The traditional volatile fog test is accomplished by visually looking for fog inside the IGU. If a certifier incorrectly fails units going through certification because of misread data, that could cause the fabricator to lose EPA Energy Star certification," says Haglin. "iTiG makes manual readings easier and automated readings a possibility, all with less operator error in a fraction of the time associated with the traditional tests."
---
Most Innovative Web Tool, App or Software Product
Solector Sun Shading Estimator
The Solector Sun Shading Estimator, launched earlier this year, is an easy-to-use graphical interface tool from Kawneer North America. The tool estimates and compares the thermal performance of glazing and framing systems for curtain walls and storefronts with various types of Kawneer solar protection devices on the façade.
Taking into account both heat transmission through the envelope sections as well as solar heat gain calculations, the Solector estimates the annual cooling energy savings for the selected location and input parameters. The space cooling load is then calculated for each hour of the year following the heat balance approach. Two user-selected scenarios run in parallel, and the relative percentage of annual cooling energy savings for each scenario (compared to no shading on the same façade) is provided, along with average shading fractions for every working hour of each month. 
"To save on energy costs, more clients are utilizing daylighting through glass façades to reduce artificial lighting, which can be beneficial for occupants, too. Exterior sun control products are effective solutions in these situations; however, region, climate and building orientation must be considered as well," says Kimberly Ferro, vice president, global marketing and product strategy, Kawneer. "Manually calculating this information can be time-consuming." 
The Solector tool was developed by Kawneer in partnership with a research team from Purdue University's Lyles School of Civil Engineering.
---
Most Impressive New Industry Innovation: Metals and Systems
Fireframes TimberLine Series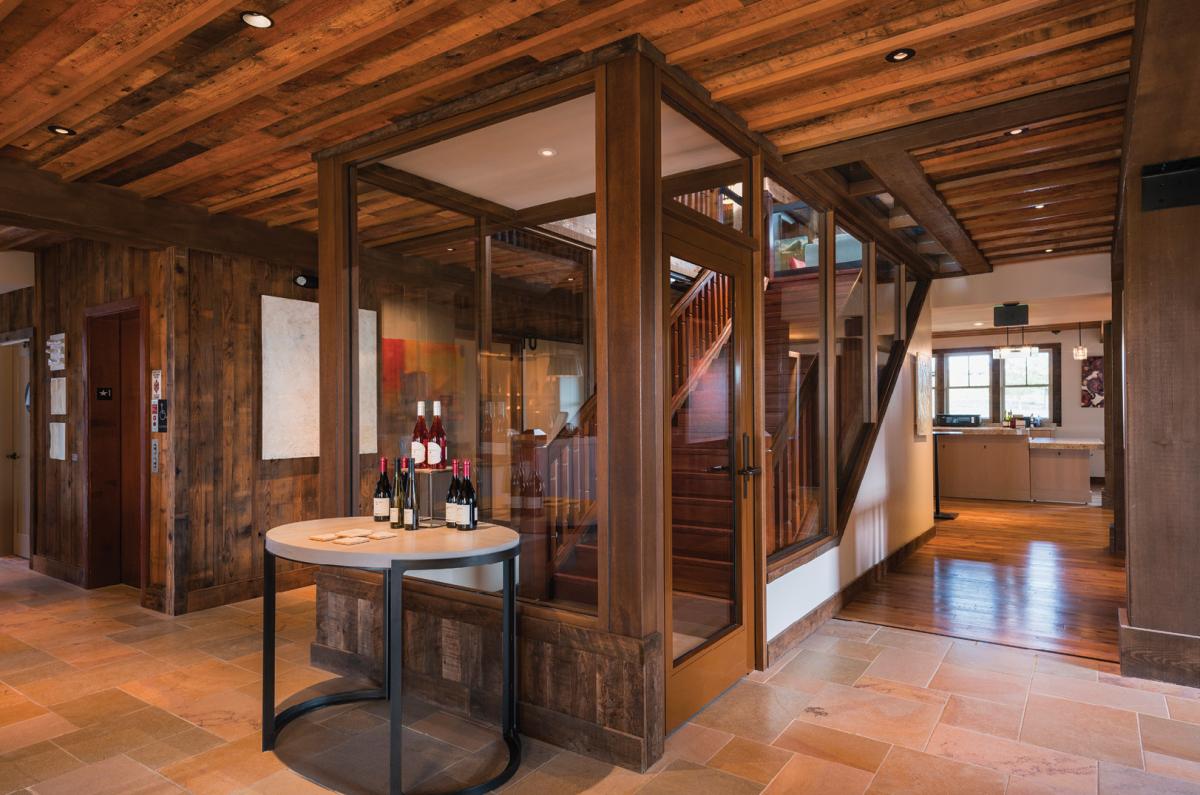 Courtesy of Technical Glass Products
The Fireframes TimberLine Series by Technical Glass Products brings the aesthetic of nonrated wood systems to interior glazing applications with stringent fire- and life-safety performance criteria. The system combines a high-strength steel sub-frame with a real-wood veneered metal cover cap, then combines them with large panes of Pilkington Pyrostop fire-rated glass to create a slender fire-rated frame that captures the warmth of wood and the daylighting of glass while serving as a barrier to radiant and conductive heat transfer. The UL-classified and labeled system is available with fire-resistance ratings up to 120 minutes for interior applications.
"Architects are drawn to the beauty and warmth of wood frames, but their options have been limited for interior glazing applications with stringent fire- and life-safety performance criteria," says Jeff Razwick, general manager of Technical Glass Products. "Many fire-rated framing systems serve as a barrier to radiant and conductive heat transfer. However, none have been able to provide this level of performance while enabling a true timber aesthetic and the narrow profiles of nonrated framing systems."
To further expand design flexibility, Fireframes TimberLine Series frames are available in multiple wood species, including white maple, cherry, fir and oak. To provide architects with a complete curtain wall and entrance solution, the fire-rated framing system is designed to accommodate the Fireframes Designer and Heat Barrier Series door systems and is compatible with wood doors made by other manufacturers.
---
Most Impressive New Industry Innovation: Glass and Glass Components
Colored photovoltaic glass for cladding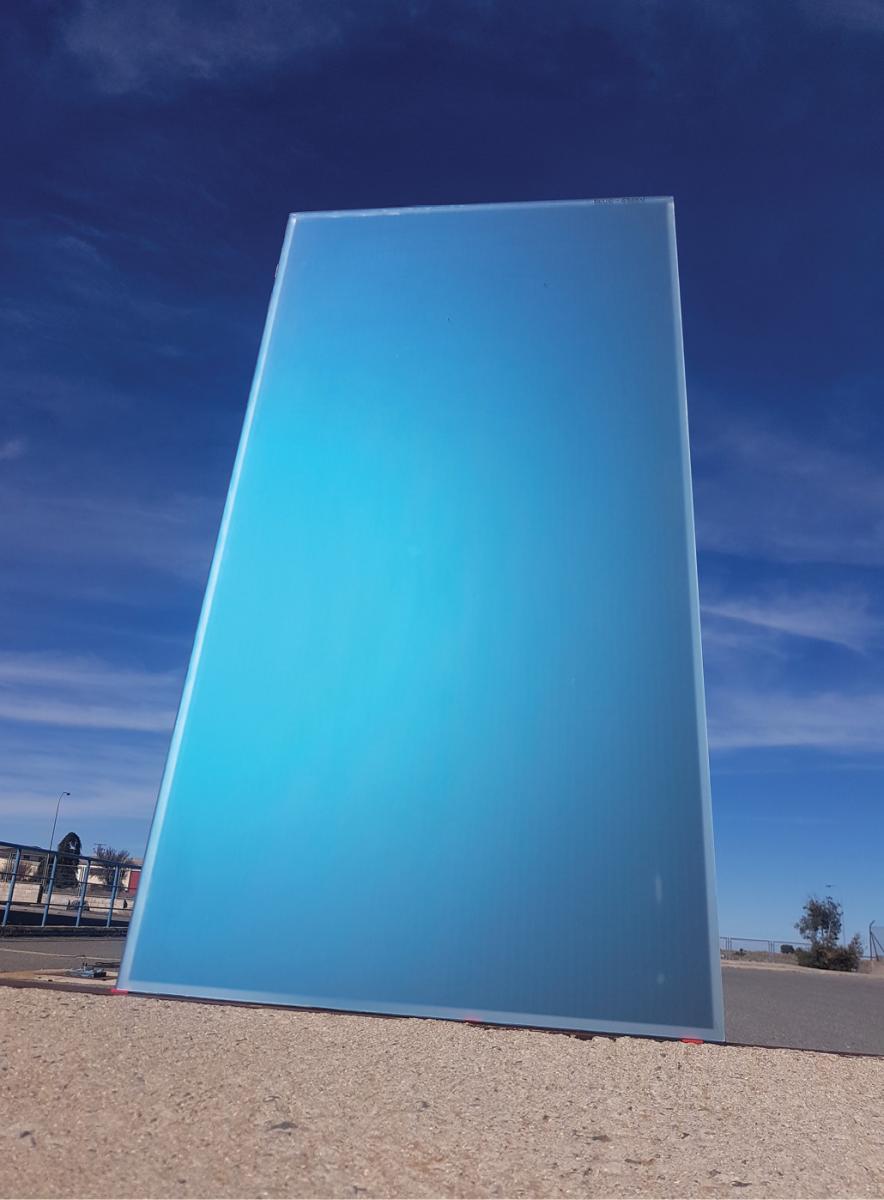 Photos courtesy of Onyx Solar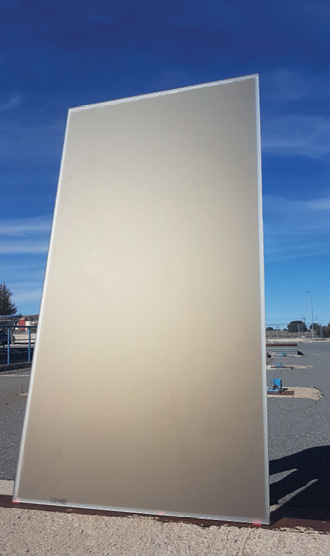 Onyx Solar brings style to renewable energy with its colored photovoltaic glass for cladding. The glass incorporates colored glass for the outboard lite, so that the solar cells are completely hidden, making the product appear like conventional colored glass.
"Energy efficiency and sustainable architectural designs are required more than ever before in the country. Solar energy is always one of the most reliable sources of renewable energy for any building to cut carbon dioxide emissions and generate their own power; however, many times buildings do not have enough space in their rooftops for traditional solar panels," says Diego Cuevas, vice president of business development, North America, Onyx Solar Group.
The glass is made possible by using a front glass that, despite its colored finish, maintains high levels of light transmittance, so that the solar cells still receive the sunlight and can generate power. 
Onyx Solar offers several colors including terra-cotta, dark blue, turquoise, bronze, anthracite, gray, gold, green and black. In addition, the colored PV glass can be solid opaque or translucent, depending on whether it is applied over a solid concrete wall or openings to benefit from diffuse light. 
"By creating this range of colorful photovoltaic glass products, architects who are more reluctant toward the aesthetics of traditional PV can now enjoy the aesthetics of a conventional building material and install solar at the same time. It also helps with LEED certification," adds Cuevas.