Moving Forward | Trends in Metals
Glass and metal systems suppliers focus on customers as markets continue to shift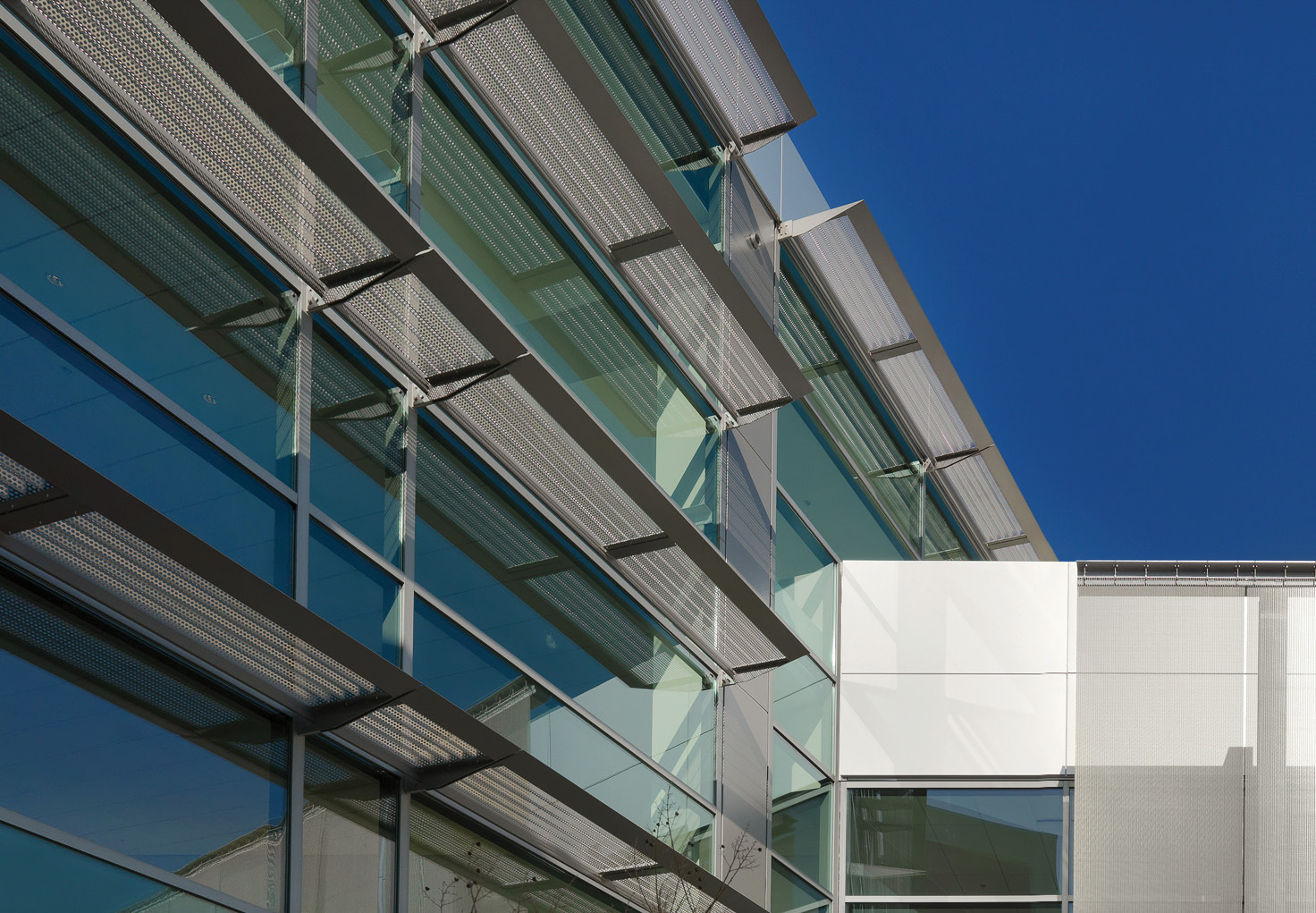 Above: The headquarters for California Independent System Operator in Folsom, California, spans 277,000 square feet over 25 acres. To meet ambitious sustainability goals, optimization of thermal performance was critical. Low-emissivity insulating glass is bolstered with a dual thermally broken curtain wall. For enhanced protection from solar radiation, a large scope of the building envelope is lined with 7750 Series Sunshades from CRL. The unique, perforated panels of 7750 Series Sunshades protect interiors from solar heat gain and create a distinct visual element that enhances the aesthetics. 
Construction and manufacturing continue to weather interesting times, and glass and metal systems suppliers are no different. As supply chains remain predictably unpredictable for many companies, inflation and cost have stressed an already fraught market. "Inflation has been the biggest curveball coming after COVID," says Josh Wignall, director of commercial marketing, Quaker Windows & Doors. "Inflation compounded issues of supply chain, the disruptions in PVC, tariffs, labor challenges. Then adding the war on Ukraine created a perfect storm, which put enormous pressure on supply chain, and then costs."
As financial conditions remain unstable, industry leaders in glass and metals say customers are asking how long suppliers can lock in pricing. "There's a push and pull in the last 18 months," says John McClatchey, vice president of sales and marketing, SAF. "We want the work, and we want the business from our customers, but they're not sure they can afford to employ us right now."
Speaking to industry leaders in the glass and metals space, it became clear that companies continue to overcome challenges to create the built environment, and that for now, entrenched challenges of labor and supply chain have changed how people do business.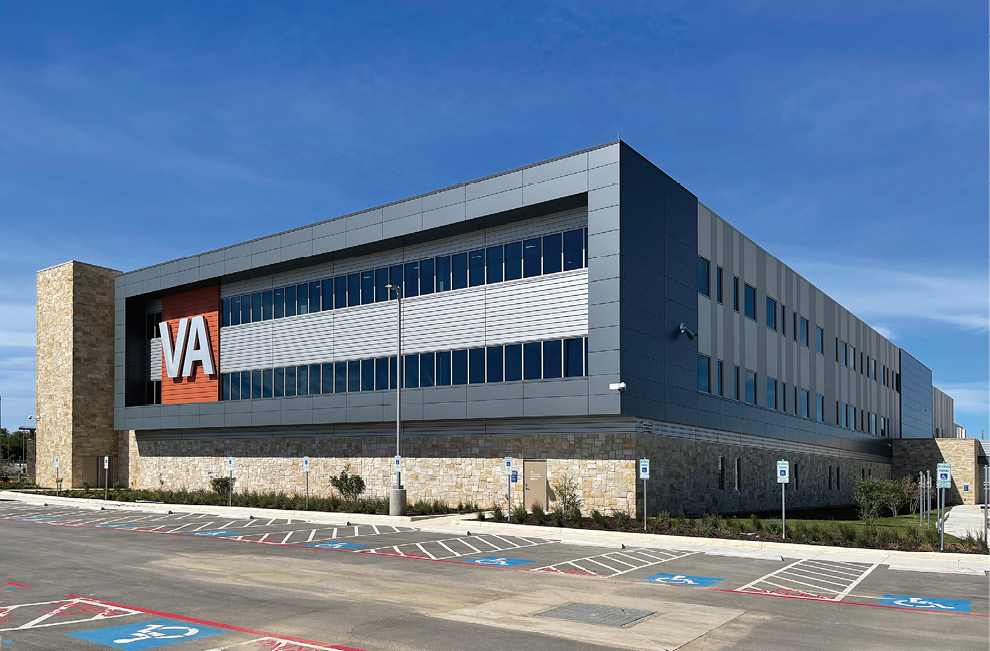 Above: The new Green Globes-certified Veterans Affairs Community Based Outpatient Clinic in San Antonio, Texas, offers patients, medical professionals, staff and visitors an environment promoting health, life safety and well-being. Bringing the concepts to reality, the three-story, 226,148-square-foot facility features Tubelite's high-performance ForceFront Blast curtain wall, storefront and entrances on the exterior. Tubelite's interior framing systems also were provided for the security entrance vestibule and breakroom. All the aluminum was finished by Linetec in "Silversmith" color using 70 percent PVDF resin-based architectural coating. The VA's finished aluminum framing and glazing systems were installed by San Antonio-based glazing contractor Bulverde Glass, in collaboration with Jacobsen Construction. Photo by Tyler Messer of Bulverde Glass Inc. 
Extreme labor scarcity is pushing more prefabrication and shop glazing
While inflation has stressed an already-stressed market, labor challenges remain the biggest issue, industry leaders say. "As we all try to expand and add capacity, labor is probably the greatest challenge—that's true for manufacturers, installers and contractors. Labor is the biggest issue right now," says John McGill, general manager, project center, YKK AP.
A lack of labor, especially in the field, is accelerating the drive toward unitized systems and shop glazing, says Steve Schohan, marketing and communications manager, YKK AP. McGill adds that prefabrication, and even modular options, can now include precast façade panels with windows already installed and glazed, and is becoming a trend with general contractors. 
Chris Schultz, P.E., product manager, storefronts and entrances, Kawneer, has also seen reduced labor and increased costs lead to more prefab. "Finding skilled glaziers is more challenging than ever, so customers can pre-build units offsite to improve the efficiency and quality of the fabrication," he says. "This also reduces the onsite construction costs by streamlining installation and minimizing disruption to other trades."
Quaker's Wignall says the company has also seen a rising interest in modular building, which allows whole rooms or floors to be prefabricated offsite and then transported to the jobsite. Wignall says that for window manufacturers, the rise in modular creates questions around installation. "Now you're putting a window into a modular unit or wall, and in both cases, the window is going to be put into that assembly and then transported to the jobsite. How do you seal that window, in that case? Should you transport it vertically or horizontally? We're interested in codes and requirements that make sure our windows will still perform once installed on the building," he says.
As glass and metal system suppliers bring fabrication into the shop, some developers and general contractors are also vertically integrating façade installation, as subcontractors become harder to schedule due to the labor shortage, says SAF's McClatchey. "Bigger companies with deeper pockets are self-performing, doing glazing packages," he says.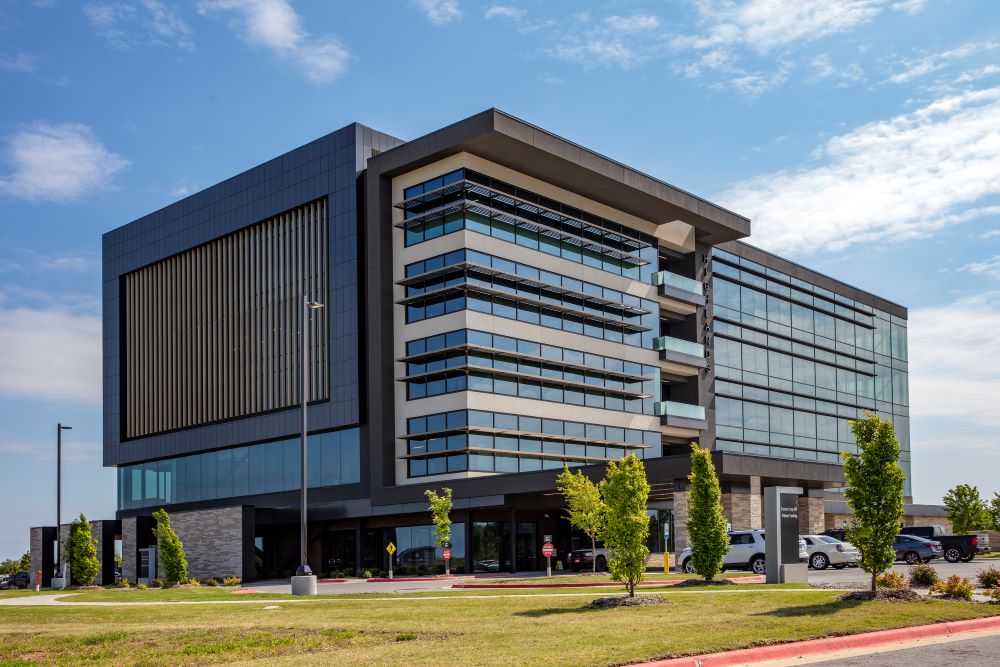 Above: Highlands Oncology is a state-of-the-art oncology clinic located in Springdale, Arkansas. The five-story, 125,000-square-foot building houses multiple disciplines and services required by cancer patients. Occupant comfort and well-being was a primary consideration of the clinic, which offers access to the most up-to-date treatment technology, say officials at Kawneer. The building features 1600 Wall System 1 curtain wall to provide patient and employee spaces with an abundance of natural light and expansive views while Kawneer's Versoleil SunShades maintain thermal efficiency. ACE Glass Construction was the glazing contractor. Photography by Bob Perzel.
Rise in multifamily aims to close the housing gap
As the pandemic eases, developers appear interested in revitalizing city centers. This has meant major growth in multifamily construction, say McGill and Schohan at YKK AP. The demand for urban residential towers is also being pushed by President Biden's housing supply action plan, an initiative to close the U.S. housing gap, which it estimates at 1.5 million units. 
"We're being challenged to develop window wall systems that have custom slab edge conditions that aren't just a metal panel or an ACM panel but now are spandrel glass; they want those towers to look just like regular curtain wall," says McGill. An increase in residential urban living also means products need to have higher acoustical performance, he says. 
Adaptive reuse and retrofit segments have also increased, likely pushed by inflation, says Quaker's Wignall. "Anytime you have inflation where we've seen it, meaning interest rates have gone up, the new construction market tends to be hit first, so people look to the existing buildings they have to invest in first, so we continue to see that uptick in existing stock."
As students return to university, YKK AP's Schohan says that the institutions are also improving campus spaces as a way to compete for students. "Universities are adding more extreme environments, spaces that are more aesthetically pleasing, more inviting and that have more natural light and ventilation."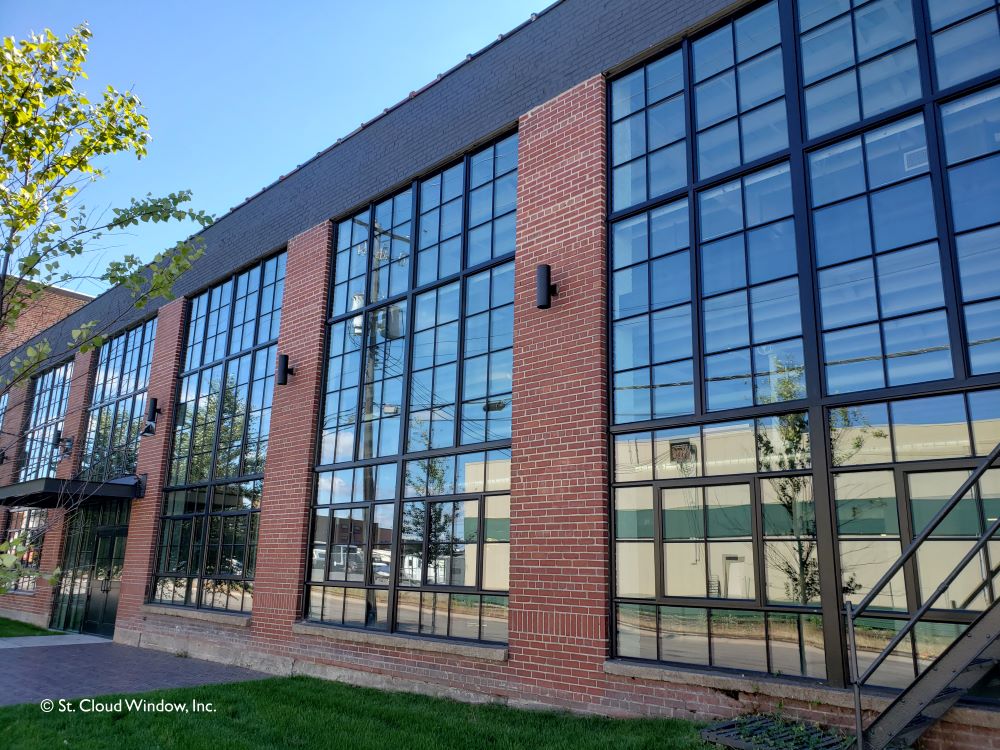 Listed on the National Register of Historic Places, the 205,000-square-foot Vandalia Tower in St. Paul, Minnesota, recently completed a significant renovation. To maintain the 1920s, industrial, brick building's architectural heritage, the property owner sought to replace the broken and missing windows with ones that replicated the look of their original, large, steel-framed, divided lite appearance with new units that would improve energy savings and comfort. Helping meet both the project's aesthetic and performance requirements, Linetec finished and thermally improved 290 aluminum-framed replacement windows manufactured by St. Cloud Window. NewStudio Architecture specified these products with a durable 70 percent PVDF resin-based finish in black to resemble the color of old steel windows.
Photo courtesy of St. Cloud Window Inc.
Supply chain woes remain
Unpredictable supply and transportation continue to disrupt lead times and projects. "Only about 12 months ago, we were seeing 4-6 weeks for some materials. Now, it's not unheard of to see double that or even in the 12- to 16-week time frame," says Nick Bauer, product manager at Trex Commercial. "[We're seeing a lack in availability] of [interlayer] that has become the go-to interlayer for railings and windscreens that require high structural loading. It's difficult to find manufacturers that are able to source the material in a reasonable time frame, if at all, at this point."
Tubelite Senior Manager Brian Tobias says the company has had issues sourcing parts, like flush bolts for doors, Ethylene Propylene Diene Monomer gaskets, and other small accessories and components. "The raw materials for EPDM gaskets have been held up overseas and at U.S. ports. Many [parts] have been affected by supply chain delays from countries of origin, such as China," he says.
Continued disruptions have forced companies to source from multiple suppliers. "Qualifying secondary suppliers for components has become critical to meet project schedules," says Kawneer's Schultz. "This does create challenges, as often testing and technical reviews are required, and costs can increase when volumes are spread across multiple suppliers. Qualifying second and third suppliers allows us to schedule production more accurately as we rely on inventory being available as we rotate among suppliers to meet customers' demands."
Companies also continue to encounter logistics and transportation issues. SAF opened new branches so the business does not have to ship more than 500 miles, says McClatchey. The company also tries to offer customers voluntary alternatives for the shipping of product. "We say to customers, if you wait a few more days, we can put your product on a consolidated truck, and rearrange the route of the driver." SAF also offers the potential to ship on dedicated trucks, or the company's own trucks, and offers alternatives before the customer asks. "People just need a lot of help right now," he says.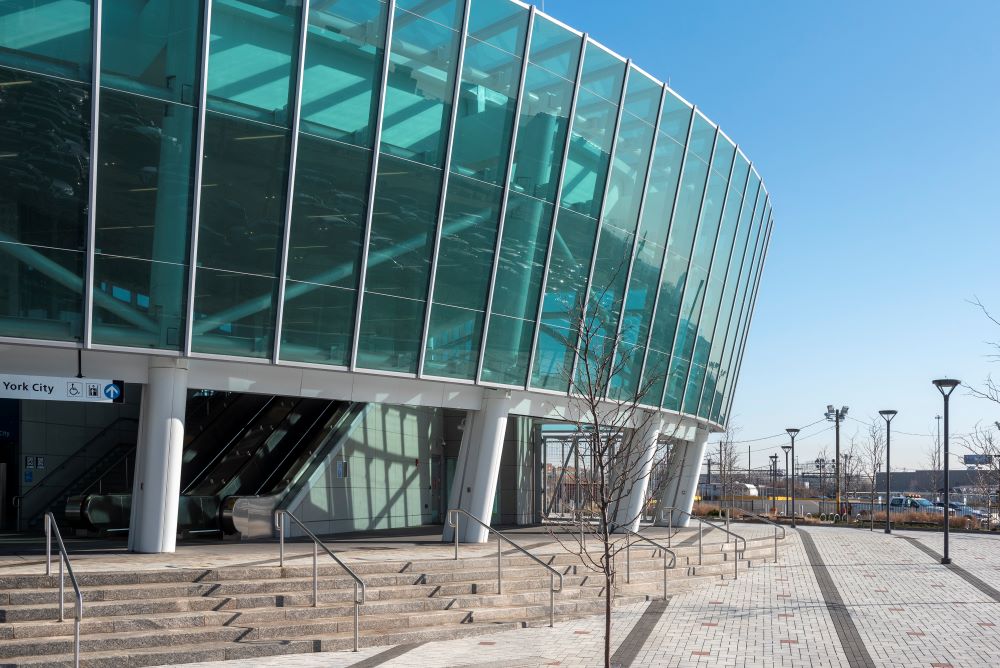 Above: The defining architectural characteristic of the Harrison PATH station, located in Harrison, New Jersey, comes from the large-scale, curving glass curtain walls secured via a series of vertical, horizontal and diagonal columns and beams. For the main vertical columns, the team at BAMCO Inc. selected SAF to fabricate a series of intricate column covers that required them to manufacture a litany of components with complex geometries. SAF had to carefully engineer the column covers for the train station so they could accommodate various penetrations and cutouts that serve as connection points for the intersecting beam structure. In addition, the ground-floor portions of the column covers feature rails for vertical sliding doors. Photo by Timothy Schenck.
Affordable short-term family housing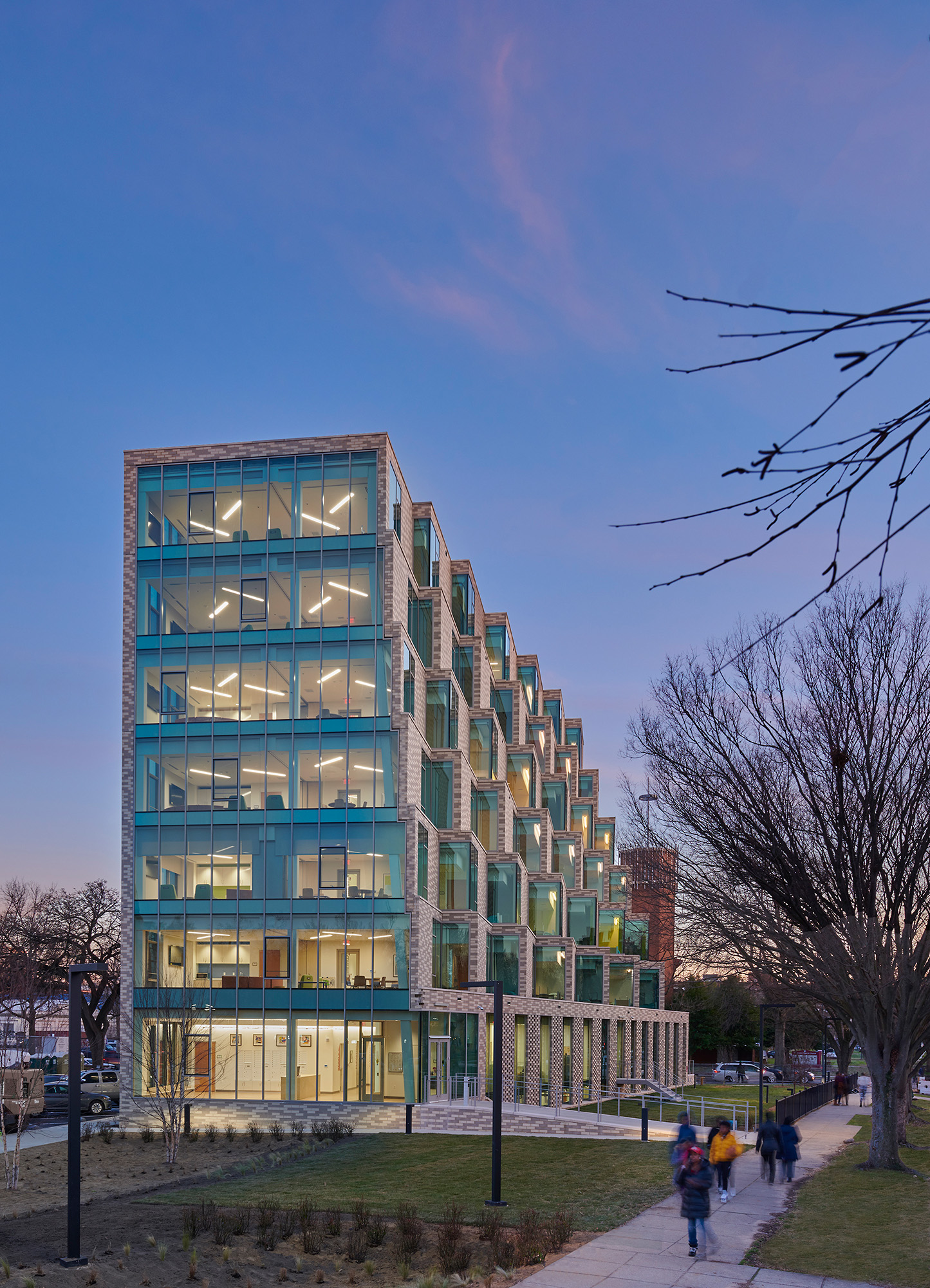 The Aya is an affordable, short-term family housing project in Washington, D.C. The seven-story building provides a soft landing for those seeking temporary housing with additional spaces for play, dining, work and a public health center. YKK AP provided metal systems for the unique façade design, which is different on each side and utilizes elevation so there is no visible front or back of the building. Checkering utility-size brick with large-glazed windows helps flood the interior with natural lighting throughout all times of day and also enables the preservation of existing tree canopies in the neighborhood. Inside the LEED-Gold certified building, residents are immersed in bright, clean spaces with pops of color that elevate the interior design and create a connection to the architecture. Photo by Anice Hoachlander Photography.
mixed-use development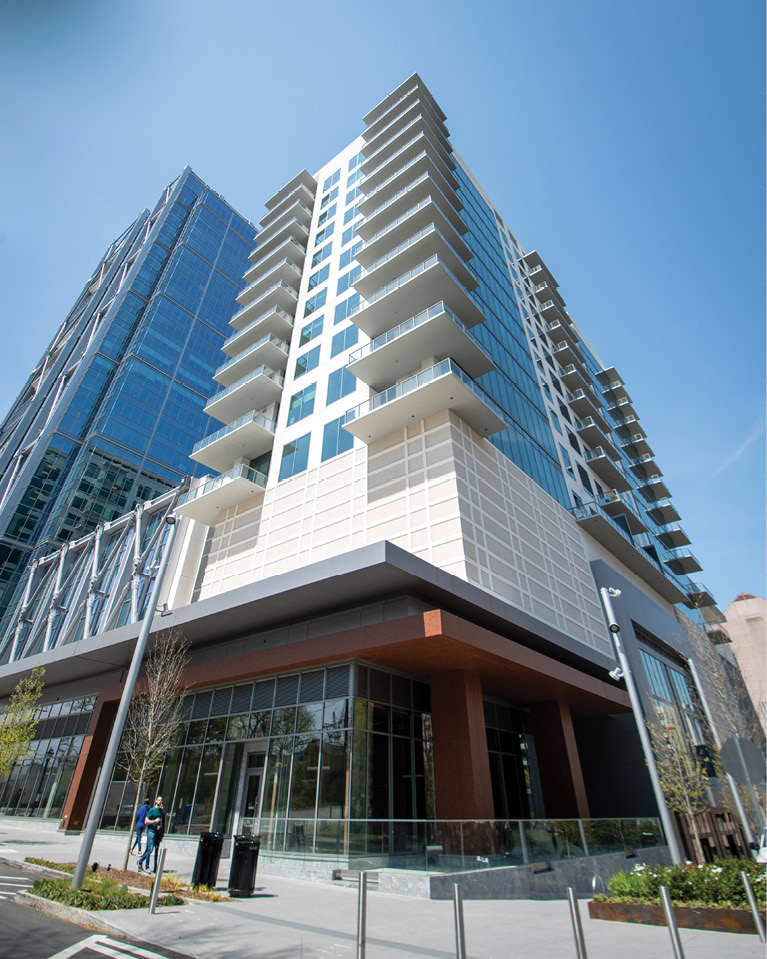 1105 West Peachtree, located in Atlanta, is a tri-tower mixed-use development. The overall development covers an entire city block in Atlanta's busy Midtown district. MillerClapperton fabricated and installed materials for all portions of the project, including the 31-story, 730,000-square-foot office tower. MillerClapperton fabricated 59,800 square feet of metal composite material for the exterior of the project, which included office column frames, spandrels and fascia for the balconies. To ensure the finished product matched the design intent for the project, the company developed new fabrication and installation methods that ultimately paid off for this custom application of metal composite material. The work on this project took one year to plan and 15 months to install, totaling 2.5 years from kickoff through to completion.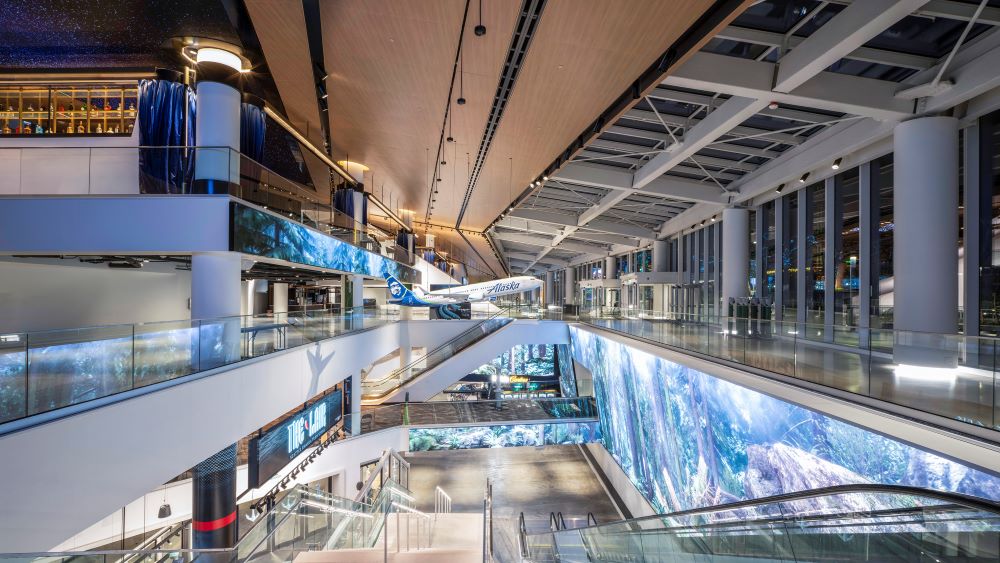 Above: Trex Commercial engineered more than 18,000 linear feet of custom railing for Climate Pledge Arena in Seattle. The facility is the world's first zero-carbon arena, employing numerous sustainable materials, practices and operations and powered solely with renewable energy sources. The Trex Commercial railing systems contributed to the project's receipt of LEED certification, helping the facility become even more sustainable. Providing a nearly invisible look around the facility is 1/2-inch PVB and ¾-inch SGP clear glass infill panels and glass FOB rail integrated with ribbon board to optimize sightlines for viewers. GlasPro fabricated the glass. Additionally, custom extrusion post LED picket rails with steel balusters guide navigation, enhancing the ambiance and safety of the eco-centric environment.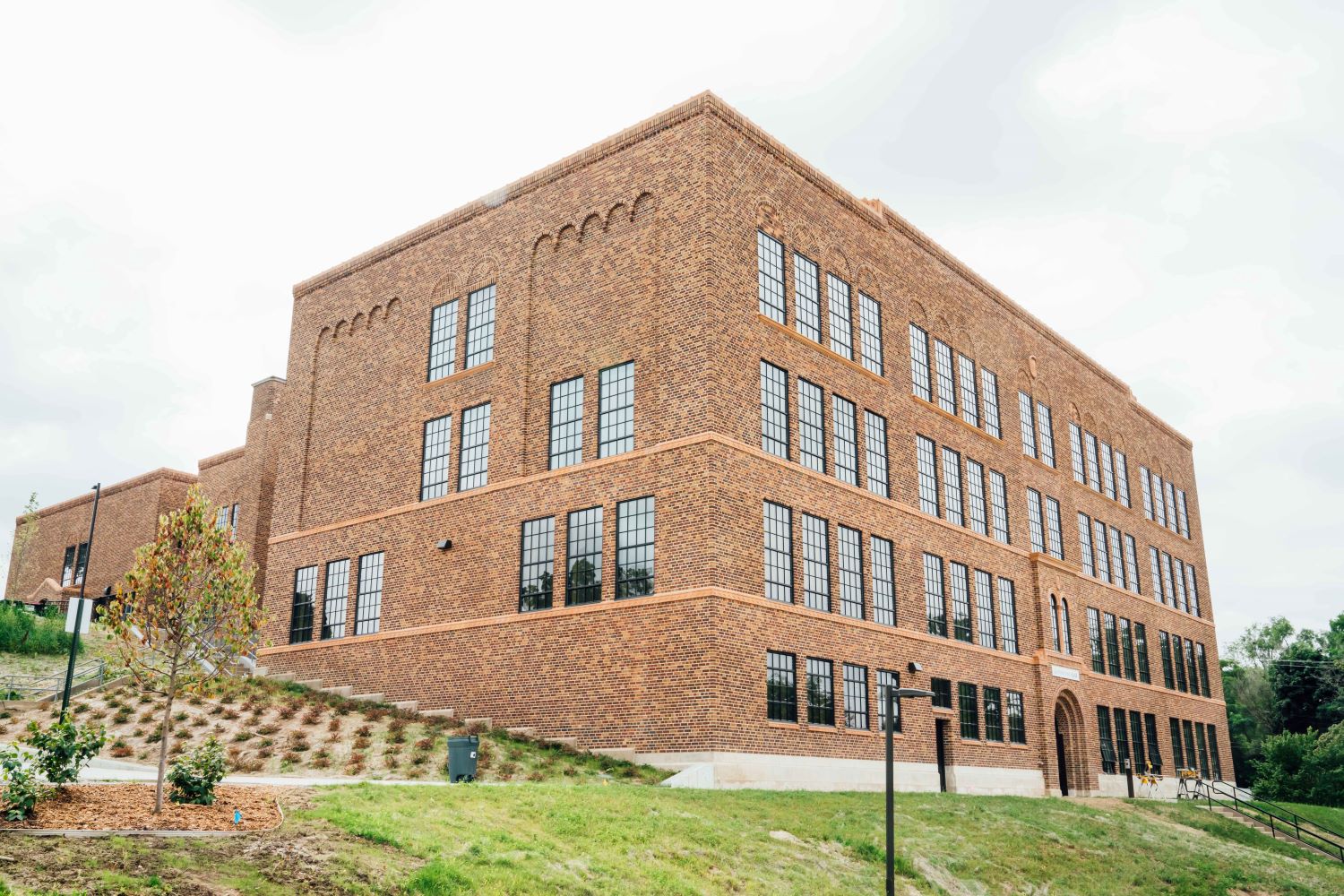 Above: The Emerald Flats is an affordable housing multifamily complex located in Grand Rapids, Michigan. The project is a historic preservation of Eastern Elementary School, and even won the 2022 Michigan Historic Preservation Council Award for Tax Credit Project, according to the Grand Rapids Business Journal. Part of preserving the historic façade involved Quaker Windows & Doors H450 Casement Window. Cardinal Glass manufactured the glass, and Double O Inc. was the installer. Photo courtesy of ICCF.org.