Project of the Year and Best Glass Interior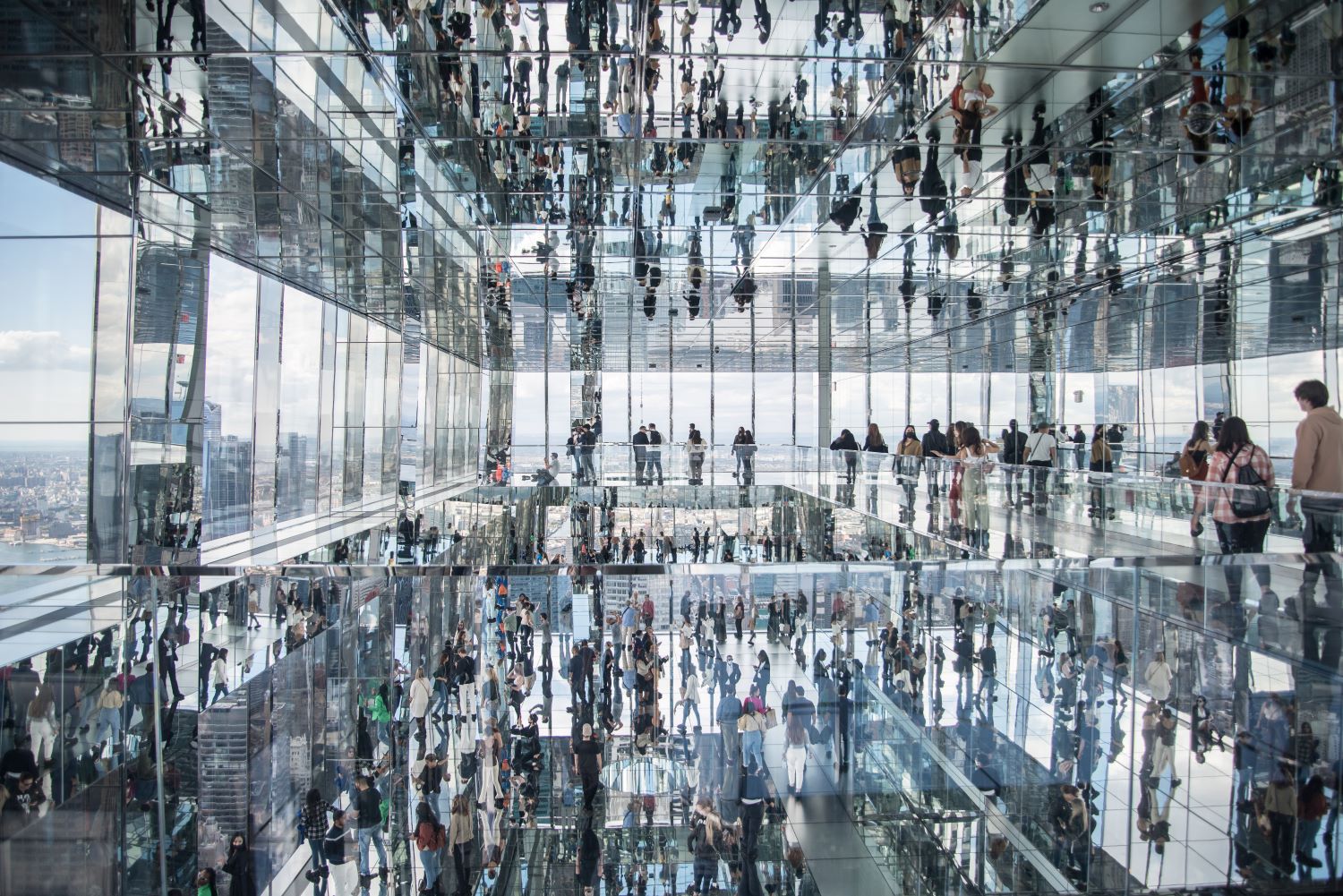 Summit One Vanderbilt
Nominating Company: Cristacurva
Winning Team

Building architect: Kohn Pedersen Fox
Project designer: Snøhetta
Gallery art designer: Kenzo Digital
Contract glazier: Mistral Architectural Metal + Glass
Glass fabricator: Cristacurva
Interlayer supplier: Kuraray
Photography: Alberto Alarcón
Appropriate for its superlative status, this year's Project of the Year winner is located at the peak of a skyscraper. Transcendence I, which also won the Glass Magazine Award for Best Glass Interior, is one of the rooms that make up the experiential suite of immersive rooms which is Summit One Vanderbilt. The project combines oth­erworldly glass and mirror, fabricated by Cristacurva, with outstanding views of Midtown New York City.  
Transcendence is part of a suite of permanent art installations and experiences, called "Air," designed by Kenzo Digital. Cristacurva fabricated 25,300 square feet of the room's glass flooring. "We are very proud to be a part of such an iconic piece of New York City," says Patrisia Yanez, architectural technical support specialist, Cristacurva.
"This is clearly one of the most impressive projects of the entire year across every category," says Glass Magazine Awards Judge Martin Bracamonte, vice president of marketing and innovation, Vitro Architectural Glass. "It is a visual delight and maximizes the mesmerizing, captivating quality of glass and mirror in a unique way, fusing the sky with the ground and the walls."
The complex project required precision and alignment when fabricating the glass, says Yanez. The company fabricated systems with a top lite of ¼-inch low-iron glass, laminated with SentryGlas interlayers, to a 1/3-lite of low-iron mirror. Another makeup required a top lite of ¼-inch low-iron glass with a subtle acid-etched surface, LuxFine, again laminated with SentryGlas to a low-iron mirror lite.
Fabricating the laminated mirror glass also required the company to create special shapes, forms, cutouts and notches required for the unique installation, she says, including curved glass. 
"The architect [KPF] envisioned this project to be an attractive spot to enjoy the skyline of New York City from above," says Yanez. "[The goal was to create] beautiful and long-lasting walkable glass."
Such an eye-catching project of course inspires social media sharing, something that helps elevate appreciation of glass as a building material, says Glass Magazine Awards judge Pete De Gorter, vice president, DeGorter Inc. "This project brought to life a world of mirror that feels like another dimension. In today's digital world where image has so much value, this project 'influences' the globe, showing how unique and valuable glass can be."