Project of the Year Runner Up and Best Feat of Engineering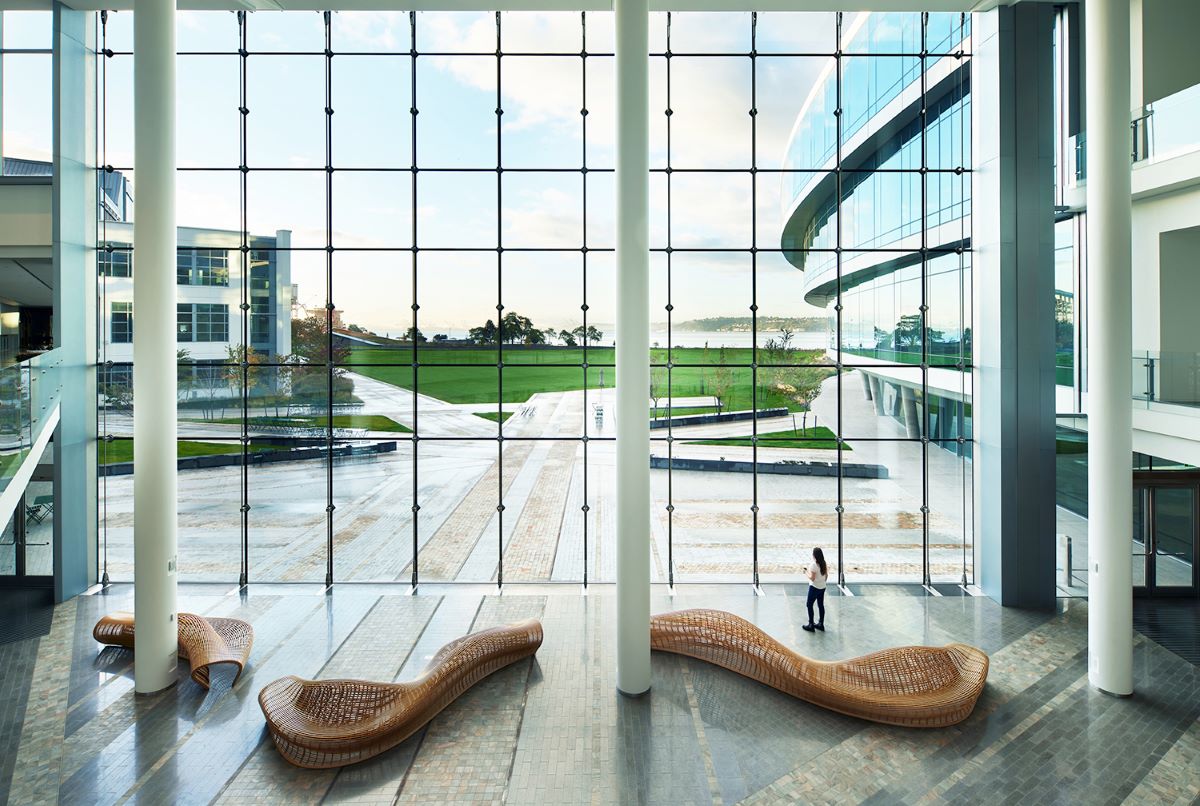 Expedia Headquarters
Nominating Company: Sentech Architectural Systems
Winning Team

Architect: ZGF Architects
Design, engineering & material supply of cable net walls, structural glass vestibule and structural glass canopy: Sentech Architectural Systems
Facade designer, consultant: Arup
Contract glazier: Benson Industries
General contractor: GLY Construction
Owner: Expedia Group
Photography: Benjamin Benschneider
Employees at Expedia's new Headquarters in Seattle can gaze out onto the surrounding Olympic mountains, Seattle skyline and Elliott Bay, thanks to the building's glass cable net walls, designed by Sentech Architectural Systems. As appropriate for the winner of the Glass Magazine Award for "Best Feat of Engineering"—and also the first runner-up for Project of the Year—the project provided a unique, glass-intensive solution to aesthetic and structural demands. 
Biophilic design, which emphasizes a connection to nature, guided the aesthetics of the project, designed by ZGF Architects. The complex principle considers a visual connection with nature, say Sentech officials, but also thermal comfort, airflow, natural light and more. These variables, ultimately, led the design team to glass.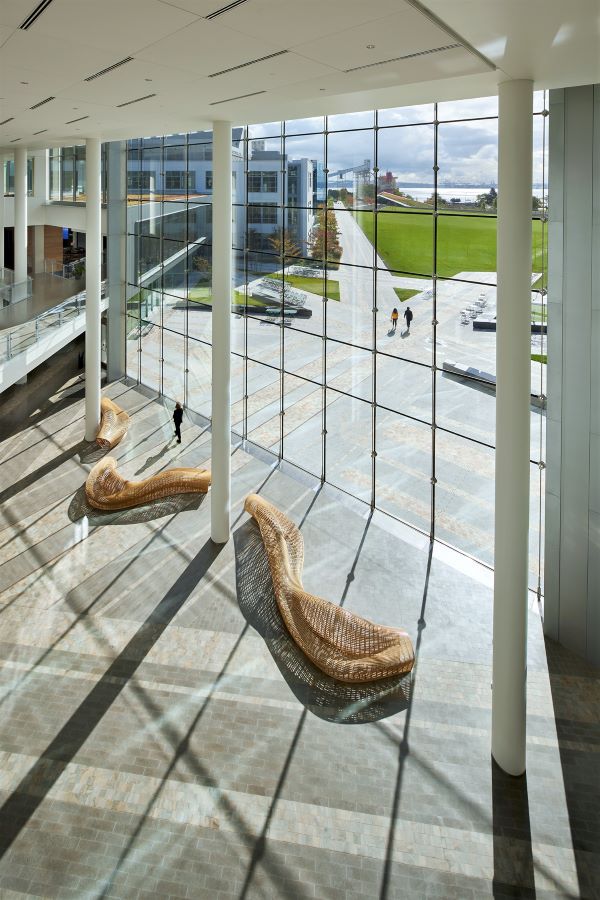 The unique façade, which uses Sentech's 148 by 48-foot VetraNet series system, provided not only an aesthetically pleasing solution, but a resilient one as well through use of insulating glass. "A critical aspect of the façade design was the use of insulating glass units with a pre-tensioned cable-supported structural glass wall system," say officials. 
Glass Magazine Awards Judge Jacob Kasbrick, Guardian Glass Commercial Segment and Technical Services Manager, praised the project's ingenuity in both engineering and energy performance. "Typically, a design like this would sacrifice performance for aesthetics. Being able to use a laminated IGU for the façade to meet [solar heat gain coefficient] and U-value in a cable net structured system is very impressive when you factor in all the load forces on the façade."
Engineering the right system for all the performance requirements was indeed a feat, say Sentech officials. "It was critical to balance the high amount of movement and flexibility inherent in pre-tensioned cable systems with the required deformation limits of the façade in order to maintain seals in the insulating glass. To address this, unique flexible edge conditions were designed and required to minimize panel warping, in order to ensure the IGU seals were not overstressed." Accomplishing all of this demanded creativity and collaboration among Sentech's internal teams, as well as external collaborators Benson, GLY and ZGF to install systems.
"This entry takes a complex structural glazing and incorporates it in such a way to express the lobby connector element as a crisp simple expression," says Glass Magazine Awards Judge John R. Stephenson, AIA, senior architect, BRPH. "The connector element appears to be all glass and visually no structure. The detailing is direct and supports the minimalist nature of the installation."