Deciphering Doors
How to understand terms and trends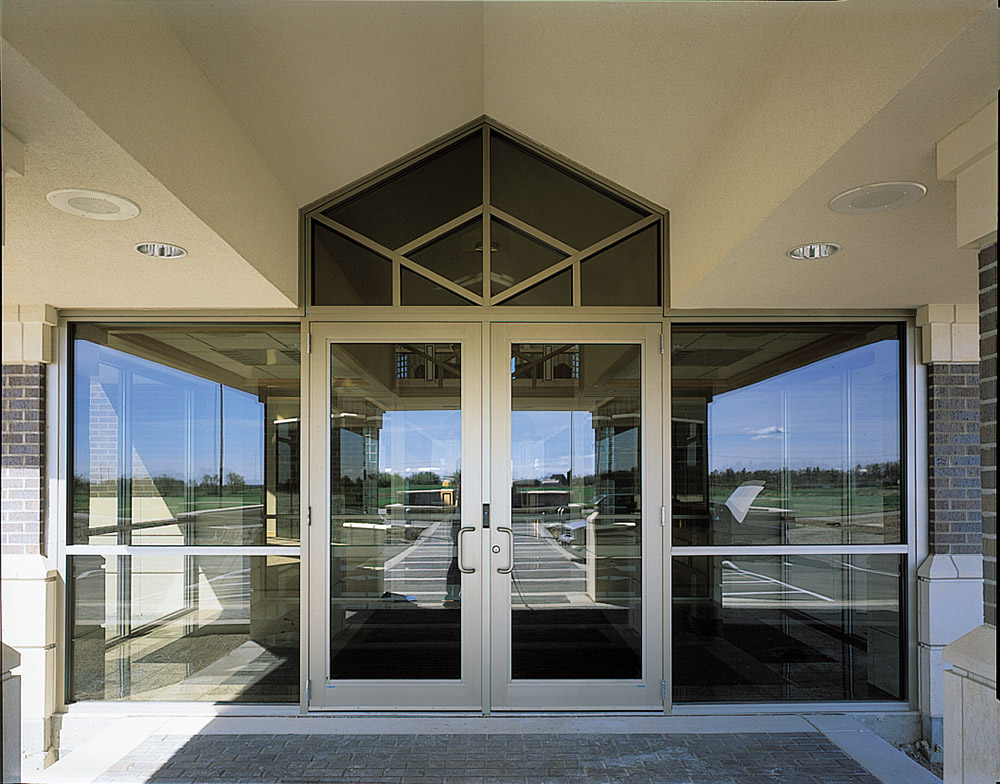 Modified medium stile door entrance with storefront system were selected by Keller, Inc. and installed by Tri-City Glass & Door on at The Bay Family of Companies' headquarters in Green Bay, Wisconsin.
Commercial architectural trends continue to incorporate large entrances that make a big impression. Creating this experience for a building's occupants and visitors starts with a single door.
We often hear the terms "standard," "modified" and "custom" to define aluminum doors and framing systems. Here's what those terms mean:
Standard

entrances are defined by set dimensions, hardware and finishes.

Modified entrances would be a door and framing unit that uses standard hardware, but is either outside of the standard dimensions, or is painted or anodized in a finish outside of the standard color palette.

Custom entrances typically are those with anything outside of the standard hardware package, or with a one-of-a-kind finish.
For standard door and entrance systems, manufacturers rely on their established suppliers to ensure the materials and components are readily available. Modified and custom entrances often involve ordering additional parts or services, adding time to complete the systems and meet the client's exact specifications.
When building owners want a unique appearance, the finish color and size are the main ways you can help them personalize their entries. When specialized functionality or compliance consideration is a priority, hardware changes can meet the challenge.
Current trends in finishes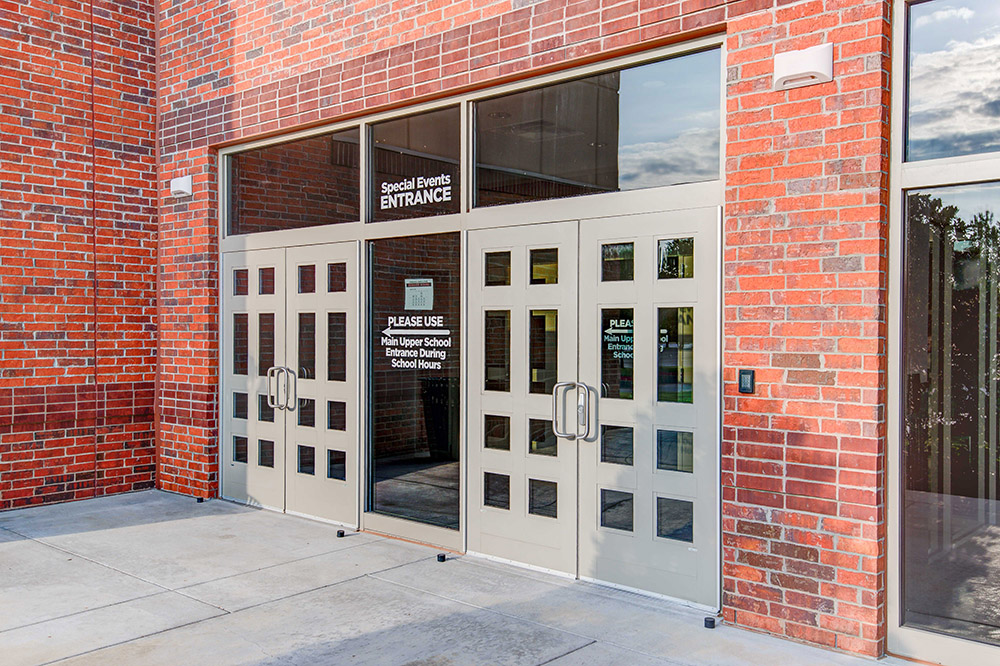 Clear or dark bronze anodize are the most popular, standard finish choices on aluminum entrances. Anodize is the hardest finish for architectural aluminum. It is extremely durable, but also has a limited color range. Non-standard options expand the bronze tones and include champagne, black, copper or even Bordeaux.
For painted finishes, white remains the top pick, but almost any imaginable color can be formulated. Some specialty finishes for aluminum mimic the look of wood without the maintenance of real lumber. A few manufacturers also can customize the interior and exterior in different colors or finishes.
Creating oversize entrances
Grand, welcoming entrances can be accomplished in many ways, such as combining standard doors with transom and sidelite windows, or integrating multiple pairs of doors within an expansive storefront, window wall or curtain wall system.
On average, a single door opening measures approximately 4 feet wide by 8 or 9 feet tall. If your size exceeds the standard maximum height for a door opening, then you're in the modified or custom category. Keep in mind, oversized entrances also weigh more and generally need heavy-duty hardware.
Selecting entrance door hardware
As standard, you'll have a choice of narrow, medium and wide stile doors and a curated selection of hinges, closures, locks, panic exit devices, push bars, thresholds and other hardware. Small changes may take a special order. For example, adding a 10-inch-high bottom rail to a door to comply with ADA can be considered non-standard hardware.
High-performance doors also may be part of some manufacturers' standard offering, including those engineered for high thermal performance or high wind resistance. Hurricane force impact or blast hazard mitigation usually demand customized approaches to meet your precise criteria.
Whether your project needs a custom-engineered entrance system or no frills, standard door, work with the manufacturer to ensure you're selecting the right product for the job.