Wood Without the Work
Woodgrain coatings for aluminum
May 6, 2021
Our innate tendency to seek connections with nature and living things is called "biophilia." Bringing the benefits of the natural environment into the built environment, architects and design professionals are incorporating biophilic principles into the places where we live, work, eat, shop, learn and heal
When your project calls for the natural beauty of wood, but needs the high-performance longevity of aluminum, wood grain finishes can provide the best of both. Textured wood grain finish options mimic not just the look, but also the feel of natural wood.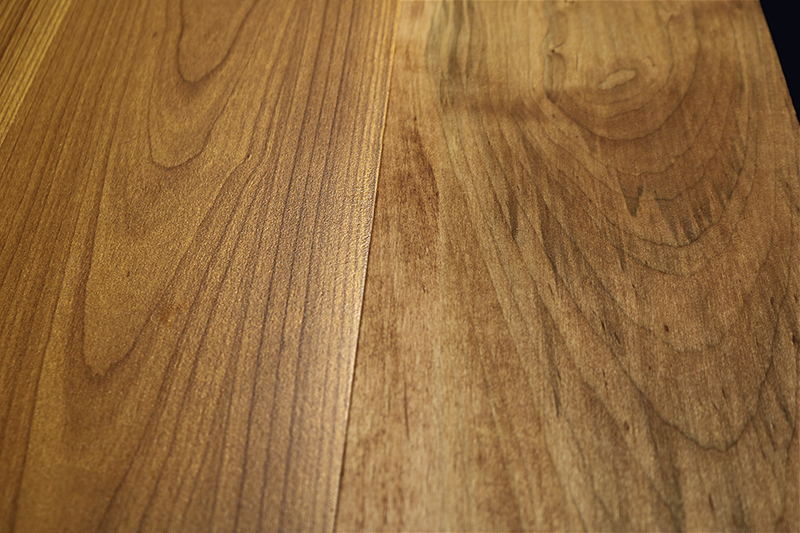 Multiple applications
Wood grain finishes can be applied to aluminum extrusion or flat sheet, creating numerous interior or exterior components:
Pergolas and trellises

Canopies, sun shades and roofing

Fencing, decking, docks and railings

Benches

Doors, window and curtain wall systems

Wall cladding and column covers

Louvers and shutters

Signage and displays

Decorative accents and more
High performance
Unlike real wood, wood grain coatings for aluminum resist weather, humidity, chemicals, corrosion, fire, UV light, insects and scratches. Once installed, the finished metal does not warp, rot or need extra maintenance. The durability of these products exceeds their lifetime on the building, as the aluminum can be recycled for future use. Further supporting your project's sustainable goals, the aluminum products receiving the wood grain finish also can be made with recycled content.
Codes and standards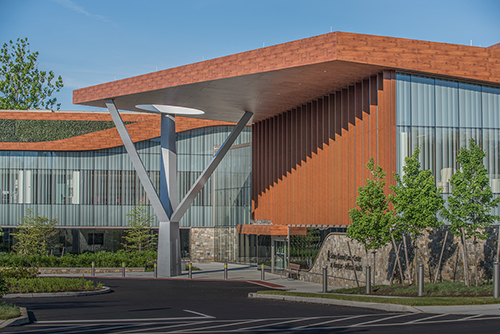 For architectural aluminum products, wood grain finishes should be specified to meet AAMA 2604. For best results, finishing service providers specially formulated powders, inks and films combined with a refined heat-transfer dye sublimation process. This produces no VOCs or other potentially harmful emissions.
Applied under factory controlled conditions by an experienced applicator, these specialty finishes achieve the desired appearance, texture and performance.
Case Studies
Asplundh Cancer Pavilion
The Asplundh Cancer Pavilion in Pennsylvania, designed by EwingCole, incorporates biophilic principles and expansive outdoor views of its serene healing environment and natural landscape. Seeking the look of wood without the limitations, the architect specified a hazelnut brown, textured wood grain finish on the large, vertical aluminum sun shade fins, and deep horizontal curtain wall cover plates.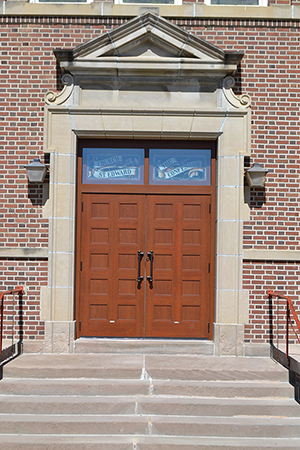 St. Edward Catholic Church
St. Edward Catholic Church in Minnesota believes that its congregation is no more defined by its buildings, than a family is defined by its home. "Yet both need a place to live that is welcoming, functional and accessible―a place where the light of home can shine," stated its capital campaign message. Designating a portion of donations to update its entrance doors, church leaders sought a renewed, welcoming appearance with cost-effective performance.
Because extreme temperature fluctuations, high winds and direct sunlight shorten the lifespan and increase the maintenance on real wood doors, they selected aluminum doors with wood grain finishes to deliver both the traditional, soft, warm aesthetic of wood and the resilient performance of metal. The high-quality appearance not only greets parishioners from the building's exterior, but also complements the real wood finishes on the interior.