Need Emergency Financing Due to COVID-19?
The economic fallout from the coronavirus pandemic has hit many glass companies hard. While the government has passed emergency relief measures to help businesses keep their doors open during the crisis, many owners say they weren't able to access loans. And, last week, outlets reported that money set aside for certain loans in the relief bills ran out.
What is the status of emergency financing? What assistance and relief options still exist? And what strategies should owners employ to ensure they are able to stay afloat during the pandemic and thrive once it is over?  
​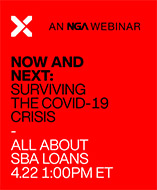 ​Financial expert Marco Terry will lead a webinar presentation and Q&A this week to answer these questions and help businesses leaders navigate financing options to help today, tomorrow and once the crisis has passed.
Terry is managing director of Commercial Capital LLC, a factoring company and provider of invoice financing to companies in the glass industry, and he has appeared as a regular financial columnist in Glass Magazine. Terry's presentation, All About SBA Loans, will take a deep dive into the very latest financing options available from the Small Business Administration. He will also present clear-cut financial strategies to help owners in the next month, the next six months and the next year.
The upcoming webinar is scheduled for April 22 at 1 p.m. ET, and is hosted by the National Glass Association, Glass Magazine and Window + Door magazine. It is the first in NGA's new webinar series, NOW and NEXT: Surviving the COVID-19 Crisis, which will provide actionable information on navigating uncertainty in the glass and fenestration industries due to the coronavirus.